Understand the key principles of winning business tenders and access exciting new opportunities for your business.
About this event
The ability to win tenders will allow your organisation to access more business opportunities than you may have imagined. The Keys to Successful Tender Writing workshop is designed to make you aware of some of the many different tenders available today and how your organisation can apply for them.
By the end of this workshop, you'll:
Understand the key requirements of writing quality tender proposals
Identify the most important components of your application
Understand and apply the tender writing methodology to your next submission
Engage in meaningful discussions with other attendees on issues relating to tender writing.
What topics are covered at this workshop
The benefits of tendering for your business
How to identify public and private sector tendering opportunities
Practical tender writing tips and budgets
Acquittal of tenders and evaluation
Tender writing – dos & don'ts
This is a workshop not to be missed.
Book today. Seats are limited.
Please note: If language is a barrier for you getting the most out of this event and you would like to bring along your own interpreter or translator, please send an email to info@rapportleadership.com.au to find out how to arrange a ticket for them. Tickets for interpreters and translators are offered free of charge when coming along with a paying attendee but are subject to seat availability so please do contact us as soon as possible. (Interpreters and translators will not be allowed to attend without a pre-arranged ticket.)
Who this workshop is for
Businesses or NFP organisations wanting to access more opportunities by writing quality tenders.
About the presenters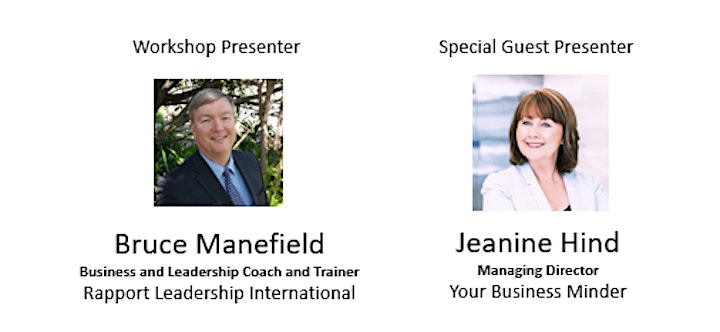 Bruce Manefield is a business and leadership coach and trainer for Rapport Leadership. Having worked for both corporate and fast growth SME companies, Bruce brings a wealth of experience to assist organisations wanting to transition through change. His passion in life is educating people and organisations to improve capability and performance.
With a diverse career, Bruce started his working life as a business analyst and has held senior management roles including General Manager of the Value Group, CEO of Redicar, Executive Officer of Childcare NSW, Board Chair of KU Childrens Services and most recently, Board Chair of Gunawirra.
Bruce understands SME businesses and the unique challenges they face having previously been a business owner himself. His collaborative leadership style and interpersonal skills gives him the ability to build rapport and trust allows him to engage employees at all levels within a business.
Bruce holds a Bachelor of Science in Mathematical Statistics and is a Fellow of the Australian Institute of Company Directors.
Special guest presenter
Jeanine Hind is the founder and Managing Director of Your Business Minder, providing trusted "business minders" inside businesses so the owner or department manager can take time out. She has helped many organisations with building better systems for business efficiency and revamping their tender proposals to win more work.
Other information
The Business Success Program is a series of business education workshops for small businesses and community groups in the greater Blacktown area, and is an initiative of Blacktown City Council in partnership with CGU Insurance and Rapport Leadership International.
For further information about this event, send email to: info@rapportleadership.com.au.
We look forward to meeting you and being of service.
Please note: The delivery of this workshop as an in-person event and attendance numbers are subject to any COVID-19 regulation changes.
Organiser of Keys to Successful Tender Writing
Blacktown City is home to over 23,000 businesses that provide over 138,500 jobs to the residents of Western Sydney. The largest proportion of this employment is in retail, followed by transport and logistics, construction, manufacturing, health and community services and then education.
Blacktown also has an increasingly skilled workforce, with relatively lower rates of unemployment than at previous times. As a home to over 366,000 residents and a strong higher education presence, Blacktown is continuing to grow and compete internationally.
Blacktown City Council Economic Development department is here to support and serve our local business community.