Ken Knight Exclusive Artist's Dinner Night
About this event
Price: $98.00 per person
Date: 9th Dec 2021 6:30pm for 7pm
Location: Aarwun Gallery, 11 Federation Square, O'Hanlon Pl, Nicholls, ACT 2913
Dress code: semi formal
Join us at Aarwun Gallery for this exciting evening with master plein air painter Ken Knight. Listen to this internationally acclaimed artist talk about the processes and inspiration which lie behind his widely collected Australian landscapes. Enjoy an exclusive early viewing of his latest works at Aarwun Gallery for a special evening night with a gourmet three course dinner and wines.
*SEATS ARE VERY LIMITED PLEASE RSVP AS SOON AS POSSIBLE*
*PLEASE NOTE IF YOU HAVE ANY DIETARY REQUIREMENTS PLEASE EMAIL US AT aarwuncanberra@bigpond.com WITH REQUEST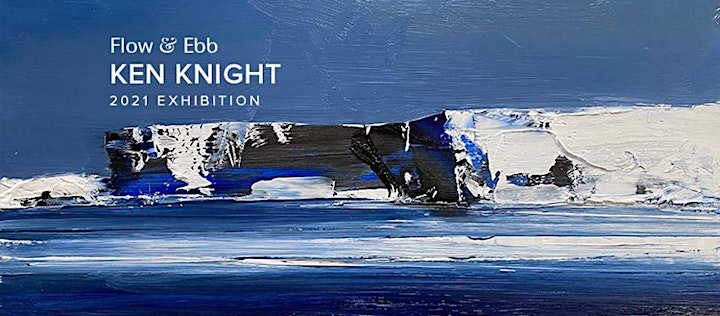 The exhibition at Aarwun Gallery "Flow and Ebb" is a culmination of over 30 years work and can be considered a survey show within this context.
I have selected paintings in this show that I consider representative of my work over this time.
I have always painted en plein air and this has provided my foundation as a landscape artist . This direct experience, painting within the landscape is both elevating and visceral. I had my first exhibition in 1979 so I have been studying the landscape and painting for a long time now.
Early in my career I concentrated on small paintings , and these are well represented in this exhibition. In recent times I have been painting much larger paintings on site and this has been a challenge in capturing the landscape in the same direct approach .
The recent trip to Antarctica in 2020 had a profound effect on me.This is a place that is elemental and hostile , merciless yet delicate. I felt like a very insignificant part of the landscape and had an overwhelming impression of a harmony of ecology before we over populated our planet. It was a deep sense of peace like dwelling inside a pocket of time removed from the world.
Global warming and destruction of habitat are at the forefront of international concerns regarding climate and the environment .I hope in some small way that my work reflects the attitude that most people have regarding the importance of preserving and protecting Nature.
Ken Knight 2021
Organiser of Ken Knight Exclusive Artist's Dinner Night