Description
Join us on Friday 24th November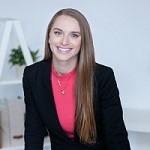 Imagine if every time you sat down to schedule your social media content, you had a formula that made the process easy, quick and even helped you get better results...
Would you want to know that formula?
Of course you do! And YOU CAN, when you join us at the next Key Business Connections event.

Guest Speaker, Lana Luise will share her formula to Social Media Success that she uses to:
- help her clients attract new leads;
- nurture relationships with new leads and current clients;
- AND boost their brand awareness.

Not only will you walk away with the Formula to Social Media Success, but you will also walk away from the event with a QUALITY POSTS THAT YOU CAN PUT TO USE IMMEDIATELY!
AKA: Your social media posts for the day... DONE ✅