A discussion panel focusing on Kashmiri struggles for self-determination, with Alana Hunt, Sanjay Kak, Moonis Shah and David Sequeira.
About this event
DUE TO NATIONAL AND INTERNATIONAL COVID CIRCUMSTANCES AFFECTING THE PRESENTERS IN THIS EVENT, IT HAS BEEN POSTPONED. WATCH THIS SPACE FOR A REVISED DATE.
West Space is thrilled to present 'Kashmir, Before Us', an in-conversation event on the intersections between art and politics, with a focus on South Asian histories and practices and Kashmiri struggles for self-determination.
Kindly supported by venue partner Composite.
As one of the world's longest running conflicts, Kashmir is also one of its best hidden. All too frequently obscured by the internecine rivalries between neighbours India and Pakistan a shroud has long been thrown over events in Kashmir, and the experiences of its people. 
Join Alana Hunt (artist and writer, author of Cups of nun chai), Moonis Shah (artist), David Sequeria (artist and gallery director Margaret Lawrence Gallery), and  Sanjay Kak (documentary filmmaker and publisher at Yaarbal Books) for a discussion that moves against the impossibilities of life in a system that works against it; that grasps with the urgency to communicate; that relies on the possibilities of friendship; and recognises imagination as a necessity. 
The event will be held at Composite at Collingwood Yards on May 29, from 2-4pm.
Kashmir, before us has been brought together around recent projects by the participants including Cups of nun chai by Alana Hunt, published by Sanjay Kak, and Can you hear my voice?, an exhibition that ran at Margaret Lawrence Gallery, curated by David Sequeira, and featuring the work of Moonis Shah.
'Cups of Nun Chai Sheds Light on the Kashmir often Missing from Headlines' - Majid Maqbool, Hyperallergic, 2021
'The Complexities of Being Heard in Kashmir', Shaad D'Souza, frieze, 2021 (review of Can you hear my voice?)
Free Childcare - we have some limited spots for childcare available. Please email andy@westspace.org.au to book in for this service.
Speaker Biographies
Sanjay Kak is the editor of the anthology Until My Freedom Has Come – The New Intifada in Kashmir (Penguin India 2011, Haymarket Books USA 2013) and editor and publisher of the critically acclaimed photobook, Witness – Kashmir 1986-2016, 9 Photographers which was published independently under the imprint of Yaarbal Books. At Yaarbal he has recently edited and published Cups of nun chai by Alana Hunt. Sanjay is an independent documentary filmmaker and writer whose recent film work includes Red Ant Dream (2013) about the persistence of the revolutionary ideal in India, Jashn-e-Azadi (How we celebrate freedom, 2007) about the idea of freedom in Kashmir, and Words on Water (2002) about the struggle against the Narmada dams in central India. A self-taught filmmaker and publisher, he writes occasional political commentary, and reviews books that he is passionately engaged by. He has been active with the documentary cinema movement in India, and with the Cinema of Resistance project.
Alana Hunt is an artist and writer who lives on Miriwoong Country in the north-west of Australia. Her work examines the violence that results from the fragility of nations and the aspirations and failures of colonial dreams, both within the area she lives and in the context of her longstanding engagement with Kashmir. Her distributed art practice moves between publishing, exhibition making and public intervention and has circulated in the Hansard Report of the Australian Parliament, as a reading in the history department of Jawaharlal Nehru University, New Delhi, as a newspaper serial in Srinagar, Kashmir, and as an unofficial street sign at the base of Australia's most under-utilised dam wall. Alana has been working on evolving iterations of Cups of nun chai since 2010, most recently published by Yaarbal Books. As part of The National 2021: New Australian Art Alana is Carriageworks' inaugural Writer in Residence. Working progressively over the course of the exhibition she is publishing Conversations and Correspondence—six texts that take as their starting point her bodies of work All the violence within this and In the national interest both exhibited as part of the exhibition.
Working across media, David Sequeira explores issues around high and low art, personal and shared histories, banality and profundity, the reverberations of colonisation and the persisting impact of incomplete histories. Curatorship —articulating the intersections between objects, time, place and space — is an important aspect of his art practice. David has held senior positions in public cultural institutions including the National Gallery of Australia, National Portrait Gallery of Australia, National Film and Sound Archive, Australian Parliament House and Old Parliament House, Canberra. He is currently the Director, Margaret Lawrence Gallery at the University of Melbourne where he recently curated Can you hear my voice, an exhibition that explored the complexities of borders and identity in India, Pakistan and Kashmir.
West Space acknowledges the Wurundjeri and neighbouring Boonwurrung peoeple as Traditional Owners as the custodians of this land, recognising their connection to land, waters and community. We pay our respects to Australia's First Peoples, and to their Elders, past, present and future.
Images:
1. Cups of Nun Chai, Alana Hunt, published by Yarbaal Books
2. Cups of Nun Chai, Alana Hunt, published by Yarbaal Books
3. Can you hear my voice? Installation, Margaret Lawrence Gallery, Curator: David Sequeira
Outer Walls: Huma Mulji Drycleaners 2016-2021, ink jet prints
Centre: Moonis Ahmad Shah We are here to Fuck Spiders 2021, LED letters, natural grass, soil, pedestal, transistors, Arduino, Machine Learning Sound generated from training on speeches claiming normalcy in Kashmir
4. Can you hear my voice? Installation, Margaret Lawrence Gallery, Curator: David Sequeira
Outer Walls: Huma Mulji Drycleaners 2016-2021, ink jet prints
Centre: Moonis Ahmad Shah We are here to Fuck Spiders 2021, LED letters, natural grass, soil, pedestal, transistors, Arduino, Machine Learning Sound generated from training on speeches claiming normalcy in Kashmir
Background: Mubashir Niyaz, Redaction 2018
Digital video file, 4:59
Image 5: Can You Hear My Voice? Installation, Margaret Lawrence Gallery, Curator: David Sequeira
Bushra Mir Awaaz 2019, Digital video, 2:36
Photo Credits: Image 3, 4, 5 - Lucy Foster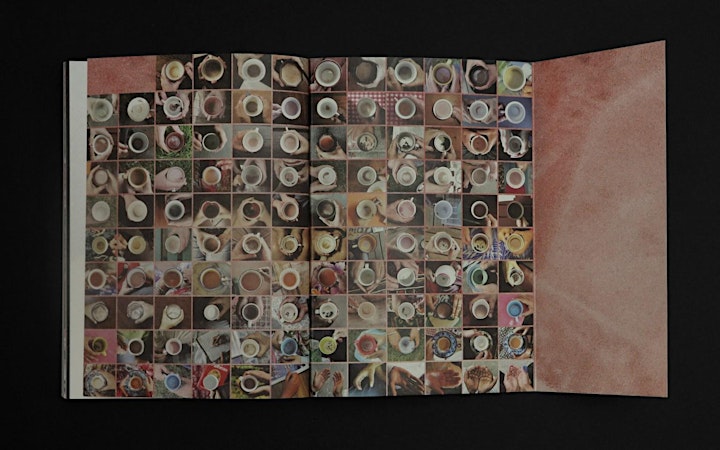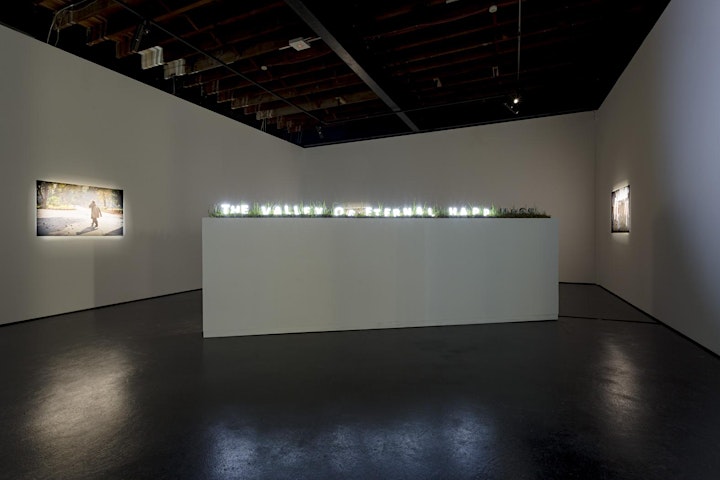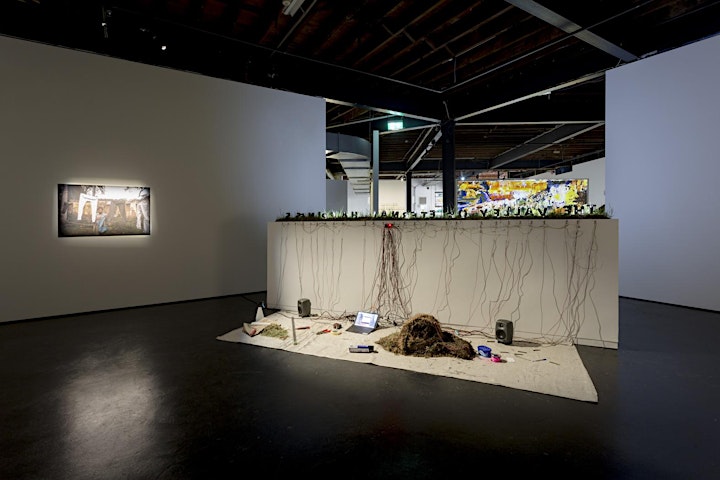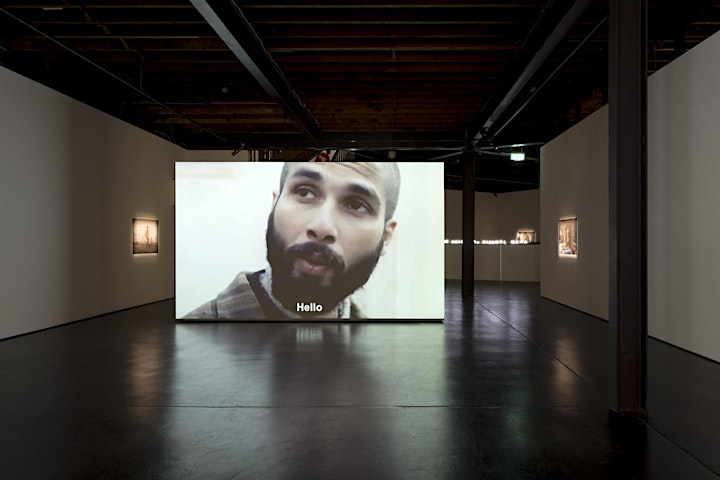 Organiser of Kashmir, before us: Alana Hunt, Sanjay Kak, Moonis Shah and David Sequeira