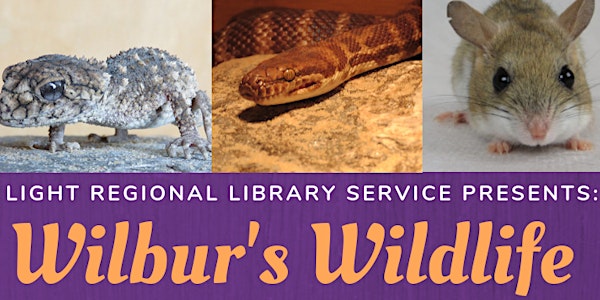 Kapunda Library - Wilbur's Wildlife (1 hour Interactive Presentation)
Location
Kapunda Library
53 Main Street
Kapunda, SA 5373
Australia
Description
RESCHEDULED due to the extreme heat. Now on Tuesday April 16th 2019
This event is provided to the Light community by the Light Regional Library Service:
Please note: There was a mix up with some of the printed promotional material for this event which featured an incorrct time for the presentation. The presentation will be from 1pm until 2pm on January 24th at the Kapunda Library.
We apologise for any confusion and thank you for your understanding.
Book in and come along to get hands on with a variety of native Australian animals in a 1 hour interactive presentation.
Bookings essential as spaces are limited.
Please only book into the event at ONE of the libraries to allow more children a chance to attend.
Multiple/Duplicate bookings across both libraries will be cancelled. Thank you for your understanding.
For children of all ages.
If you book and can no longer attend please cancel your ticket yourself or contact the library and we will do it for you. Thank you.

If the weather is forcast to exceed 34c this event will be cancelled and rescheduled. This is to ensure the health of the animals.