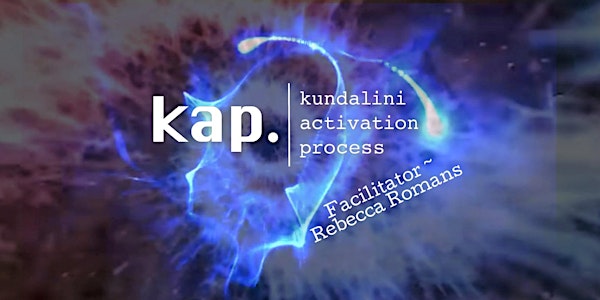 KAP ONLINE✨ Kundalini Activation Process with Rebecca Romans
Refund policy
Refunds up to 1 day before event
Eventbrite's fee is nonrefundable.
Sales Have Ended
Ticket sales have ended
Thank you! The Zoom link will be sent to you shortly!
KAP ONLINE✨ Kundalini Activation Process ~ Group Session ~ Doors open at 7 am for a 7:15 am start AEDT Sydney , AU
About this event
Come join us for ONLINE KAP ~ Activation at a distance! 💥
✨Discover you are more than you think! ✨
Kundalini is the life-force energy that resides in us and connects us with the universe. KAP is a process that activates this energy, increasing our experience and awareness of it. During a KAP session you may experience this energy moving through various aspects of your being - physical body, emotions, mind, spirit, consciousness - bringing emotional or physical release, clarity or insight, discovery, aliveness, openness and connection, or deep relaxation and inner stillness. The very act of surrendering to this life-force, of trust and simply letting go, and allowing it to flow through us, to hold, guide and dance with us can be profound. Every activation and each person's journey with kundalini is unique.
KAP at a distance is as effective as KAP in-person. The Energy is not limited by time or space. It is quite possible to have the same experiences online that you would have in an in person live session. Some people actually prefer Online sessions as they find it easier to relax and surrender in the familiarity and privacy of their own home.
If this is your very first KAP Session, you may benefit from a private one on one Online session beforehand, but this is not essential. Please contact me if you are interested. Also, if you have any questions please feel free to reach out.
******************************************************************************************************
What happens during the Online KAP session?
• After introductions, you simply lie down on a yoga mat and close your eyes. Some music is played, and I work remotely with your energy field. You will be lying down for approximately 1 hour. Following the music part of the session, participants can choose to share their experiences. Then we close our sharing circle.
Possible responses
• Spontaneous movements or shaking in the body. Deep insights or realizations. Visions and heightened senses. Expressions of emotions and release of blockages. Or shifts in your awareness and being in the coming days after a session. These are just some of the things that KAP participants can and do experience.
******************************************************************************************************
What you need for an online session:
Prepare yourself and your space
• Wear loose, comfortable clothing. You may also find it helpful to wear layers to keep as warm or cool as appropriate. It's best to stay hydrated during the day before a session and eat lightly. Have a private space where you can comfortably lie down (preferably on the floor) and something comfortable to lie on such as a yoga or pilates mat.
Setting up your Zoom equipment
• You will need either a computer, laptop, tablet, or smartphone set up with webcam and speaker. You can listen using either the device speaker, external speaker or headphones. Please position the laptop/device so that your full body is visible on screen when lying down, either sideways or with your head towards the camera.
Connecting to the Zoom session
• After registering for KAP online you will receive the Zoom link and instructions via email. The email will include a Meeting ID and Passcode you will need to enter in Zoom
• You can either join the Zoom meeting through your web browser – you do not need an account. Or you can download the Zoom app to your device from: https://zoom.us/download
• When you open the Zoom meeting, Zoom will guide you through a Test of your Audio and Video connections. Please log on to Zoom ahead of time so you can check your set up and connection.
• The session host will admit you to the meeting. There will be music playing ahead of the session until all have joined and ready to start.
*******************************************************************************************************
ONLINE COST: Regular Price $35 Concession/Assisted $25
First-time participants $20
I look forward to meeting you all! 💗🌸
Rebecca
******************************************************************************************************
Rebecca Romans is an accredited KAP Facilitator
who trained with KAP Founder Venant Wong.
***My KAP experiences with Rebecca have felt so loving, supportive and safe. I experienced something different every time and always felt more awakened on a physical, energetic, emotional, spiritual level. I experienced free flowing body movements which I can now tap into when I dance for myself or meditate on the Divine Feminine. I had visions that blew my mind. I expressed and released emotions that I didn't realise I was holding on to. So much went on in each session and I was able to completely surrender because I felt safe with Bec.
Popi I. Psychologist, Oriental Dance and Yoga teacher. Budding artist. Sydney, Australia
***Rebecca held incredibly professional space for something that was so deeply spiritual . I had a Kundalini awakening in my early 20s, and can confirm 100% that this is the energy she is working with. A surge of electrical/vibrational energy pulsed through my body and the energy was healing, connective, and brought me deep in to my senses. She is the real deal, and I would highly recommend.
Josh C. Central Coast, NSW Australia
*** Best 1.5 hrs I've had in years! Will be coming back for another KAP session! 🧘‍♀️
Amanda R. Wollongong, NSW Australia
***Rebecca can drive your inner self towards a new level of awareness. The healing process is liberator and generates a flow of emotions that reconnect yourself to your heart. Thanks Rebecca!
Tiziana A. Tokyo, Japan
More information ~ Video by the founder of KAP, Venant Wong.