Description
Kangen Water® Workshops
HEALTH - LIFESTYLE- BUSINESS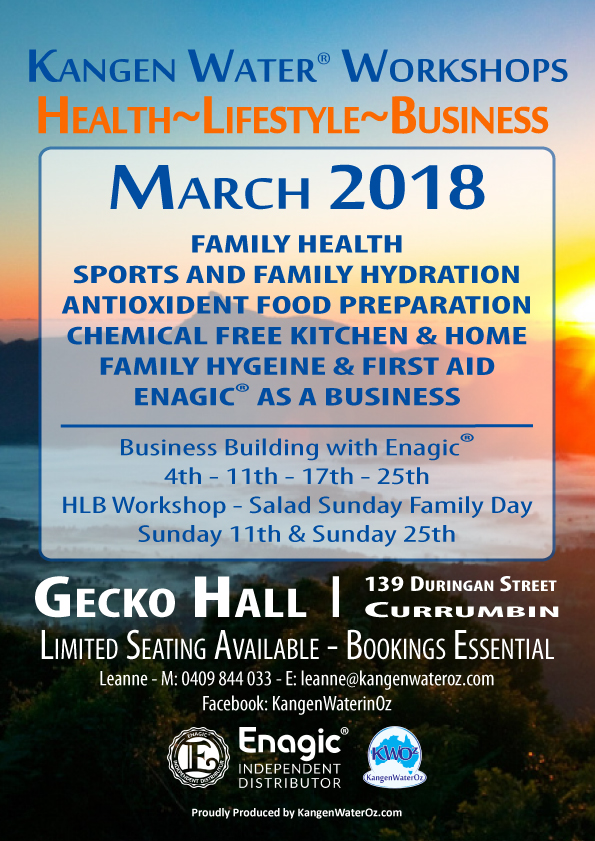 Kangen Water® Workshops
HEALTH - LIFESTYLE- BUSINESS
The LAST Workshop for March 2018
Sunday 25th
- 7 Unique Waters enhance Diet, Health, Wellbeing and Lifestyle
- Remove toxic pesticides and chemical residues from foods
- Sanitise and Disinfect Surfaces and Utensils
- Supercharge and Detoxify your Body with Alkalised, Antioxidant Rich Drinking Water
- Enjoy the financial rewards of being an Enagic® Independent Distributor
------------------------------------------
Health & Lifestyle Workshops


Super Salad Sunday - Family Day
During this 2 hour workshop we show you how we use Kangen Water® to remove a huge variety of toxins, residues and chemicals from our families food, from our kitchen and home.
We will introduce you to an amazingly simple way to turn every meal into a Super Food Meal.
We show you how we sanitise our utensils and benches, remove pesticides, herbicides, residues, toxins and other contaminants from our produce and saturate our foods with life promoting antioxidants.
We will do this by turning a variety of every day vegetables into a couple of delicious tasting, chemical free, Super Food Salads & Dressings PLUS a super yummy Super Food Desert...
... and we will do all of this with Kangen Water®.
Workshop Only - FREE
Workshop PLUS *Salad Lunch and Dessert* - only $5.00 p/person
*BYO Picnic Ware & BYO BBQ chicken (or what ever you like)*
BOOKINGS ARE ESSENTIAL FOR EACH SALAD LUNCH
Have your partner bring the kids and a BBQ chicken for a relaxing family lunch park side at Currumbin Creek, after the workshop.
Additional Salad Lunch's are available for family members for $5.00 ea.
*BYO Picnic Ware & BBQ chicken*
BOOKINGS ARE ESSENTIAL FOR EACH SALAD LUNCH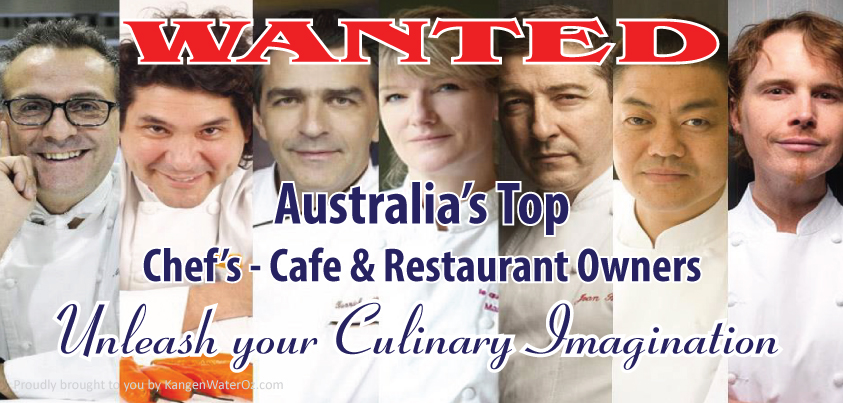 Health & Lifestyle Workshops
Sunday 25th. 10.00am - 12.00pm
LIMITED SEATING AVAILABLE
BOOKINGS ARE ESSENTIAL
*BYO Picnic Ware & BBQ chicken*
An Enagic® Business Building Workshop follows after lunch at 2.00pm.
------------------------------------------
Enagic® Business Building Workshops
Enagic® as a Business
Enagic® are the industry leaders and the only OEM producer of ISO compliant medical grade, water ioniser systems.
Enagic® products are used in over 600 hospitals through out Japan and used by over 10,000 doctors and institutions globally.
Our products service a variety of niche markets and uses in the Home, Cafe's, Office's, Gym's, Health Spa's & Resorts, Restaurant's, Sporting Club's, Nutritionists & other health care providers.
The Enagic® business and marketing model is an internationally patented, independent distributor focused, direct & network sales, commission structured business model.

Build a business that offers unparalleled commissions through patented duplication systems with huge ongoing residual income potential from multiple income streams.
Enagic® Independent Distributorships are a lifetime family investment and are an inheritable asset that will secure your families future.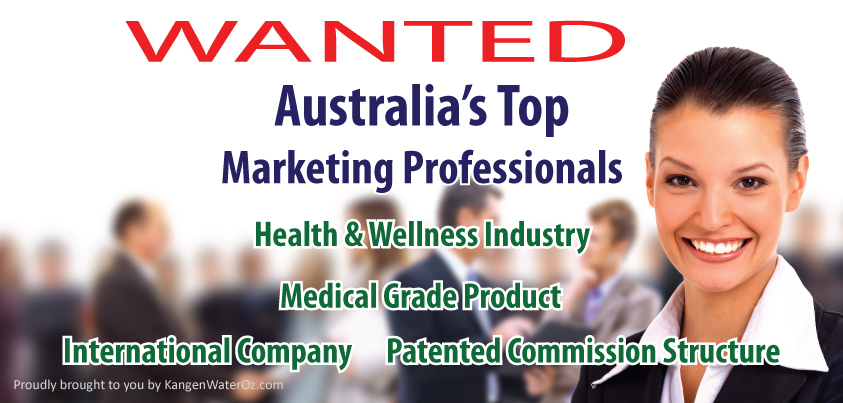 Business Building Workshops - FREE
Sunday 25th. 2.00pm - 3.00pm
LIMITED SEATING AVAILABLE
BOOKINGS ARE ESSENTIAL
------------------------------------------
#kwoz #kangendemogoldcoast #kangenworkshopgoldcoast
#businessbuilding #supersaladsundays
------------------------------------------