Description
If you arrive in Kandos or Rylstone and want to get out of the car seat for awhile and do something a little different why not try one of our breakfast, lunch or dinner rides. Having a dedicated cycleway between Kandos and Rylstone means it is easy to amble through the countryside. There are great views between the two towns and plenty of places to pull over for a photo or to just take a break and take in the view.
Head off from Kandos on one of our mountain bikes

For those travelling two up you might like to take one of our tandems


For those that may not have ridden for a while or are not comfortable with 21 gear bikes we have a couple of retro bikes (no gears or 3) in the classic style.
Go Classic on a Retro

How difficult are these rides?
The ride between Kandos and Rylstone is fairly easy for any fitness level. It's reasonably flat with no real altitude difference between the two towns so no steep climbs or pinches. Having a dedicated cycleway means you are not competing with regular traffic for road space so you are able to amble and take it all in more easily. If you are a regular rider it is a peice of cake and if you havn't riden for awhile and are not in Olympic level fitness there is plenty of places to pull over and take a short break (even a number of dedicated seats placed for cyclists along the cycleway).

It is possible to do the ride as a loop (half cycleway/half country road) so talk to us when you pick up your bikes if you want to do this and we'll give you the info required.


Three Rides a Day
These rides run three times a day, breakfast, lunch and dinner allowing you to take the ride and stop for a meal and return (and burn off a few of those kilojoules on the way).

NOTE; UNTIL OUR OFFICAL LAUNCH WE ARE PROVIDING CYCLE HIRE ONLY.

Breakfast and Bike at CWC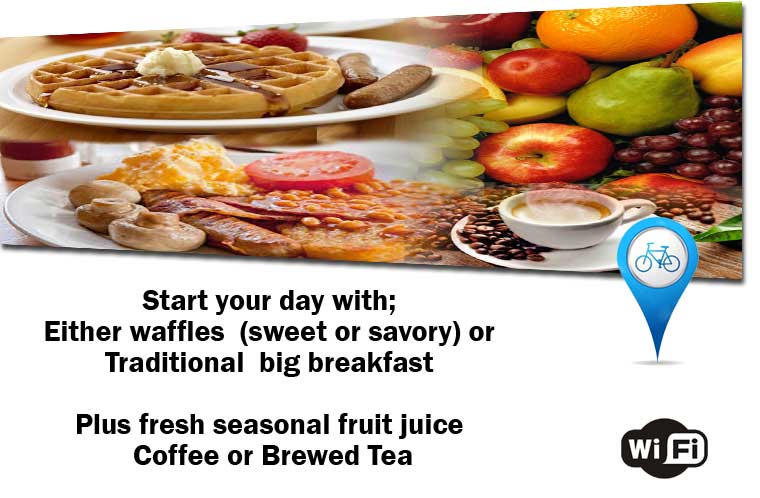 # Note: Breakfast is sold as part of a ticketed ride, 'Kandos/Rylstone Leisure Rides - Breakfast and Bike'. We are not open to the general public (at this point).

For Lunch and Dinner options talk to us for local recommendations.
---
Book with Confidence
Our booking system keeps track of which bicycle types have been booked and total ticket sales so we never double book. Your booking will be confirmed immediately and an email sent to your phone or device. You can print the ticket or just bring your phone or device with you,

* On certain days breakfast bookings may not be available and in this case our booking system will not issue breakfast tickets.
Please go to the top of this page to purchase tickets for
Breakfast and Bike bookings.
Ride Only bookings.
---
Kandos Rylstone Leisure Rides are operated by