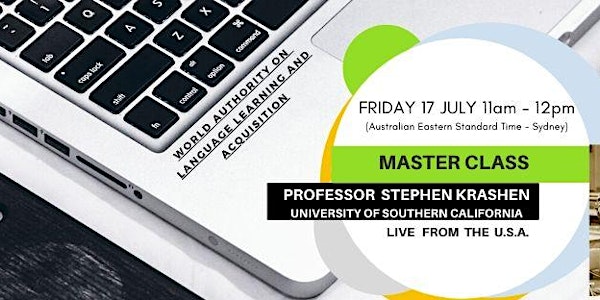 JULY ONLINE MASTER CLASS FOR COMMUNITY LANGUAGE TEACHERS
Sales Have Ended
Registrations are closed
NSW Federation of Community Language Schools is inviting you to a scheduled Zoom meeting. Time: Jul 17, 2020 11:00 AM Canberra, Melbourne, Sydney Join Zoom Meeting https://us02web.zoom.us/j/89366141502?pwd=WnVzYjh0eEZVd3YvQmFPN3FheG4wUT09 Meeting ID: 893 6614 1502 Password: 638286 Find your local number: https://us02web.zoom.us/u/kcimLIEOku
Sales Have Ended
Registrations are closed
NSW Federation of Community Language Schools is inviting you to a scheduled Zoom meeting. Time: Jul 17, 2020 11:00 AM Canberra, Melbourne, Sydney Join Zoom Meeting https://us02web.zoom.us/j/89366141502?pwd=WnVzYjh0eEZVd3YvQmFPN3FheG4wUT09 Meeting ID: 893 6614 1502 Password: 638286 Find your local number: https://us02web.zoom.us/u/kcimLIEOku
Webinar series for community language teachers - 2020
About this event
JULY FREE MASTER CLASS
Welcome to the July MASTER CLASS of the community language teacher training development series. These webinars are aimed specifically to benefit community language schools teachers and are offered by the NSW Federation of Community Language Schools Inc. All sessions are designed to assist teachers to gain both practical and specific knowledge offered by language experts from a range of backgrounds from local and overseas universities and institutions.
Special guest presenter: Professor Stephen Krashen a world authority on language learning and acquisition.
LIVE FROM THE U.S.A
Friday 17 July 2020 11 am to 12 pm (Australian Eastern Standard Time)
TOPIC:
Language acquisition: Some fundamentals.
We acquire language not when we speak it or study about it, but when we understand messages that we hear and read, when we get "comprehensible input." "Optimal input' is not only comprehensible but is also highly interesting, rich in language, and supplied in abundance. The most effective (and most pleasant) methods begin with stories and then move to reading, providing students with large quantities of interesting and comprehensible texts. Our goal is to bring students to the point where they can self-select their own reading and improve on their own.
Dr Krashen is Professor Emeritus at the University of Southern California.

He has published more than 350 papers and books about second-language acquisition, bilingual education, and reading. He introduced several important ideas in the study of learning another language including the acquisition-learning hypothesis, input hypothesis, monitor hypothesis, affective filter, and the natural order hypothesis. He started the Natural Approach to language learning and teaching with Tracy D. Terrell . More recently, Krashen promotes the use of free voluntary reading during second-language acquisition, which he says "is the most powerful tool we have in language education, first and second."