Description

Queen Victoria Gardens is an inner city parkland, planned one hundred and seventy seven years ago. Sculptures have progressively been added over that time.
Our conversations will explore historical context and current use of this park and the part played by the sculptures.
Finding the sculptures in these gardens can surprise and intrigue. They range from Regal to Whimsical and will be progressively revealed and their stories told. This will give participants a prompt to look at what engages them, inviting comments on how this park is being used and whether it really works as an inner city parkland.
About Jane's Walk
Jane's Walk is an annual festival of free, citizen-led walking conversations inspired by urbanist Jane Jacobs.
Jane's Walks encourage people to share stories about their neighbourhoods, discover unseen aspects of their communities, and use walking as a way to connect.
Walks take place in hundreds of cities around the world. Join the next global Jane's Walk Festival on May 4th, 5th, and 6th, 2018!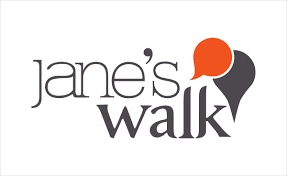 Walk Leader
This walk will be led by Judy Stanton - who enjoys the conversations, observations and perspectives that emerge as nieghbourhoods are explored together and discussed.
Contact details for Judy will be given on registration.
In previous years, Judy has explored ' Creative Collingwood ' and 'Fitzroy- many layers many voices'.
This year 'Inner-city parklands- their role and their sculptures', will be our focus.
Walk information
This walk is suitable for all ages and abilities
Allow two hours and if you bring your dog, please keep it on a lead.
Check the weather forecast on the day and dress accordingly. Bring a drink to stay refreshed.
Transport
There are multiple trams, along St Kilda Road, that will bring you to the Arts Precinct, Tram Stop 14
If coming by car, there is metered carparking along St Kilda Road and Linlithgow Avenue
Flinders Street Station is a ten minute walk from The Queen Victoria Gardens
Meeting Point
PARK BENCH at edge of parkland on St Kilda Rd, opposite the National Gallery and exactly in-line with TRAM STOP 14 - ARTS PRECINCT sign.
Judy will be waiting at the park bench on the edge of the Queen Victoria Gardens