Event Information
Refund policy
Contact the organizer to request a refund.
Eventbrite's fee is nonrefundable.
Journey Through Colours is a Virtual Immersion Retreat - A Passage from your Pain to illuminate your Light
About this event
Journey Through Colours - An Invocation to True Peace using the Elemental Aspects of Self
Journey through colours is a guided meditation based on awakening the body through conscious movement, sound and music to allow you to open up so you can be guided by the Divine or your Higher Self.
It is an invitation for your body to move and respond intuitively – allowing your total self to find its natural and unique expression. It utilises the conscious practise of movement from the set playlist tuning in, feeling in and responding to the vibrations of the music's resonance.
The movement is an initiation to connect to yourself so you can discover aspects of yourself, remember parts of your soul's calling, your message and where you are holding pain in the body and what they mean and the teachings they hold.
There is a secret passage to our pain and if we take a good look at it, we learn to uncover our blockages to our transcendence, freedom and inner peace.
By listening to the sound wave patterns of the music and our body's intuitive honest reaction we can increase and expand conscious awareness to our internal and external world. As a result we can cultivate deep trust and self- acceptance.
You may have asked yourself,
How would you align yourself to feel stress free, clear and light?
How to connect to the depths of your soul to find the inner peace that lies at the very core of your being?
Discover the pains where you are holding in your body and find out why they are there and what it is telling and teaching you.
Find out your signature healing colour and ways how it can help you.
A Journey through Colours are available in monthly bundles attending fortnightly (dates TBA) in a month plus fortnightly zoom calls
The Four Elemental Aspects of Self:
Earth - Gold and Red - 10 & 24 July
Water & Fire - Orange and Yellow - 7 & 21 August
Air - Green and Blue - 4 & 18 September
Ether - Indigo and White light - 9 & 23 October
Benefits of joining to this program:
Trusting your movement
Connecting to your signature healing colour
Letting go of inhibitions around expression
Working through fears and trauma around expression
Boosts self-confidence and self-esteem
Life purpose becomes clearer
Raising your vibration and frequency
Opens and balances the chakra system
Opens new paradigms of consciousness
Promotes healing and balance to the nervous system
Increase groundedness and presence to self and to others
Increases creative energy life force
COST:
$750 (One Month Journey) = 2 live Zoom meetings + 2 live Zoom 1 hour calls + Bonus
Live Zoom meetings are 4 -5 hours each
Zoom call - 1 hour
$2400 (Four Month Journey) = multiply the above x 4
WHERE:
Online via Zoom
WHEN:
SAT 9 & 23 October
TIME: 10 am - 2 pm
What others have gained from the sessions:
I recently went to Joy's Kundalini meditation and dance. It was the second time I has been and once again it was an amazing experience. Between the meditation, the sound healing and kundalini dancing which was so much fun it taught me more about myself and relaxed me whilst having a beautiful experience with other like -minded people. Joy went deep to a level that both brought new insights and relaxed me-that is one of her many gifts. I look forward to here next event! - Maria S
Thanks Joy for the experience last night. This was my first kundalini meditation in my life life and I felt so amazing afterwards. Joy when you started your playlist it was easy for me to relax and listen to it. Your voice and your place made me at ease so easily fell into the music and I trusted the process. I normally can't deal with any loud music at work I get affected by it and my heart will beat fast but last night I surrendered! So in my meditation I was a bird flying with all the lights around me and when I heard the water I was a fish swimming in the ocean that felt like I'm home back in nature. When you started touching me and I felt your healing hands so warm and so gentle. Lastly, I usually have difficulty in sleeping but last night I slept like a baby. Today when I woke up I felt refreshed and ready to start a new day. Overall I am excited because I can see that I am moving towards a brand new chapter of my life. I highly recommend you to all my friends and clients that will benefit and love the kundalini meditation.- Maxime Lee
I highly recommend Joy's classes, having attended several of them. I felt right at home attending the activation at her place in the city and enjoyed meeting new people in the intimate gathering with a light meal and refreshment at the end. Joy held space for everyone in the evening with lots of warmth and during the activation I just closed my eyes and let my mind travel into different dimensions in space when my body sifted through the soundwaves. Right now I am going through a phase in life where my old ways of knowing and thinking dont serve me anymore and through Joys sound experience I felt like I was getting to know the true me with more self awareness and insights into the dynamics of my mind and the heaviness and tension that I feel in my body fades away and I come out feeling more relaxed and energetic. Joy is a talented person who is down to earth and you can feel comfortable to talk about your thoughts and feelings with no judgement and I can't emphasize how valuable the sense of higher awareness I have gained after has been to me personally. - Roi K
About the facilitator:
Joy Chau is the creator of Joy Collection. She is a Personal Wellness Stylist, a Kundalini trainer and an intuitive energy, dance & sound healer. She assists and guides you in finding your signature healing colour through connecting to your soul essence. Joy's purpose is to help people express their authentic selves, find their truth, inner peace and rediscover themselves through self love and acceptance so they can reach their highest potential. She has a vision to make people's lives clearer and brighter by helping them open up to through sound healing, music that alters brain wave patterns and a gentle touch that enhances to release trapped energies so they can feel good inside and out.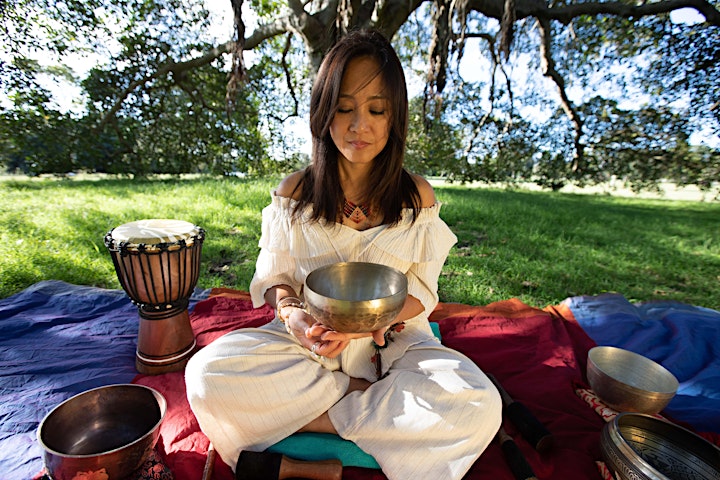 Date and time
Location
Refund policy
Contact the organizer to request a refund.
Eventbrite's fee is nonrefundable.
Organizer of Journey Through Colours in October
I facilitate Kundalini Awakening sessions, Tibetan bowl Sound healing, Breathwork, Chakra balancing and Crystal healing.
I also run Makeup Tricks & Drinks for conscious women who would like to learn about the secrets of makeup, facial shapes, magic colours & skin care rituals, to feel good and look good inside and out.