Description
This interactive event is for health professionals with an interest in minimising harm in their patients and clients do to falls. The seminar will share the knowledge of experts involved in falls prevention based on local, national and international experiences and research. The speakers include:
Sandy Blake: Director of Nursing, Patient Safety & Quality at Whanganui District Health Board, New Zealand. She works regionally and nationally as:
the national clinical lead for the reducing harm from falls programme for the Health Quality & Safety Commission, New Zealand

Advisor to the adverse events team, Health Quality & Safety Commission

Chair of the Central Region Quality & Safety Alliance

Trainer for root cause and patient safety analyses nationally
Sandy will share how a comprehensive, integrated quality improvement program approach has resulted in a statistically significant reduction in injurious inpatient falls resulting in a fractured hip in New Zealand public hospitals.
Jacqueline Francis-Coad: Research fellow at the Institute of Health Research and Lecturer at the School of Physiotherapy, University of Notre Dame Australia. Her PhD evaluated the impact of a falls prevention Community of Practice in a residential aged care setting.
Melanie Farlie: Physiotherapist, clinical educator and Maxwell King PhD Scholar, in the Department of Physiotherapy, Monash University, Melbourne, investigating the development of a scale to rate the intensity of balance exercise. Melanie's research addresses an important clinical gap, as currently there are no measuring tools available that quantify balance intensity, thus limiting the way we are able to prescribe and evaluate balance exercises.
Associate Professor Anne-Marie Hill: Research Academic at The School of Physiotheapy and Exercise Science, Curtin University and Adjunct A/Professor in the Institute for Health Research, UNDA. She has an interest in falls prevention across all settings. She is currently leading an NHMRC funded program investigating falls prevention after hospital discharge.
FAQs
Where is the CC Bennett Lecture Theatre and the nearest parking ?
A link to a map that shows the lecture theatre and available parking locations is available from here.
What is the event's program?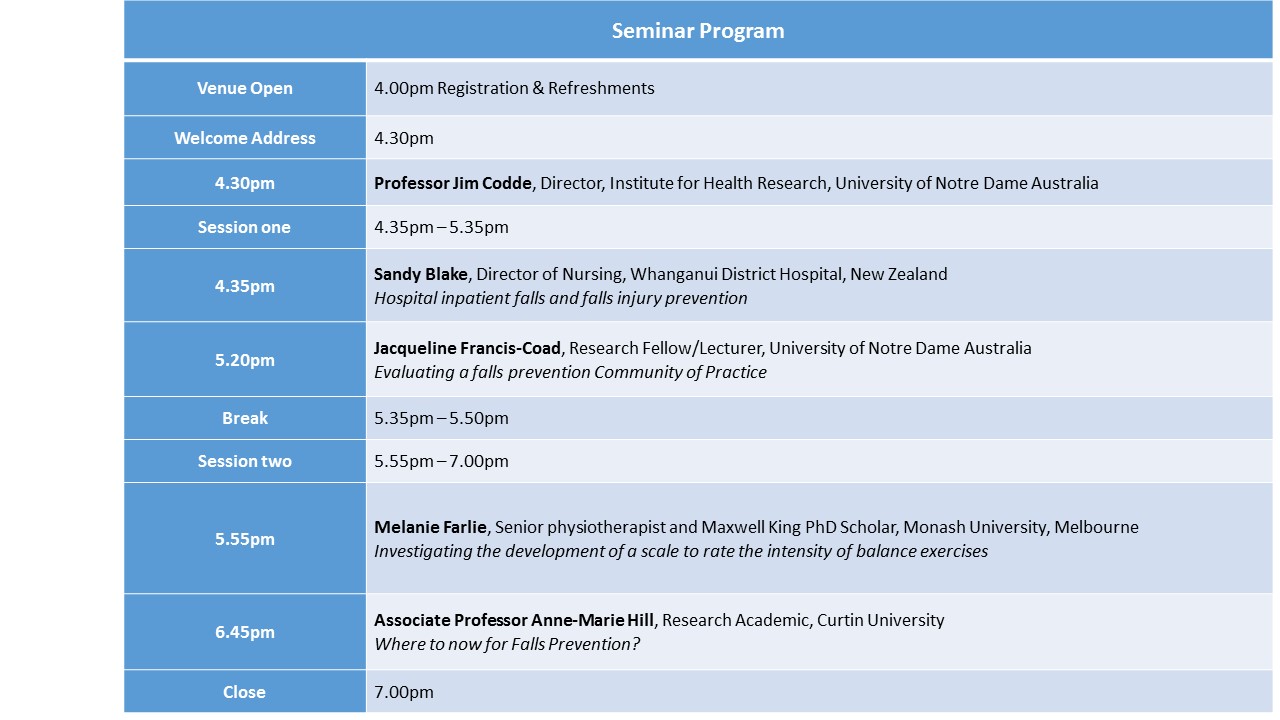 Who can I contact for further details?
For further details on this event or related information, please contact Jacqui at jacqui.francis-coad@nd.edu.au
Organiser of Joining Forces on Falls Prevention

The Institute for Health Research seeks to promote and support excellence in research at Notre Dame that will improve the physical, mental, social and spiritual health and wellbeing of people and communities, particularly those in need.
 It does this by working with staff and students involved in health research at the University and partnering with other academic researchers, health professionals and community organisations that share this vision.