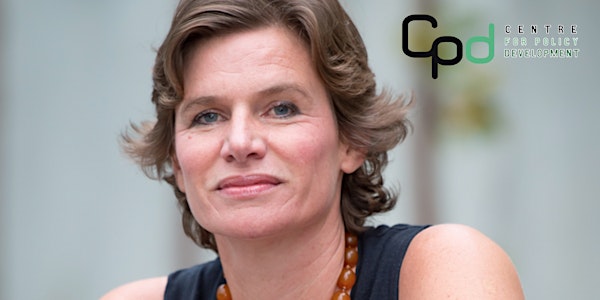 John Menadue Oration by Professor Mariana Mazzucato: Can the State Deliver?
Description
Professor Mariana Mazzucato will deliver CPD's second annual John Menadue Oration on 11 December 2018 in Sydney.
Mariana is Professor in the Economics of Innovation and Public Value and is an advisor to governments and institutions around the world, including the UN Sustainable Development Solutions Network Leadership Council; the Council of Economic Advisors for the First Minister of Scotland; the Commissioner for Research, Science and Innovation for the European Union; the Secretary-General of the OECD; and the SITRA Advisory Panel in Finland.
The Oration will be followed by a conversation with Glyn Davis AC, Distinguished Professor at ANU's Crawford School of Public Policy and a member of the Australian Public Service Review Panel, moderated by Laura Tingle, ABC 7:30's political correspondent.
Mariana is also the Founder and Director of the University College London's (UCL) Institute for Innovation and Public Purpose (IIPP). Her keynote speech will touch on her thought-provoking new book The Value of Everything which looks at the way economic value has been determined and how this has blurred the lines between wealth creation and wealth extraction. Her previous book, The Entrepreneurial State, focused on the need to develop new frameworks to understand the role of the state in economic growth, and was on the 2013 Books of the Year list of the Financial Times.
Mariana is the winner of the 2014 New Statesman SPERI Prize in Political Economy, the 2015 Hans-Matthöfer-Preis, and the 2018 Leontief Prize for Advancing the Frontiers of Economic Thought. She was named as one of the 'three most important thinkers about innovation' by the New Republic.
CPD's annual oration has been named in honour of John Menadue AO, CPD's founding Chairperson, in recognition of John's contribution to public policy in Australia and to CPD. John served as Secretary of the Department of Prime Minister and Cabinet under Prime Ministers Gough Whitlam and Malcolm Fraser, was Australia's Ambassador to Japan and held senior roles in the business community. He remains a CPD fellow.
Organiser of John Menadue Oration by Professor Mariana Mazzucato: Can the State Deliver?
CPD is one of Australia's leading independent policy institutes. Our core model is threefold: to create, connect, and convince. We are independent, values-driven and future-focused. Our goal is to develop practical and innovative policy ideas for Australia's long-term future and foster a collaborative environment to make them achievable.
If you have any enquiries, please contact us at events@cpd.org.au.