Description
Meet, greet and network for Job Success for 2018!
I'm so excited to organise the first MeetUp for this group!
This will be our first meeting where you will connect with people and develop your skills for work, career-progression and develop yourself personally and professionally.
Are you feeling:
• "I'm stuck in a job that doesn't allow me to use my full POTENTIAL"
• "I am unsure if I have transferable skills to move into another industry"
• "I feel what I'm doing now is a step backwards from what I was previously doing"
• "I think at my age it's tough to get a job because of I am overqualified for most roles and I can't get roles I REALLY want"
• "I can't seem to land ANY jobs no matter what I try and I feel utterly discouraged"
Well, look no further because this meetup is for you!
*Note* Special Guest Tashleen Kaur that was a Job Seeker and was able to Change Career paths.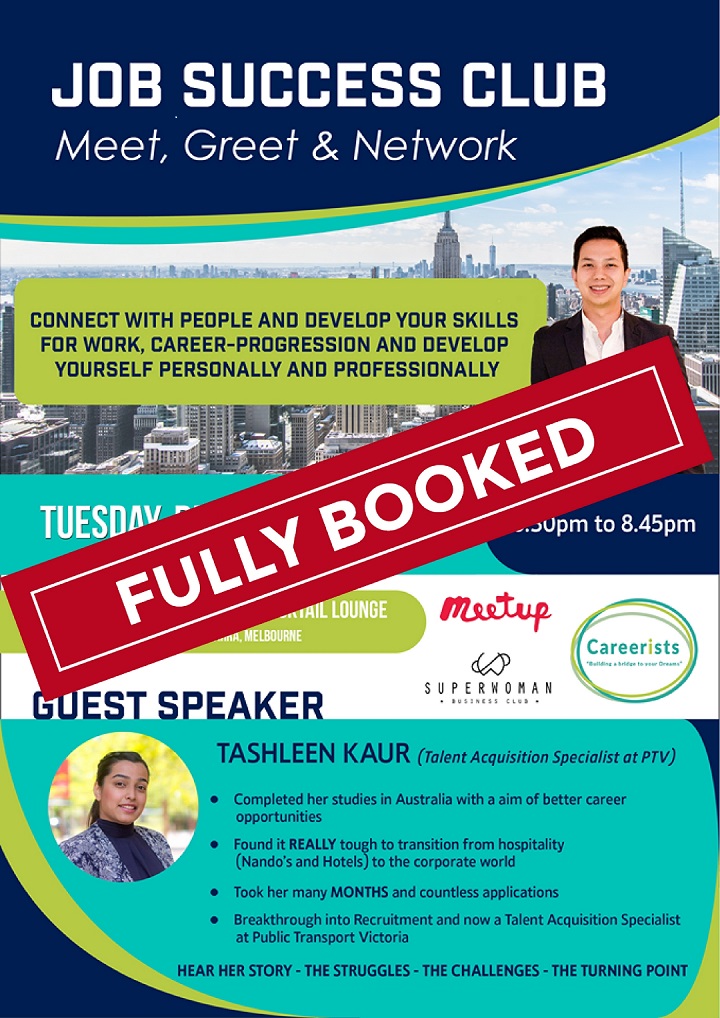 There will be open discussion around jobs and careers; knowledge sharing of the highs and lows of job-searching and a day of connecting, story-telling and wins.
Looking for work can be a lonely process, especially as it's getting more competitive to find a job -- but it doesn't have to be!
Knowledge is Power but there is Power in Numbers as well. So let's support one another and watch the power of collaboration take place.
I look forward to seeing you all there.
LIMITED SEATS ONLY!!!
Please RSVP to this event to let me know you are coming.
Door prize giveaways worth $100s of dollars on the night!
See you there!
Thai & the Team :) :) :)
P.S. If you are looking for work. Then come join our FB Group where there are jobs opportunities posted daily!
Jobs Within Victoria and Melbourne (https://www.facebook.com/groups/jobswithinvicnmelb/)