Jim Kalbach's Defining a UX Strategy – Creating a Blueprint for Success

Monday, 11 April 2016 from 9:30 am to 5:00 pm (AEST)
Event Details
Businesses typically view UX design as a tactical activity. More and more, however, companies are turning to UX as a source of strategic growth. As they do so, creating a design strategy and aligning it with business goals becomes essential. For many UX designers this represents a new challenge requiring an expanded skill set.
This workshop provides a solid background for understanding, building and communicating an effective UX Strategy. Through many examples, hands-on activities, and references to relevant literature, you'll learn about this emerging field that is important to the future of UX.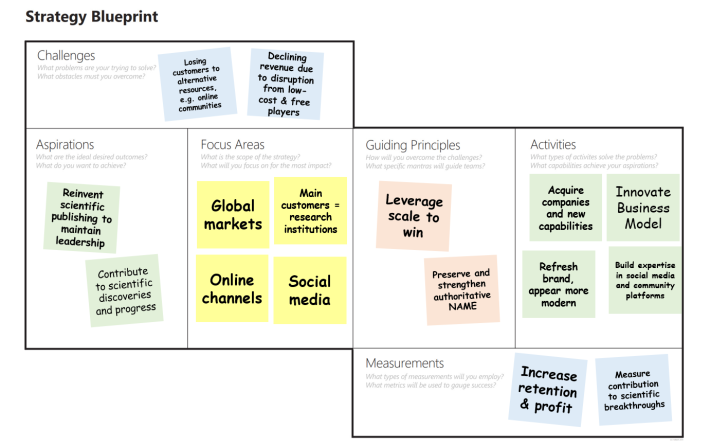 What is covered in this course
Critical look at strategy

  Together, we'll examine what "strategy" is and what it isn't, and why we need a UX strategy. You'll get an overview of core aspects of strategy in this part of the workshop.

Strategy Blueprint

  We'll be working with a tool called the Strategy Blueprint throughout the day. In the section, you'll learn about the elements of strategy and how to see them as a whole using the Blueprint.

Tools for defining strategy

  We'll focus on practical exercises and activities you can use right away in your own work. This includes uncovering the challenges you face, setting your strategic aspirations, identifying focus and scope, and determining measurements for success.

Communicating strategy

  Effective strategy is ultimately about communication. Learn how to bring your strategy alive once you've defined it.

This course will rely on a Jim's original strategy tool, 

the UX Strategy Canvas

. We'll use the canvas to put the concepts learned in the workshop into practice.
Who this course is for
This workshop is suited for UX designers, service designers, design leaders, and design thinkers looking to improve their skills and expand their perspectives on strategy. The course assumes some experience working in a design-related field.
This is course has limited attendance.
What it costs
Price: $399 AUD
Includes breaks, lunch and materials
When & Where

Aconex
96 Flinders St
Melbourne, VIC 3000
Australia

Monday, 11 April 2016 from 9:30 am to 5:00 pm (AEST)
Add to my calendar