Jeff Patton - Certified Scrum Product Owner (CSPO) in Melbourne, Australia...
Description
In 2016 Jeff's Product Owner 2 Day CSPO Workshops in Australia sold out 2 months in advance!! As Jeff only comes to Australia once a year, lots of people missed out.
For 2017 we have created this Expression of Interest email list. This does not guarantee you a seat, but when you register your interest you will be the first to be officially notifed when his dates and price are confirmed around June, 2017 for his November, 2017 workshops.
Jeff Patton, author of "User Story Mapping, Discover the Whole Story, Build the Right Product" and self-professed Passionate Product Owner, brings his widely successful version of Certified Scrum Product Owner®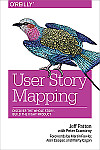 Join Jeff for his dynamic, hands-on and fun class. Workshop includes:
A copy of Jeff's book (and, yes, story mapping will be covered in class)

Printed course materials

Initial Scrum Alliance membership

Scrum Alliance certification as a Certified Scrum Product Owner® (CSPO)

Morning tea, lunch, afternoon tea and drinks
Jeff will be visiting Brisbane, Canberra, Sydney and Melbourne. Register your expressions of Interest for each city you are interested in.
Note: Registering your Expression of Interest does NOT guarantee a seat. It will be first in-best dressed to purchase when the event tickets are released.