This is a free user group for asset managers using JDE. This webinar will focus on planning for your 9.2 upgrade + future session planning.
About this event
Upgrading to JDE 9.2: Lessons Learned at DBCT
A free webinar, hosted by DBCT Asset Management Systems Specialist, Fiona Walker & sponsored by Asset Performance Solutions.
DBCT has recently completed an upgrade to JDE V9.2.
Fiona will share lessons learned in a webinar on May 12. Takeaways will help IT and business representatives to prepare for a successful upgrade that aligns with asset management, supply chain, and maintenance business processes.
This session will also wrap up with a planning session for the next meeting of the Australian JDE User Community of Practice.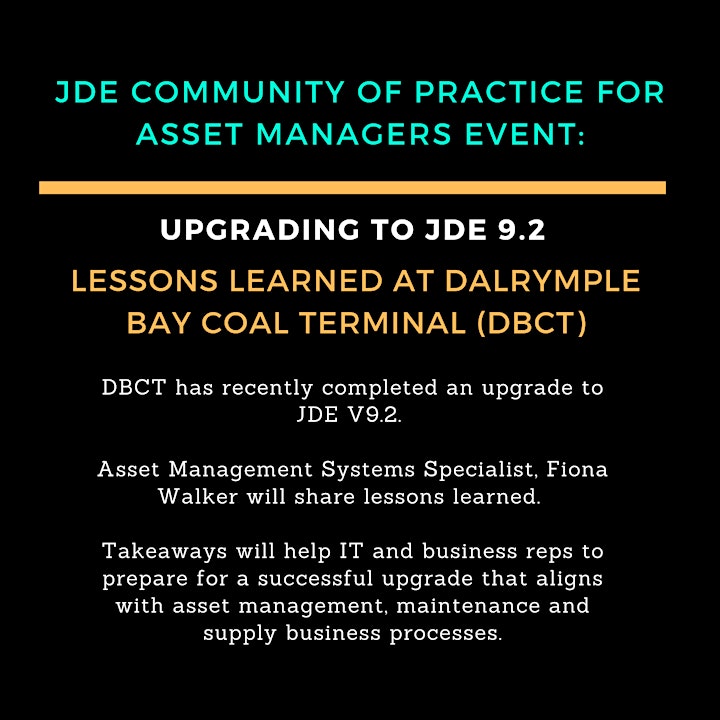 The JDE Community of Practice for Asset Management is a free user group.
It provides users a platform to ask questions, and share ideas and experience with peers regarding JDE asset management projects.
Community meetings, content and workshops feature case studies, Q&As and informal training. Members are armed with info that prepares them for successful technical and business improvement projects, alike.
To register for more updates on these free events, visit assetperformancesolutions.com.au.