JBI gLocal Solution Room 2020 - CANCELLED

Tuesday, 22 September 2020 from 09:15 to 15:30 (ACST)
Event Details
IMPORTANT CHANGES:
It is with regret that we inform you that the JBI gLocal Solution Room 2020 event scheduled for 30 April in Adelaide, Australia needs to be postponed due to concerns related to COVID-19 and recent advice provided by the University of Adelaide and the Australian Government.


The safety of our staff, guests, attendees and our community are of utmost importance whilst we navigate through these unpredentented times. At this stage, we are looking to reschedule our event for Tuesday 22 September and will advise further details closer to the date. Your registration will remain active however if you're unable to attend on this date, please feel free to let us know at jbieducation@adelaide.edu.au and we'll cancel your registration. 
Please keep in touch via our JBI gLocal Solution Room 2020 webpage or JBI Website. In the meantime, to keep informed about better evidence for better outcomes in healthcare, visit our JBI News page and subscribe to JBI Buzz. 

---
JBI gLOCAL Solution Room 2020: Global Evidence, Local Decisions                         
Having trouble getting evidence into practice? 
The JBI gLOCAL Solution Room is a global event held in from April to May 2020, comprising a series of dynamic and interactive events held in numerous different countries and languages designed to provide pragmatic solutions to your challenges in getting evidence into practice in your clinical setting.
Each JBI gLOCAL Solution Room event will include an esteemed panel of experts that will give you 'real-world' insights during their presentations focused on evidence-implementation. As a 'think tank' they will then respond directly to participant questions around EBP challenges in an interactive panel discussion. The aim is to provide practical solutions for getting evidence into practice in your clinical setting.

Who should attend? 
The JBI gLOCAL Solution Room aims to bring together clinicians, academics and policymakers interested in evidence-based healthcare and serve as a synchronized, collaborative, and widely accessible inter-regional space to promote evidence-based practice discussion and debate.

Attendance to all events worldwide is free of charge, and all events will produce a post-event proceedings report to convey information on the challenges and solutions highlighted during each event (community/city/country) around the world.
More information about 'GLOCALization' and JBI's approach to global evidence-based healthcare.

---
 Adelaide Event
The Adelaide JBI gLocal Solution Room will take place on Tuesday 22 September at The National Wine Centre, Exhibition Hall.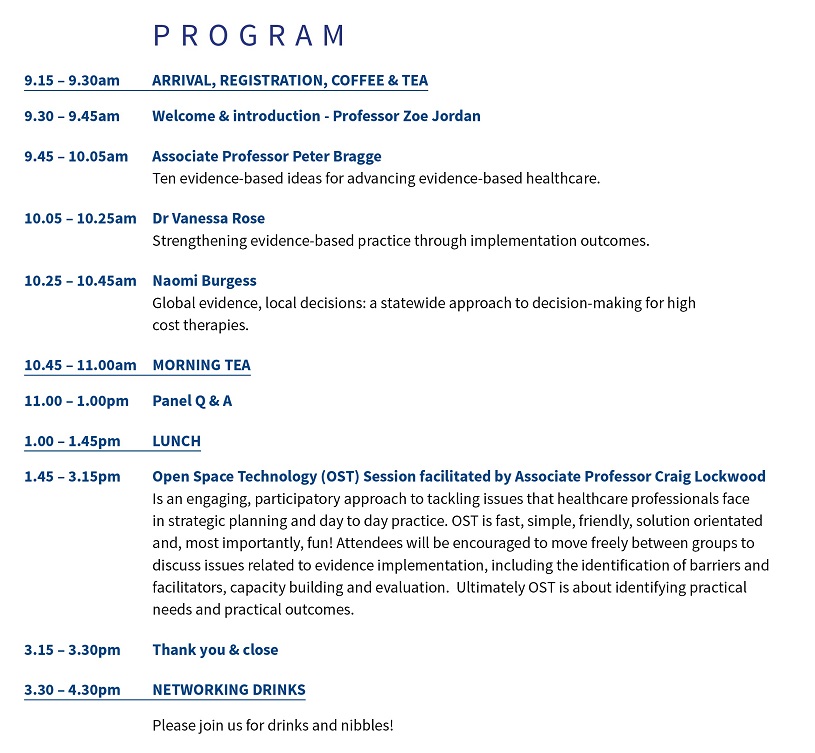 Unable to attend the Adelaide 2020 JBI gLocal Solution Room in person?
A 'Live Stream' option is available from 9:30am - 1:00pm ACST. By registering for Live Stream you will be sent a streaming link prior to the event.
Strong WIFI access will be required to view the sessions. 
Time zones:
Melbourne, Sydney & Brisbane: 10:00am - 1:30pm AEST
Darwin: 9:30am - 1:00pm ACST
Perth: 8:00am - 11:30am AWST
International time zones 
ABOUT THE ADELAIDE SPEAKERS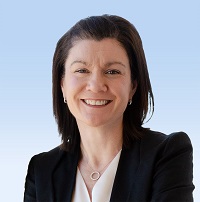 Professor Zoe Jordan | Director, JBI
Prof Zoe Jordan is an experienced academic, business and communications professional with a long history working in evidence-based healthcare.  In her role as Executive Director of JBI Prof Jordan works with collaborating entities across the world to ensure that the Institute's vision and mission are achieved.  She is particularly interested in exploring strategies to foster strong international partnerships to achieve more effective translation of knowledge into policy and practice globally and in understanding the role of leadership, cross cultural collaboration, cultural brokering, discursive competence and relational empathy in achieving this goal.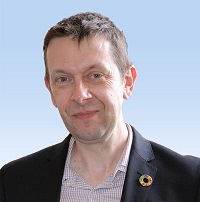 Associate Professor Peter Bragge | Monash University
Associate Professor Peter Bragge specialises in translating research evidence into practice and policy to address challenges faced in health and sustainable development. This involves identifying, appraising and cataloguing research evidence; exploring practice through analysis of behaviours and their context; consulting with practitioners and policymakers to design tailored behaviour change interventions and evaluating their effectiveness.
As Director of Health Programs for MSDI's BehaviourWorks Australia, Peter manages BWA's partnerships with a number of government and other agencies. Peter is also leading Monash Sustainable Development Institute's collaboration with McMaster University in Canada to build the world's largest evidence resource for the Sustainable Development Goals (SDGs) – Social Systems Evidence (SSE).
Peter has published over 60 peer-reviewed journal articles and a book, From Roadside to Recovery: The Story of the Victorian State Trauma System and has written over 80 reports for government. Prior to his full-time research career, Peter worked for 10 years as a physiotherapist in public and private practice settings, including one year in the United Kingdom.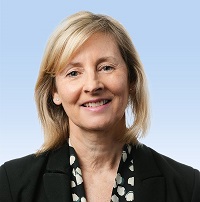 Naomi Burgess | Department for Health and Wellbeing
Naomi Burgess is the Interim Chief Pharmacist and Director of Medicines and Technology Programs SA Department of Health and Wellbeing. In this role, Naomi provides leadership and strategic direction in regard to statewide legislation, policy and programs for medicines and health technologies to ensure the best possible health outcomes for all South Australians.
A key focus is the development and implementation of policy and programs for the quality and safety of medicines use and ensuring systems are in place for governance of health technologies in SA Health. In this role Naomi has successfully lead the development and implementation of statewide governance frameworks for evidenced-based assessment to promote equity of access to high cost health technologies shown to be safe, effective and cost-effective.
Naomi has a background in hospital pharmacy and has over 30 years' experience in a wide range of settings including senior management, research and teaching roles within the public hospital, government and university settings. She has ongoing contribution and is recognised at both state and national levels for leading strategy development and ensuring outcomes in her key interest areas of quality use of medicines, health technology evaluation, safety and cost effective health care.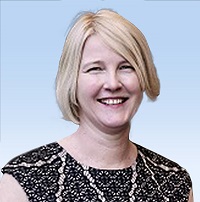 Dr Vanessa Rose | Centre for Evidence and Implementation (CEI)
Vanessa Rose, PhD, is a research psychologist with substantial experience developing and evaluating evidence-based programs implemented within health and human services. She previously led a program of work at the University of NSW focused on improving the lives of children, families and communities facing adversity, establishing a community-based research centre to bridge the gap between research-practice and research-users. Vanessa has also led work in NSW government developing an evidence-informed framework to establish shared outcomes across agencies and improve the wellbeing of vulnerable populations. Her background includes child psychological assessment, managing a community health centre and teaching undergraduate and postgraduate students in health inequalities, health promotion and research methodology.

In her role with CEI, Vanessa is responsible for a portfolio of evaluation projects. These include large-scale, whole-sector evaluations using robust methodologies to measure outcomes and assist government and other policy agencies in decision-making for future investment.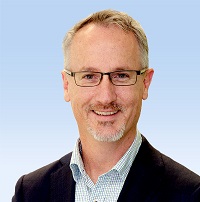 Associate Professor Craig Lockwood | Director of Implementation Science, JBI
A/Prof Lockwood is the Director of Implementation Science for JBI. He has expertise in the synthesis of quantitative and qualitative data and extensive experience in conducting systematic literature reviews and publishing research reports in international, peer reviewed journals. He is the Chair of the JBI methods group focused on qualitative reviews, Chair of the Guidelines International Network's Implementation Working Group, Co-convener of the Cochrane Fields Executive Group, a member of the Cochrane Council, and Adjunct Associate Professor at Queens University, Kingston, Ontario, Canada.
A/Prof Lockwood has extensive experience in the conduct and management of both government and non-government consultancies. He has participated in, led and guided numerous state and federal level grants and projects, including a rapid review of the effectiveness of smoking cessation and prevention strategies to reduce social disparity which resulted in a series of key recommendations to inform policy related to therapeutic interventions including counselling services. He has also been a co-investigator on a NHMRC funded Centre of Excellence to identify evidence to inform the prevention, management and treatment of chronic diseases among indigenous populations; the Chief Investigator on internationally funded projects for WHO and DfID and Associate Investigator on competitively funded evidence-based quality improvement projects that led to improvements in private hospital systems for increasing patient safety and decreasing the risk of patient falls.
---
Registrations close: Wednesday 16 September 2020
See the highlights from the JBI Solution Room in 2019.
If you have any questions, please feel welcome to contact JBI at jbieducation@adelaide.edu.au
More information about JBI.
Proudly supported and sponsored by


Do you have questions about JBI gLocal Solution Room 2020 - CANCELLED ?
Contact JBI
Save This Event
When & Where

FREE
The National Wine Centre- Exhibition Hall,
Hackney Road & Botanic Road
Adelaide, SA 5000
Australia

Tuesday, 22 September 2020 from 09:15 to 15:30 (ACST)
Add to my calendar
Organiser
JBI works to promote and support evidence-based healthcare, with the aim of improving outcomes through the use of evidence in practice.
At JBI we have resources, guidance and educational courses available for all those interested in evidence-based healthcare (evidence transfer, synthesis or implementation) whether in clinical, research or academic settings.