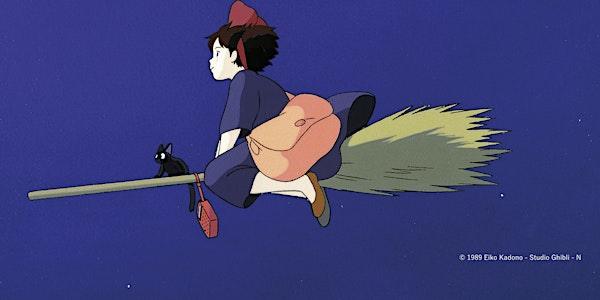 Japanese movie under the stars - Kiki's Delivery Service[魔女の宅急便]
Location
Darwin Languages Centre
1 Nemarluk Drive
Ludmilla, NT 0820
Australia
Enjoying Japanese movie and a beautiful dry season in Darwin! The movie starts at 7pm.
About this event
The Australian-Japanese Association of the Northern Territory (AJANT) with support from Consulate-General of Japan in Sydney and Japan Foundation Sydney will host the event Japanese movie under the stars at Darwin Languages Centre. This initiative aims to support and grow interest in Japanese culture and language throughout Darwin. By attending this event, we hope you can deepen your knowledge of Japanese culture while enjoying a relaxing evening.
The gate opens at 6pm and the movie start at 7pm. You can join some fun Japanese traditional toy activities. We will also sell Japanese sweets and Japanese drinks for fund-raising.
Kiki's Delivery Service
Runtime: 103 mins [The movie starts at 7pm]
Languages: English audio
Classification rating: G
Discover Kiki's Delivery Service, a fantastic coming-of-age tale full of magic, adventure, and self-discovery from the sensational imagination of Academy Award–winning director Hayao Miyazaki (2002, Best Animated Feature, Spirited Away). Kiki is an enterprising young girl who must follow tradition to become a full-fledged witch. Venturing out with only her chatty black cat, Jiji, Kiki flies off for the adventure of a lifetime. Landing in a far-off city, she sets up a high-flying delivery service and begins a wonderful experience of independence and responsibility as she finds her place in the world. Rarely has the animator's art been so brilliantly rendered as in this delightfully imaginative film that will entertain boys and girls everywhere.
© 1989 Eiko Kadono - Studio Ghibli - N
AJANT follows the principles in the NT COVID-19 Safety list plan for this event.