Event Information
Location
St Johns Church, Reid, Canberra
Description
Please see website www.janeaustenfestival.com.au for more information. If you have any questions email janeaustenfestival@gmail.com
CHILDREN UNDER 18 ARE HALF PRICE. Please use the code CHILD when you fill in the ticket form and provide us with their age and school they are attending in 2013. Children must be supervised by an adult parent or carer and cannot be left at the festival by themselves. Any children who are misbehaving or making excessive noise will be asked to leave.
Please Note: we are unable to refund any ticket sales for any reason - just like concert and theatre tickets. You are welcome to sell or pass on your ticket but must notify us with the name and contact details of the new owner. Tickets are only valid for the festival for which they were sold and cannot be credited towards the next festival.
Please note that a video and audio record is being made of some parts of Jane Austen Festival Australia for the public, and that your attendance is tacit permission allowing these images to be used for future marketing and other purposes.
--------------------------------------------------------------------------------------------
Information for those entering the "Mr Darcy Competition"
To enter you need to purchase a season ticket at the following discount:
50% off Mr Darcy Category
40% off Mr Wickham Category
30% off Mr Bingley Category
20% off Mr Collins Category
You don't have to be eligible for marriage to enter but we have to be able to imagine you are for the competition parade.
Rules:
1. You are not restricted to one category
2. You are not able use cork or wood pieces to make your calf muscles look bigger.
3. You must be of the male gender
3. Judging will be by audience applause at the Cotillion Ball on Sunday 21 April 2013.
Prize package:
Free ticket to JAFA 2014 for each category to defend your title.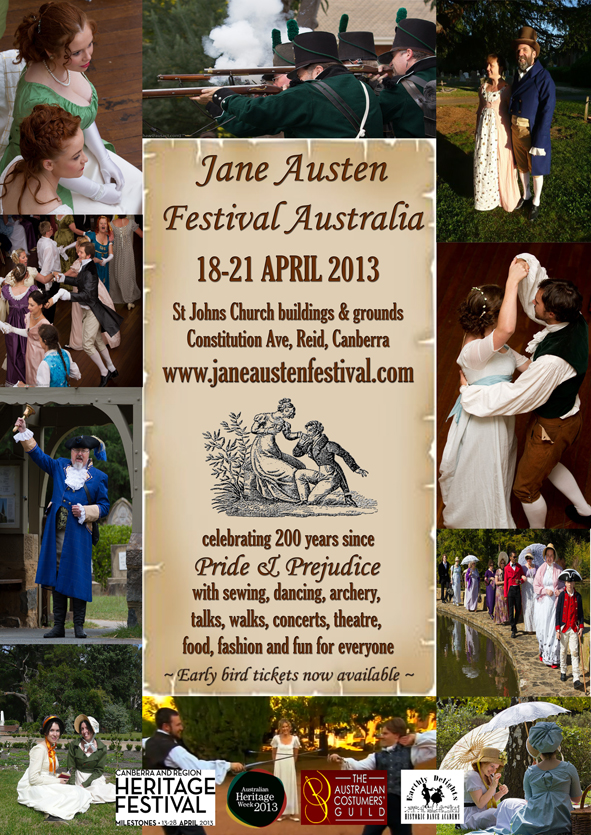 Date and time
Location
St Johns Church, Reid, Canberra