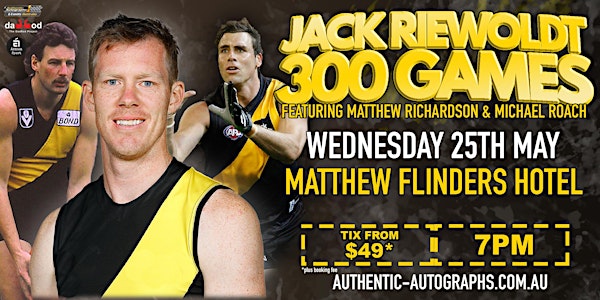 Jack Riewoldt 300th Game Dinner at Matthew Flinders Hotel, Chadstone!
Location
Matthew Flinders Hotel
667 Warrigal Rd
Chadstone, VIC 3148
Australia
Jack Riewoldt 300th Game Dinner with Michael Roach and Matthew Richardson LIVE at the Matthew Flinders Hotel, Chadstone!
About this event
Authentic Autographs & Events Australia are giving Tigers fans a chance to celebrate their star forward Jack Riewoldt's 300 career games with a night of fun and laughs.
Get up close and personal with Jack Riewoldt on what is nothing short of a sensational career, 300+ games with 700+ goals plus 3 incredible premierships!
We will take a look back at some of Jack's career highlights and hear firsthand all about his well publicised adventures (and some that didn't make the news) during the clubs climb to becoming a modern great.
Alongside 2 of Richmond's greatest ever players Michael Roach and Matthew Richardson this will be a night to remember! PLUS! All 3 Premiership Cups!
Enjoy a beautiful 2 course meal and 4 hour basic drinks package and reflect on a sensational career from the Tasmanian born Tiger superstar!
This show will be the only opportunity for you to join in and celebrate with Jack and the other Tiger champions. An evening not to be missed by any Tiger fan!!
GENERAL ADMISSION - $50*
- Includes show entry only
DINNER & SHOW - $200* and includes;
- 1 person entry to the SHOW ONLY!
- 2 course meal and 4 hour drinks package (beer, wine & soft drink)
"It is incumbent on the ticket purchaser to advise of any dietary requirements as it may be too late on the night to accommodate your request"
RIEWOLDT 'TIGER4LIFE' Photo package - $150* ( you & 1 guest) and includes;
- Add a Photo package with Jack Riewoldt & the 3 Premiership Cups on the night. *All guests MUST have a General Admission ticket before purchasing this pass (THIS PASS DOES NOT ADMIT THE TICKET HOLDER TO THE SHOW)
- 1 x Tiger4Life photo frame (AFL Licensed, Approx 400mm x 300mm)
- 1 x Professional photo of YOU/Your plus one *Your photo can be downloaded in HIGH RESOLUTION from our Facebook page up to 72 hours after the event.
Please note:
* This is a 15+ event due to coarse language and adults themes.
* This is STRICTLY a no-sign event (for personal items). Memorabilia will be available for purchase on the night for Richmond FC collectors who wish to take home a piece of signed football history.
This event will be run in accordance with the latest Victorian Government guidelines and COVID safe practices. For further information relating to this please contact the event organiser Entertainment By Vin.
*Neat casual must be worn, dress to impress!
*****PLEASE NOTE*****
We thank you for your interest in our show.
With the complexities of COVID and the ever changing government rules around lockdowns etc please note that our shows can be postponed or dates changed at a moments notice.
By purchasing your ticket you agree that you are NOT eligible for a refund unless WE cancel the show.
Amendments/Postponements to the original event date DO NOT qualify you for a refund on your ticket.
If you'd like to continue with your ticket purchase please do so and we thank you for your support and look forward to seeing you at the show.