Join us to celebrate IWD 2021 and learn the 3 top tips from women who challenged employment bias and built a career.
About this event
. This year International Women's Day is about challenging and inviting to take action for equality. Africause is celebrating the contributions that women make in our community.
Join our African-Australian community women speakers, and allies to be part of a two way, practical discussion on how they #Choosetochallenge bias and grow their wellbeing and careers.
Our African-Australian youth leaders, professionals, entrepreneurs and allies have come together to meet you and build a supportive network.
Don't miss out on sharing a supportive smile, conversation on personal stories and information on programs available now to support us to #Choosetochallenge.
When?
Tuesday 16th of March at 7:00 pm
Who?
This is an event for all your family. Please share, register (FREE) and invite your friends!
Our speakers
• Nalika Peiris
Nalika joins us as a representative from Moreland City Council with 13 years experience in this capacity. Currently the Unit Manager for Community Development and Social Policy, Nalika also brings almost 20 years of council sector experience and is a Graduate of the Australian Institute of Directors and holds a Masters of Education and Advanced Diploma of Management in addition with a range of specialist certifications supporting community engagement
• Adongwot Manyoul:
Adongwot is a young Cultural Consultant. Double bachelor in Communications in Journalism and International Studies. AD is a Youth leader and advocate in the South Sudanese community, she has volunteered for multiple NGO organisations and collaborated with VIC councils to improve community engagement and, got a 2019 Churchill Fellowship award to travel investigating the disengagement of minority youths within the Education system.
• Keletso Magano-Niebling
Currently, Kel is the founder of MAGANO. The Label clothing. A clothing label that was birthed with womanhood in mind. She created this label for the woman who has difficulty finding a dress which fits them well. It is designed for the woman with a unique body shape and lovingly made with the celebration of diversity in mind.
• Dr Irene Bouzo
She is a Senior Consultant at cultural and spiritual diversity; After 10+ years working in multicultural policy advocacy, she gets excited when I see culturally diverse community organizations prosper. She would like to contribute to making multicultural Australia a better place. She is an expert is in NGOs, governance, research, community engagement, policy advocacy and public speaking.
• Summayyah Sadiq
A Counsellor, Psychotherapist, Life coach, writer and social entrepreneur Summayyah Sadiq-Ojibara is a Counsellor and Psychotherapist, Life coach, writer, motivational speaker, mentor, social entrepreneur, community development worker and creativity consultant.
Niki is the General Manager Employee Relations, Complex Cases and Change at Healthscope: And the President for the Industrial Relations Society for Victoria and holds a Bachelor of Laws and Certificate IV in Government Workplace Relations.
Niki offers 15 years of professional experience and insights into the legal frameworks that enable women to challenge employment barriers. Niki is a dynamic role model and advocates for ethical, legal practices
Our facilitator: Lorelle Said
Lorelle Said brings 25 years' experience as Human Resources (HR) Generalist with a track record of partnering C Suite over the last 12 years. As a trusted business partner and thought leader, Lorelle enables measurable return on HR investment across blue-chip corporates including Qantas, NAB, Telstra and the Community Sector including Africause, Youth Activating Youth and Spectrum.
Lorelle is studying a Certificate IV in Community Services and holds an MBA, Master Marketing, Grad Dip IR & HR and B. Arts
Contact us at
Website: www.africause.org.au
Email: info@africause.org.au
Phone: 03 9042 1604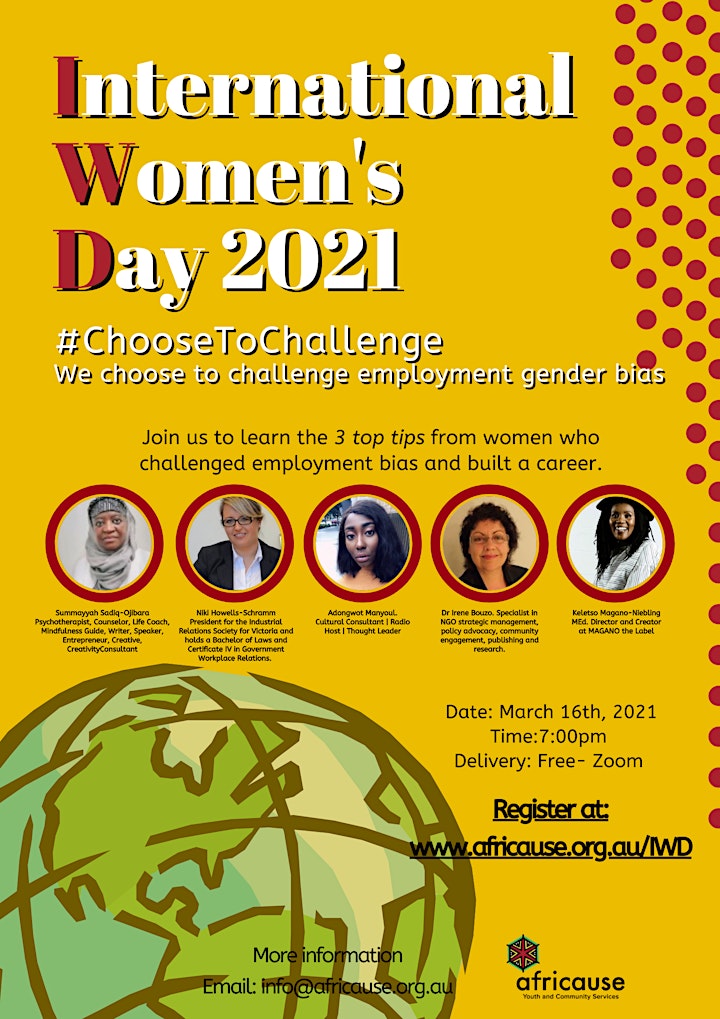 Disclaimer- Video Recording
By registering to this forum you recognise and consent that this event will be recorded by Africause. Any materials produced such as video, or paper articles published, and any other outcomes are owned by Africause and you agree for Africause to publish recorded video in social media and other relevant media stream to promote and advocate for our communities in Australia.
Africause does not permit audio/video capture of any type by session participants, attendees or outside organisations without the advanced and express written permission of Africause.