About this Event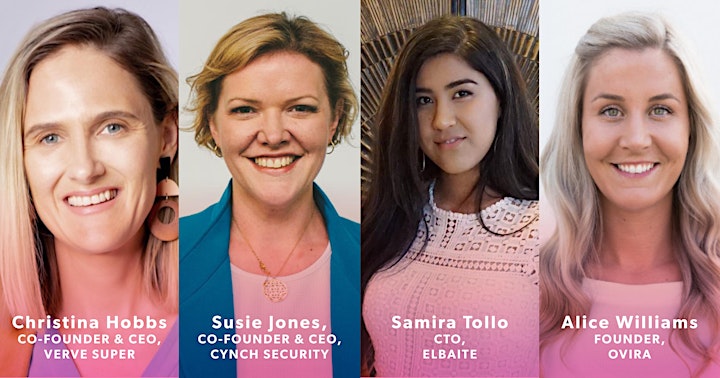 International Women's Day is a global day celebrating the social, economic, cultural and political achievements of women - while also marking a call to action for accelerating gender equality #eachforequal.
We continue to make great progress in Victoria increasing the number of female founders from year to year - and we think that's something worth celebrating together. Of course, it's not just founders, but other great women leaders paving the way in our community.
On behalf of LaunchVic and Stone & Chalk, we'd love to invite you to a conversation with four stellar women leading the way within the entrepreneurial landscape in Victoria – all based at the Victorian Innovation Hub. Over wine and cheese we will discuss the challenges, successes, and road we are building for a truly inclusive future.
Christina Hobbs
Co-Founder & CEO, Verve Super
Christina is an experienced Board Director in the superannuation industry and a former Deloitte Management Consultant. She has worked as a humanitarian and financial inclusion expert for the United Nations for over a decade and is a former Board Director of the Global Women's Project and a published author on gender equality.
Susie Jones
Co-founder & CEO, Cynch Security
Susie is Co-founder and CEO of Cynch Security, a Melbourne-based startup that solves cybersecurity problems for small business owners.
Susie began her career as a corporate insurance broker at two of the world's largest firms, working with some of the biggest and smallest companies across Australia. Throughout those early years, she honed her skills in translating complex technical insurance advice and information into plain language that everyone could understand.
When she left Marsh in 2014 to join Australia Post as its Senior Insurance, Risk & Compliance manager, Susie never expected her career to change so much! During her almost five years at Australia Post, she moved from her insurance role into risk management, commercial management and being an innovation partner. Eventually, Susie become Head of Cyber Security Business Services, where she balanced the needs of the CISO and Information Security Office with the needs of the rest of the business.
In late 2018, Susie decided to take the leap and throw herself into her joint startup full-time. She hasn't looked back since, growing the business alongside her co-founder from an idea and rough MVP to one that is internationally recognised and on the brink of international expansion.
Samira Tollo
CTO, Elbaite
Samira a passionate problem solver with an excitement to experiment how new technology can impact society. Samira began her career as an electrical engineer and now CTO of Elbaite.
Elbaite is a world first cryptocurrency trading platform that meets the demands of Australia's highly experienced traders who seek security, safety and control of their assets. Samira has a passion for growing Blockchain technology adoption, the AI industry, and power generation industry.
Alice Williams
Founder, Ovira
Frustrated with the stigma and lack of treatments options available for period pain, Alice founded Ovira - a wearable device that instantly stops period pain. As women experience so much emotional pain and isolation around menstrual health, she is using Ovira as a platform to create a buzzing online community that offers women a place of connection and understanding. Alice recently launched her product, and has just closed her $1.5m raise led by Blackbird Ventures.