Description
Written and Directed by Deborah Pollard
Designed by Paul Matthews
Performed by students of the UNSW course ARTS2122: Performance Production.
It's complicated in the small seaside town of Angel Point.
Chole loves Drew and Milly loves Grant and Richard hates them all. Sandra and Jonathan's marriage is on the rocks and the mayor is sleeping with an escort. There is evil lurking in Sass and Eleanor's new apartment and Roxani's shoe and man fetish is out of control. Then Jacinta spills coffee all over her Christian Lacroix dress, and did we mention there is something sinister about Leora's family and someone gets murdered? Actually seven people get murdered.
It's Complicated is a theatre show set in a TV studio. A roller coaster ride of channel surfing fun, we invite you to be enthralled, horrified and amused by the intriguing fragments of these stories. The actors race against time, frantically moving from set to set. Will they be ready before the 'on-air light' comes on and the action goes live again? Their TV show grows increasingly strange, genres keep changing and the narratives never finish as the actors struggle to keep up with the increasing number of plot lines that make up this new TV show, It's Complicated. Its saturating, its hysterical, its TV!
For more event information visit the SAM website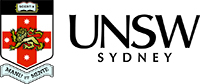 Produced by the UNSW Creative Practice Lab