QLD Dinner with Data - It's all about the RIGHT place, RIGHT time - with Stephen Sinclair and Matthew McDonnell
About this event
With the recent release of the Infusion Nurses Society (INS) 2021 Standards, now is the right time to discuss ways of aligning your IV lines with best practice. Stephen Sinclair and Matthew McDonnell will share their insights at this event.
Date: Thursday, 27th May 2021
Time: 6PM – 9PM
Location: The Greek Club, 29 Edmondstone St, South Brisbane Queensland 4101 (3-Course Dinner and Drinks Provided)
Presenters:
Stephen Sinclair – "For The Patients Sake: How Many Times is Too Many" CNC for Cannulation and PICC service at Bundaberg Hospital. To date, Steve has inserted 3400 PICCs since 2005 and inserts approx. 2500 long PIVCs per year in DIVA with zero insertion-related infections reported.
Matthew McDonnell – "Timely Removal of Lines" CNC for VAST, Infection Management Services at Princess Alexandra Hospital. Matty provides clinical expertise, consultancy and multidisciplinary staff education on VADs, as well as infection control surveillance.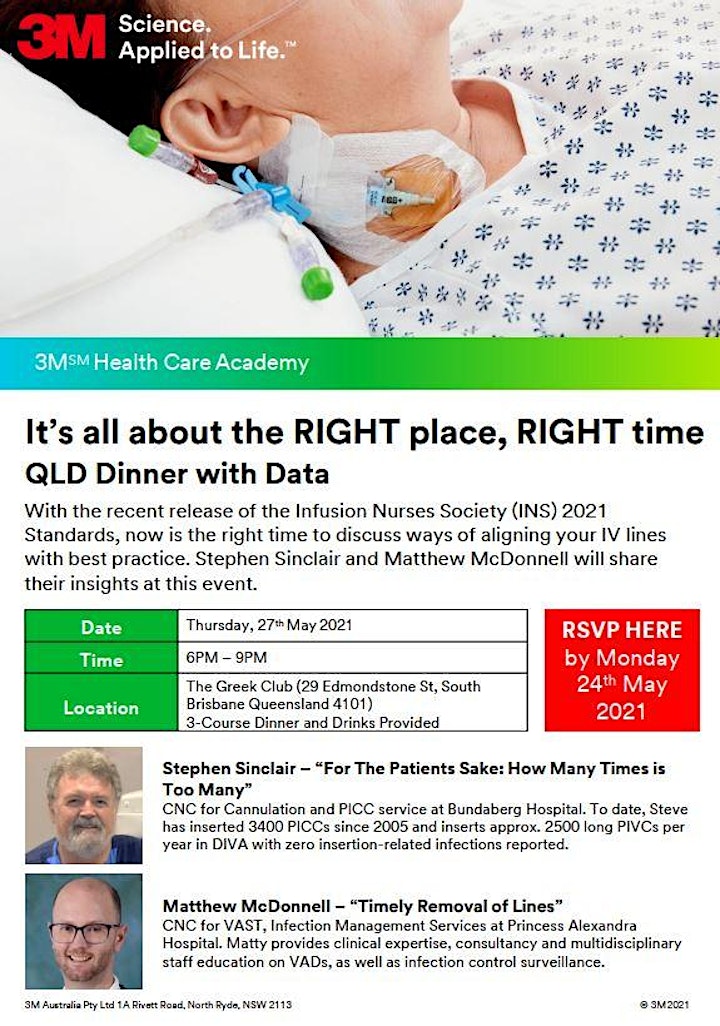 Organiser of It's all about the RIGHT place, RIGHT time - QLD Dinner with Data