About this Event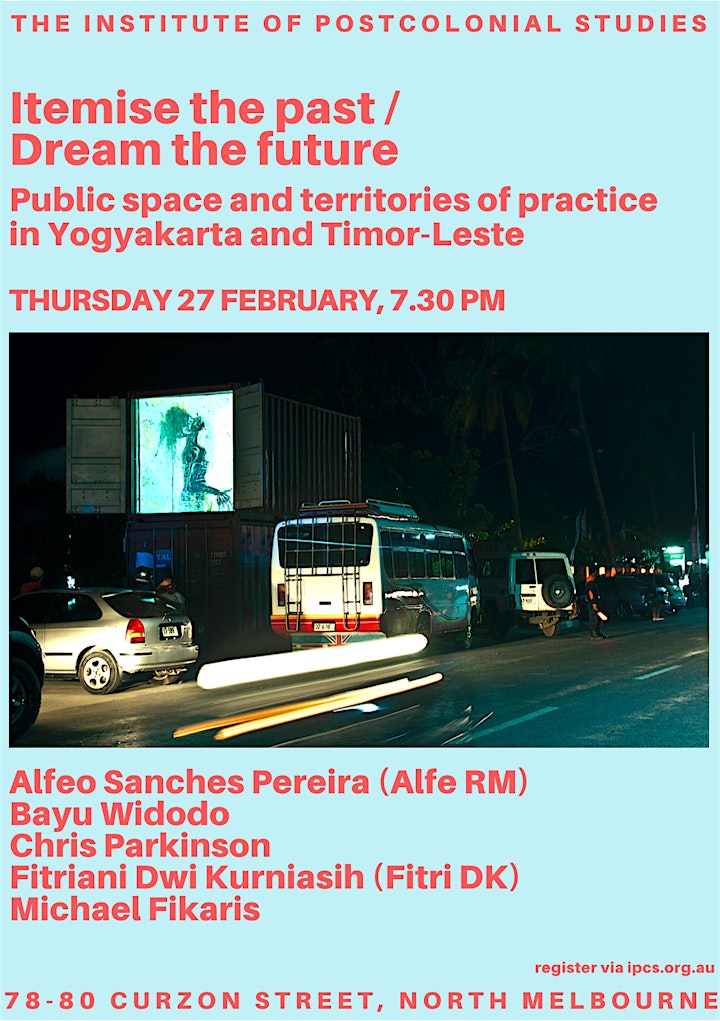 Itemise the past / Dream the future
Public space and territories of practice in Yogyakarta and Timor-Leste
Join Bayu, Fitri (SURVIVE! Garage), Alfe, Chris and Fikaris (Animatism) in conversation as they reflect on their practice, the restyling of urban subjectivities, public space collaborations, and the work of art collectives in Yogyakarta & Timor-Leste.
Fitriani Dwi Kurniasih (Fitri DK) is an art worker from Yogyakarta. Fitri is also a visual artist who uses graphic art techniques (such as hardboard cuts and etchings) to critique and dialogue on social and environmental issues. Fitri is committed to raising women's issues through art and music and consistently provides a strong female voice in an extremely patriarchal culture. Fitri is a member of SURVIVE!Garage community, Taring Padi art collective, and vocalists of the band Dendang Kampungan.
Bayu Widodo is an art worker; founder and owner of alternative art space SURVIVE! Garage in Yogyakarta, Indonesia. Bayu Widodo is also known as a visual artist that uses graphic art and painting techniques to critique political, social and environmental issues. He has exhibited widely in Indonesia and abroad. Art for Bayu Widodo is a way to express ideas that have been inspired by what he sees, reads, and hears around him.
Beginning from observing, analysing, and understanding the phenomena of daily life in the form of social interaction and tolerance, it is not uncommon for shared contradictions and oppositions in one's self to arise. Bayu often runs screen printing workshops in communities, schools and his studio is open to anyone who is interested in learning about art, particularly graphic art techniques. Bayu is also an active member of Taring Padi.
Alfeo Sanches Pereira (Alfe RM) is a Timorese visual artíst. He trained at the Arte Moris art school in Dili from 2004-2010, in a newly-independent Timor-Leste. Alfe has refined his practice through several international cultural exchanges and has exhibited in solo and collective exhibitions in Dili (2006, 2007, 2008, 2010, 2013, 2015, 2016), Switzerland (2008), Australia (2010, 2014, 2016, 2017) Macau (2016) and France (2017). In Melbourne, he has painted murals in Richmond, Fitzroy and the CBD and has co-created projections for the Gertrude Street Projection festival. Alfe's work connects closely with activist movements in Timor-Leste, and his stencil art became a symbol of his country's fight for a fair maritime boundary with Australia, a longstanding dispute which was resolved in 2018. Alfe moved to Australia in 2016 and is currently living in Melbourne.
Chris Parkinson is a photographic artist, arts professional and published author who seeks to build inclusive conditions for artists and art to flourish. His 2010 book, Peace of Wall: Street Art from East Timor, is described as a 'book of evocative photojournalism capturing an important moment in East Timor's history through its walls.'
Chris's long-term collaboration with East Timorese artists developed the Animatism collective; a cross-cultural collective of artists working on creative diplomacy projects between Australia, East Timor and Indonesia, framed by the Indonesian, East Timorese and Australian relationship since World War 2. Chris currently coordinates and delivers a Street Art elective to undergraduate students at the University of Melbourne, co-curates and is a senior editor of Photodust and is a Youth Arts Officer with the City of Yarra. He sits on the Centre for Projection Art's Creative Advisory Committee.
He was a member of the VCA's Art, Social and Spatial Practice Research Cluster and is a recipient of grants from Creative Victoria, the University of Melbourne, the Australian International Cultural Council, the Department of Justice, VicHealth and a recipient of a Peter Macphee Student Engagement Award (University of Melbourne) and an Australian Arts in Asia Award.
Michael Fikaris is an Australian multidisciplinary artist whose career has spanned nearly 20 years. Initially a central figure in both Melbourne's comic book and street art movements in the early 2000's, Fikaris has expanded their oeuvre into print making, small press publishing and large-scale painting.
Fikaris has worked extensively on projects locally and internationally with varying communities as well as art institutions and educational bodies. As a freelance artist and community driven project leader, Fikaris has been publishing anthologies under the name Silent Army comic collective since 2002 and in 2017 was awarded the Platinum Ledger Award for outstanding service to Australian comics.
SURVIVE! Garage was established in 2009 and is a community alternative space and art shop. SURVIVE!garage works with a range of artists and communities from Indonesia, and supports young independent, & emerging artists by providing a space to exhibit, run performances and workshops. Survive aims to enable an alternative forum for artists who sit outside mainstream art culture, and to provide a community base from which artists can connect.
Animatism is an exchange of creative ideas and artistic action between Melbourne and East Timor. Animatism supports cultural exchange, festival and showcase opportunities for collaborations between Australian and East Timorese artists, led by East Timor's free art school, Arte Moris and Melbourne-based artists and creative producers. The project develops spaces for intergenerational cultural exchange and dialogue around artistic resilience, peace and the creative articulation of a unified vision of contemporary East Timor.
The project advocates for creative ways to bring Australians and East Timorese together in partnership, deepening cross-cultural understanding across the Asia-Pacific region, developing new creative works for Australian and East Timorese audiences and broadening artistic networks between the two countries. Animatism seeks to advance regional knowledge about life through art.