Learn how you can use the ISO Innovation Management Standards to enhance policy and improve program design.
About this event
The global ISO Innovation Management Standards provide guidance around the terminology, tools, methods, and interactions that enable innovation.
For the public sector, the standards present an excellent opportunity to ensure Australia's innovation programs and policies align with the best practice approaches that are driving innovation across the world.
Impact Innovation's interactive, online webinar will show you how the ISO Innovation Management Standards can help enhance the design of programs and other initiatives to improve efficiency and performance.
Attend this event to:
Learn about the new ISO Innovation Management Standards
Unpack the existing standards and how they help policy and program design
Explore how the standards have introduced a globally accepted 'common language' for innovation management, making collaboration across borders more efficient.
Understand how the standards can support your SME, large corporate, NFP, and government stakeholders.
Who should attend?
This webinar is designed for senior personnel within government departments and public sector organisations who are tasked with policy development or designing innovative projects and programs.
Facilitator
Brian Ruddle, Managing Director of Impact Innovation, will share insights gained from more than 25 years of innovation management work with government departments and leading brands across Australia, Asia, Africa, and the Pacific. Brian is also Chair of Australia's Innovation Management Standards Committee, where he is working with innovation specialists from 46 other countries to develop ISO international innovation management standards.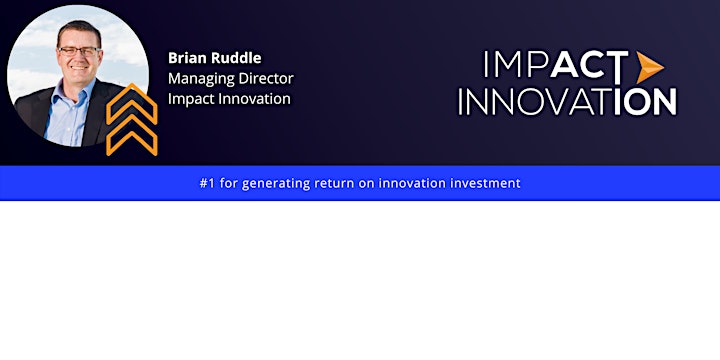 Organiser of ISO Innovation Management Standards for Public Sector Policy and Programs
We're Australia's #1 innovation consultants for generating a better return on innovation investment.
For more than fifteen years, we have provided world's best practice tools that deliver practical, measurable and collaborative outcomes. Our team has unmatched experience across every industry sector, working with large, small and startup businesses.
Discover how we can help you differentiate and accelerate positive impact.