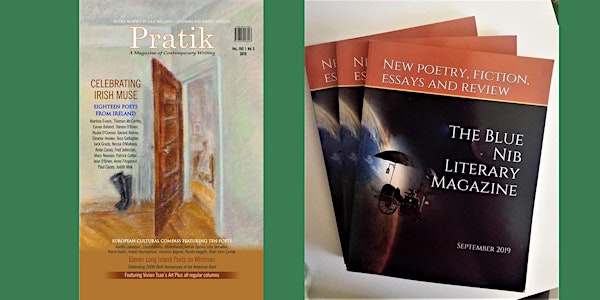 Irish poetry joint launch: Blue Nib & Pratik international lit magazines
Location
Garden Lounge creative space
Shop 1, 481
King Street
Newtown, NSW 2042
Australia
Description
Garden Lounge Creative Space is honoured to host the launch of two important, international literary journals: The Blue Nib, an Ireland-based, internationally-focused journal of new writing, and Praktik, a Kathmandu-based, internationally-focused journal which in this edition includes a major feature on Irish poets from around the world.
THE BLUE NIB, Issue 39:
Please join us for the Sydney launch of Issue 39 of Irish literary journal The Blue Nib!
With readings by Peter Bakowski, Anne Casey, Ali Whitelock, Samuel Lucas Allen (reading on behalf of his father Richard James Allen) and others.
Copies of Issue 39 will be available for sale, as well as selected copies of the poets' most recently published works.
Poets' bios with links to their most recent books (i.e. those attending who appear in Issue 39):
Peter Bakowski – A Melbourne-born poet of Polish-German extraction, Peter is a past winner of the Victorian Premier's Prize for Poetry and has authored many a poetry collection. His latest is Wardrobe of Selves, in which he explores the heart as a metaphor as well as public versus private selves, is published this month by Recent Work Press.
Wardrobe of Selves: https://recentworkpress.com/product/wardrobe-of-selves/
Anne Casey – An Irish-Australian poet, Anne's delicate and beautifully crafted poetry has won various awards and ranks in The Irish Times most-read and is published internationally. Her second poetry book, out of emptied cups, has just been published in Ireland by Salmon Poetry.
out of emptied cups: https://www.salmonpoetry.com/details.php?ID=512&a=307
Ali Whitelock – Ali is a Scottish-born poet and writer whose lively and provocative debut poetry collection and my heart crumples like a coke can was published last year by Wakefield Press, with a forthcoming UK edition by Polygon.
And my heart crumples like a coke can: https://www.wakefieldpress.com.au/product.php?productid=1437
Richard James Allen – A filmmaker and choreographer as well as a poet, Richard has also edited a national anthology of writing for performance. He's the author of many poetry collections, the latest of which, The short story of you and I, was published by the University of Western Australia Press.
The short story of you and I: https://uwap.uwa.edu.au/products/the-short-story-of-you-and-i
About Pratik
Pratik: A Magazine of Contemporary Writing, Edited by Yuyutsu Sharma, Issue XVI/3, 2019, with a special focus on Irish poetry: Celebrating Irish Muse, 18 Poets from Ireland:
Martina Evans, Thomas McCarthy, Eavan Boland, Steven O'Brien, Nuala Ní Chonchúir O'Connor, Gerard Beirne, Eleanor Hooker, Tess Gallagher, Jack Grady, Nessa O'Mahony, Anne Casey, Fred Johnston, Mary Noonan, Patrick Cotter, Jean O'Brien, Anne Fitzgerald, Paul Casey, Judith Mok.
https://pratikmagazine.blogspot.com/…/upcoming-pratik-issue…

Also featuring 10 Poets from Europe's Cultural Compass, curated by Andrew Singer:
Aurélia Lassaque – French-Occitan, Lászlo Sárközi – Hungarian-Roma, Edvīns Raups – Latvian, Adrian Oproiu – Romanian, Leta Semadini – German / Rhaeto-Romanic, Pierre Voėlin – Swiss-French, Anahit Hayrapetyan – Armenia, Vincenzo Bagnoli – Italian, Mandy Haggith – Scottish, İlhan Sami Çomak– Turki
along with 11 Long Island Poets celebrating the 200th birthday anniversary of Walt Whitman:
Peter V. Dugan, Barbara Novack, Mindy Kronenberg, Claire Nicolas White, Herb Wahlsteen, Kelly J Powell, Dd. Spungin, Linda Trott Dickman, Barbara Southard, Robert Savino, Ginger Williams
Cover Art: "Doorway at Dusk: From Jeddah to New York"
American painter Vivian Tsao's on her evolution as an Artist
https://pratikmagazine.blogspot.com/…/upcoming-pratik-issue…
Edited by Yuyutsu Sharma, Pratik is a purely non-profit literary publication and is published by White Lotus Book Shop, Kathmandu.
Pratik has been publishing significant Nepalese voices from Nepal and abroad for last two decades. It has published works by distinguished authors from all over the world and published Special Issues focused on Contemporary British and Dutch Poetry. It has also carried special segments on Swedish, Lithuanian, Chinese, Indian, Ukrainian, French and Russian Poetry.