Description
2018 marks 10 years of sharp, honest, fair and feisty Intelligence Squared Debates in Australia.
To celebrate, we're bringing you a whole new range of topics as compelling as they are polarising. In these highly participatory debates, once both sides have had their say, the decision as to who emerges victor lies entirely in your hands.
//
In these politically divided times, there's a growing tendency to turn to sources that simply reflect our own world views. Public discussions about our thorniest global and local issues often descend into name-calling and personal attacks, leaving us more divided than ever.
To us, the refusal to engage with different or opposing perspectives is far too dangerous an idea.
That's why we're proud to be bringing you another exciting season of IQ2 Debates in 2018.
Should we be worried about the stratospheric rise in power of the tech giants – Google, Facebook, Apple and Amazon? Is the work of feminism done? What are we prepared to sacrifice for clean energy? Is capitalism failing us?
Join us, along with some of Australia's brightest minds from all walks of life and sides of the spectrum, as we come together to keep respectful conversation and debate alive and kicking in 2018.
For a limited time, save big with an IQ2 subscription package to all four debates – starting at just $49 +BF .
//
Your booking will deliver one ticket for the full IQ2 2018 season.
2018 debates:
27 March | The Tech Giants
5 June | Feminism
28 August | Energy
23 October | Capitalism
Your tickets for each individual debate will be sent out via Eventbrite by Monday 19 March 2018.
Why not give the gift of Intelligent Debate to a friend or loved one and help us raise the level of debate in 2018? Gift certificates available by emailing communications@ethics.org.au.
//
Details and full speaker lineups for each debate will be announced in advance of each debate. We can guarantee four compelling and entertaining nights with some of the sharpest, wittiest and best informed observers in Australia.


About Intelligence Squared:
IQ2 is the Australian arm of the international debate series, Intelligence Squared, which is also held in London, New York and Hong Kong. Speakers have eight uninterrupted minutes to share their ideas – a luxury in today's fast paced media environment of 15 second grabs and political party spin lines. Help us shape our world with ethics and intelligence.
//
SPECIAL NEW PHILOSOPHER GIVEAWAY OFFER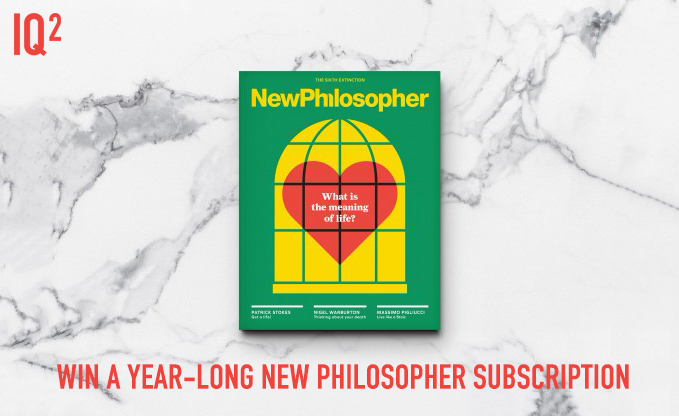 You come to IQ2 to challenge your thinking and broaden your knowledge. Now, you can sharpen your mind even further. Our good friends at New Philosopher magazine have given us 5x one-year magazine subscriptions to give away to some of our lucky IQ2 subscribers.
To go into the draw to win, all you have to do is buy a four-debate subscription to IQ2 between 5pm 20 February, and 5pm 27 March (AEDT), and tell us in 25 words or less what you're looking forward to most about this year's debates. Winners drawn 28 March 2018. Enter now!
//
The IQ2 Debates are proudly supported by Australian Ethical.