Location
Melbourne Convention and Exhibition Centre (MCEC)
1 Convention Centre Place
South Wharf, VIC 3006
Australia
Description
IoT Hub has made the difficult decision to postpone the 2020 Australian IoT Festival that was scheduled for 4 June 2020, in light of public health concerns. We are delighted to confirm that the 2020 Australian IoT Festival will go ahead at a later date, on October 9, 2020, at the Melbourne Convention and Exhibition Centre.
SUPER EARLY BIRD SALE ENDS 1ST MAY
PURCHASE STANDARD TICKETS, OR UPGRADE TO PREMIUM FOR A SUPER EARLY BIRD PRICE OF $627+GST!*
PREMIUM TICKETS ARE LIMITED AVAILABILITY, SECURE NOW TO AVOID DISAPPOINTMENT.
The IoT Festival is the place to mix with buyers and sellers of Internet of Things (IoT) technology and related technologies such as AI. This is a one full-day event packed with captivating speakers, networking opportunities and access to our IoT exhibition area. You will learn, improve, discover, grow and engage directly with all issues affecting IoT!
How are multiple industries tackling the same IoT challenges? People working on the frontline of IoT will share their insights through sessions relevant to a range of sectors; from smart cities, energy, environment and construction. Take advantage of this unique opportunity to meet and learn from companies offering advanced IoT solutions. Our knowledgeable speakers will share with you how IoT is enabling significant opportunities for Australian organisations and provide real-world examples of critical IoT project considerations.
In 2019, the IoT Festival attracted more than 500 attendees who heard from the likes of BMW, Boral, Kennards Hire, Transurban, Melbourne Water, Dell, Microsoft and Telstra, among many others.
We are preparing an even more exciting agenda for 2020, limited super early bird tickets are available now so hurry and get your tickets before they sell out!
We are also offering Package Deal tickets if you want to bring one of your Devs along to the AUS IoT - a one day DevFest which is running alongside the Festival. Click on Buy Tickets for more info.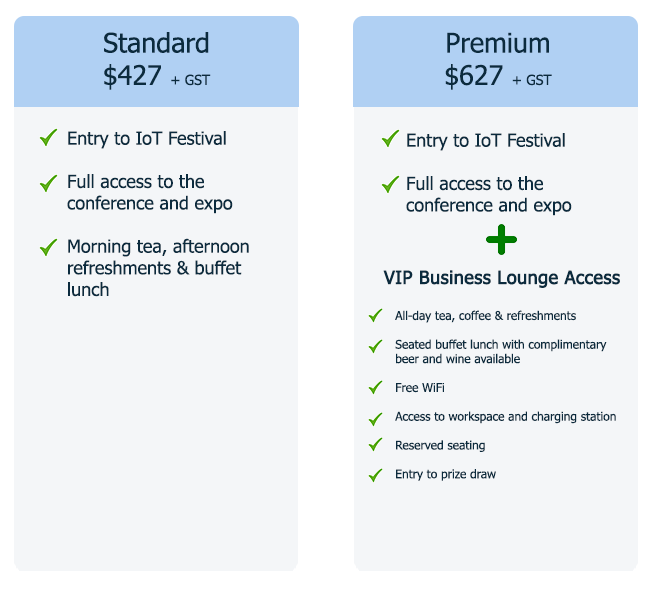 Standard ticket price normally $799 + GST, and Standard Premium ticket price $999 + GST
Super Early Bird ends 01/05/2020
*Prices exclude 4% booking fee.
---
For more event information, partners and agenda visit: https://www.iothub.com.au/iotfestival
For all event inquiries contact the IoT Festival team: iotfestival@iothub.com.au