Sales Have Ended
Ticket sales have ended
Sorry, this workshop is booked out! Look out for our next one in the coming weeks or register in our waitlist.
Sales Have Ended
Ticket sales have ended
Sorry, this workshop is booked out! Look out for our next one in the coming weeks or register in our waitlist.
Description


Ready to build a startup that is desirable, viable and scalable?
Join the Investible mentoring team for an innovative and energising day to build up your business using Investible's Business Model Blueprint methodology. This is a powerful tool that gives you a holistic picture of the key elements that go into delivering and communicating your business model.
This is a great opportunity to test your business, marketing and sales strategy with a room full of start-up mentors and experts. This workshop is perfect for delving deep into developing a business model for your startup and identifying gaps in your framework early, as well as how to address them.
Why should I attend?
· The unique Investible Business Model Blueprint Methodology and printed canvas.
· Learn the 4 important aspects of business to validate to ensure your business is desirable, viable, feasible and scalable.
· Mentoring from the Investible team as you construct your model, guiding you every step of the way and showing you how to create a successful business.
· Connecting with potential cofounders, customers and partners
· Interactive, fun learning environment
· Get exposure to examples of other high growth startups
What is the Business Model Blueprint?
The Business Model Blueprint has been developed by successful entrepreneur Creel Price who has designed curriculum for the Branson Centre for Entrepreneurship, Investible and Club Kidpreneur. Those who are familiar with the Lean Canvas model will find the Business Model Blueprint more comprehensive and holistic in application. The Blueprint allows founders to develop not only their value proposition (desirability), but delivery proposition (feasibility) and financial proposition (viability), resulting a business overview from which both a pitch and investor deck can be designed.
Why do I need to map out my business model?
For a startup business, creating a business plan is like creating a game plan in sports. You need to scout out all the information to create a winning strategy for the game. The Business Model Blueprint Methodology is a powerful tool to help entrepreneurs gain clarity on their business model. You will gain a holistic picture of the key elements that go into deriving and communicating your business model. This is crucial when developing a scalable business model and pitching to investors.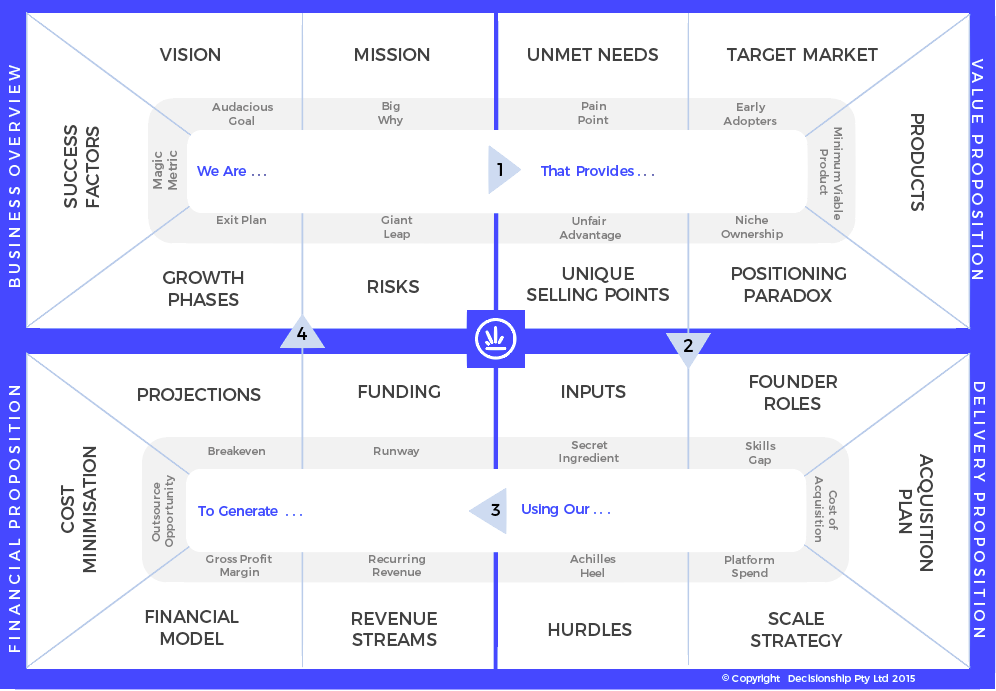 Schedule
8:30am Welcome and Participant Introduction
9:00am BMB Introduction
9:15am Value Proposition Part 1
10:30am Morning Tea (provided)
11:00am Value Proposition Part 2
12:15pm Delivery Proposition Part 1
1:00pm Lunch Break (not included)
1:45pm Delivery Proposition Part 2
2:30pm Financial Proposition Part 1
3:15pm Afternoon Tea (provided)
3:45pm Financial Proposition Part 2
4:30pm Business Overview
5:00pm Close


About Investible
Investible is an early-stage investment group that provides high potential founders the financial, human and intellectual capital needed to scale. Investibles' mission is to de-risk angel investment on a global scale. Investible has developed a comprehensive methodology to source, screen, secure and support the best early stage tech companies.