Intumescent coatings for fire-safe structures: how do they work, and do they really work?
About this Event
Dr Andrea Lucherini currently holds a position of Postdoctoral Research Fellow within the Department of Structural Engineering and Building Materials at Ghent University, Belgium. His field of expertise compromises structural civil engineering, with a specialization in fire safety science. To date, Andrea's research has primarily focused on the performance of novel construction materials and systems, material behaviour at elevated temperatures (structural mechanics and heat transfer), fire protection, and fire dynamics for performance-based design of fire-safe structures.
Andrea completed his BSc in Civil and Environmental Engineering at the University of Bologna (Italy) in 2013. In collaboration with the same university, he attained his MSc in Structural Civil Engineering at the Technical University of Denmark (Denmark) in 2016. In 2020, Andrea completed a PhD in Structural and Fire Safety Engineering within the School of Civil Engineering at the University of Queensland, Australia. During his PhD, Andrea was an active researcher of the UQ Fire Research Group, and he was been involved in multiple research projects related to structural and fire safety engineering. His main PhD research project focused on the effectiveness of intumescent coatings for the fire safety of load-bearing structural systems.
The fire safety of various structural systems has been traditionally enhanced by the application of thermal barriers (e.g. gypsum boards) in order to reduce the thermal penetration into the load-bearing members in the event of a fire. However, the attractive architectural appearance and the flexibility for both on- and off-site applications have fostered the worldwide success and extensive use of intumescent coatings, also known as reactive coatings. This innovative system is a pigmented paint-like coating at ambient temperature and, upon sufficient heating, it swells to form a thick low-density and low-thermal-conductivity porous char that protects the substrate structural material. Nowadays, intumescent coatings represent a dominant fire safety solution for protecting structural steel systems and their unique advantages also pushed the construction industry into looking at the possibility of utilizing them on different substrate materials: for example, to mitigate the destructive effects of fire-induced concrete spalling or reduce the charring of wooden elements.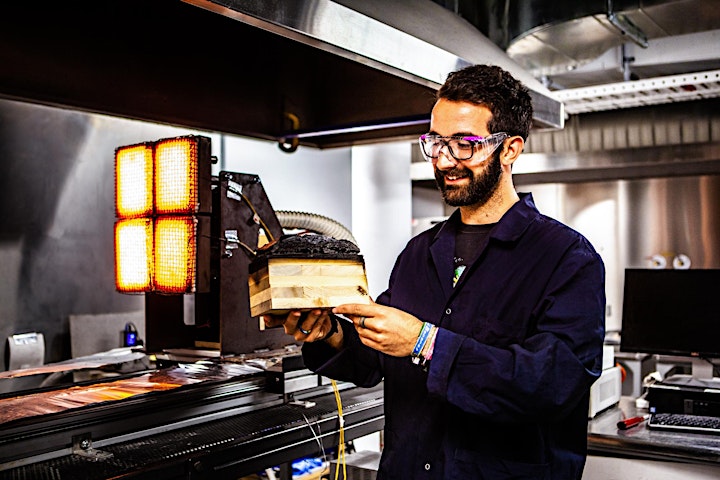 Due to their reactive nature, researchers have highlighted that the effectiveness of intumescent coatings is directly influenced by several factors, such as the fire characteristics, the substrate conditions, and the applied coating thickness. In his PhD, Andrea extensively investigated the behaviour of intumescent coatings under different conditions and using different experimental methodologies. Andrea will present the main outcomes of his research aimed at explicitly understanding the thermal and physical response of intumescent coatings in order to suggest performance-based design methodologies.
Join the seminar at https://uqz.zoom.us/j/86383278433