Description
Overview
Thinking of keeping honey bees, but not sure which direction to go?
The first question is: why keep bees? Bees are important are part of the food chain, they are one of the main pollinators that ensure farmers and gardeners alike can harvest their produce. The sad news is that honey bees are under threat worldwide. More and more within the media, we are hearing about their plight with land clearing, pesticides, and pests and disease being some of the main culprits in threatening these essential workers within the food production system and the ecosystem in general. We can help by keeping bees in our own backyards where they can readily forage on the flowers and vegetables that we grow for our families.
The next questions are: What sort of bee hive should I invest in? What are my priorities when thinking about installing a bee hive on my property?
Most of us are familiar (though not the name, perhaps) with the Langstroth hive, which is a vertical modular bee hive. Each box contains frames which are easily removed to harvest the honey. These hives are most effective for commercial honey production.
Remember the excitement over the 'flow hive'? This Australian invention has taken the world by storm with the promise of easy honey extraction. What is not always known is that the flow hive requires the same regular beekeeping practices as other hives to ensure the health of the bees.
Both of the above hive designs have focussed on honey production. However, maybe another approach will fascinate you.
Paul Wood, from Brisbane Backyard Bees advocates for Top Bar Hives, saying that they are sympathetic to the bees' lifestyle and that this specific design allows bees to live almost as naturally as they would in the wild. In other words, you can still harvest honey, but at the same time, enjoy observing and learning about your bees while providing them with a man-made habitat that mirrors their natural preferences. Fascinating!
This workshop will provide you with the information you need to start up or extend your beekeeping with a Top Bar Hive and a chance to ask questions about the different hives available.
Is this Workshop for you?
Suited to the beginner and the more advanced beekeeper
Conservation is one of the reasons why people keep bees. Others keep them for the hours of fascination watching them come and go and fulfil the multiple roles within their colonies. Still others keep them for pollination and there are those who keep them to collect and use or sell the honey.
If you are any of these people and would like to gain or extend your knowledge in beekeeping - this is the workshop for you!
What you will learn
An all-encompassing introduction to Top bar honey bee keeping including:
How keeping honey bees can help support their population and contribution in this country
How Top bar beehives work
First hand intimate look at honey bees at work
Equipment and know-how to get you started in honey bee beekeeping
Your role in managing your own hive
Pests and diseases
Demonstration on extracting honey
The knowledge you will take away . . .
You will leave this course with a solid understanding of the different types of bees worldwide and here in Australia. You will understand about their role both in the ecosystem and our food production system.
You will also be armed with the know-how to commence or expand your own beekeeping and an understanding of where to go for more information or help.
In addition, you will meet a lot of other people interested in beekeeping for varied reasons. You may choose to stay in touch with some of the other participants as a part of your beekeeping journey.
Presenter
Paul Wood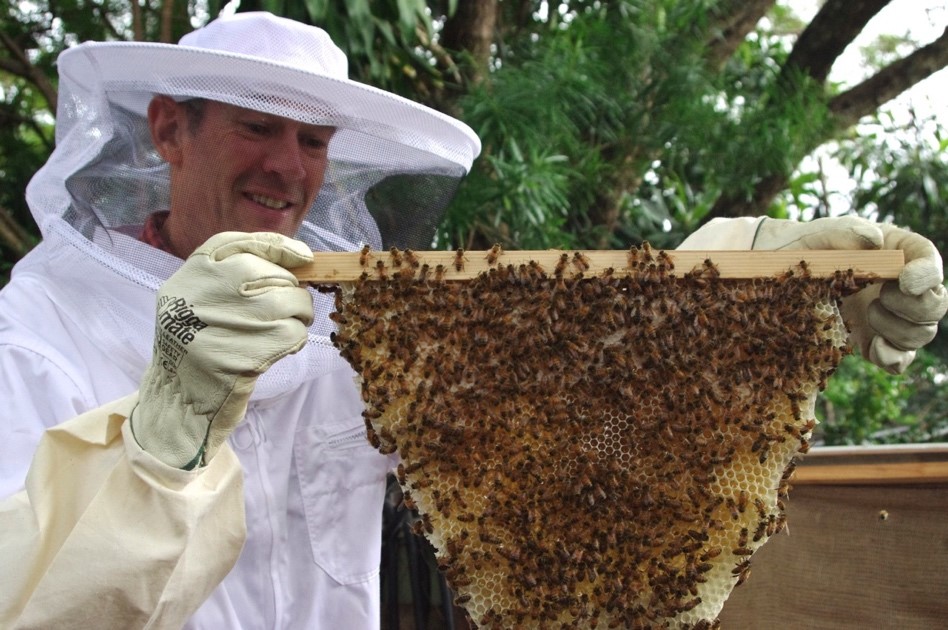 Paul Wood is the Owner and Operator of Brisbane Backyard Bees. Paul has also been recently accredited by the Slow Food movement as a producer of good, clean fair and local food. He supplies European Honey Bee hives and teaches, supervises and mentors individuals and groups wanting to keep Honey Bees. Paul builds top bar hives that are focused on providing a natural, low interference hive with minimal manipulation and standardisationnatural, low interference hive with minimal manipulation, standardisation, or exploitation. He is passionate about ensuring a stable location that is rich in diverse forage and is free from chemicals. He is passionate about ensuring a stable location that is rich in diverse forage and is free from chemicals.
Paul lives in suburban Brisbane with a backyard that is a mecca for a vast array of native animals and of course, a heap of Honey Bees! In the past two years, Paul has supplied top bar hives and mentored around 80 new beekeepers in Brisbane.
Paul loves bees and is distressed by their growing plight. He is excited that there are people who care about them and loves working with these people to help them learn about and conserve Honey Bees.
Venue
Private residence in Samford Valley. Address available following registration.
Inclusions
Morning tea - showcasing honey
Workshop Notes
What you need to bring
Hat
Sunscreen
Paper/pen if you are an avid note taker!
For people with allergies to beestings, please come equipped with appropriate first aid equipment
Please wear light coloured clothes, long sleeved shirts and trousers, and closed-in shoes. Also, bring some garden gloves to cover your hands while the hive is being opened.
Please avoid scented products like perfume, hair spray, after shave etc.
FAQ
Do I have to bring my printed ticket to the event?
Yes, please bring along your printed ticket.
What does the waitlist do?
If the workshop sells out you can add your details to the event waitlist. In the event of a cancellation, we will look at our waitlist for the next in line. We will also use this to notify you of when/if this workshop will be held again, so please register your interest in advance.
How can I contact the organiser with further questions?
Need more information or have addition questions about the workshop? Please contact our Workshop Facilitator, Libby, at workshops@millenfarm.org.