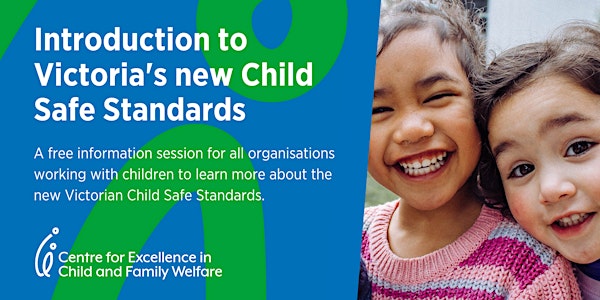 Introduction to Victoria's new Child Safe Standards
A free information session for all organisations working with children to learn more about the new Victorian Child Safe Standards.
About this event
The new Victorian Child Safe Standards were published in July 2021 and will replace the current Standards from 1st July 2022. All organisations working with children MUST be compliant with the new Standards by 1st July 2022.
The Centre for Excellence in Child and Family Welfare offers a wide range of services to help support all organisations to be child safe and understand the Child Safe Standards.
We are delivering an online information session over several dates to help your organisation understand how the new Standards will affect your organisation.
These info sessions will run via Zoom on the following dates:
13 April 2022, 9:30 - 10:00 am
25 May 2022, 9:30 - 10:00 am
22 June 2022, 9:30 - 10:00 am
Please click the orange button on the right to select your date.
For further information, please contact Sharon Clerke sharon.clerke@cfecfw.asn.au or Emily Mellon emily.mellon@cfecfw.asn.au at the Centre.