Introduction to Tourism, Travel, Hospitality and Events training Package
Introduction session to outline the Tourism, Travel, Hospitality and Events training package
About this event
The outcome of training packages affects all who contribute toward the delivery and implementation of skills-based training.
But what is a training package, and exactly how are we, the industry, impacted?
Tourism Training Australia wants to ensure that you have the input and understanding required to deliver the benchmark training package for our industry. Your feedback is essential to meet the current and future needs of the industry.
Garry Stokes, who has a distinguished and well-respected reputation in advocating for the standards in training, will be hosting an online session delivering an introduction into why industry consultation is essential in building a sustainable model for Tourism, Travel, hospitality, and hospitality Events industry.
Background
Prior to COVID-19, significant employment growth was forecast across all areas of the tourism, travel and hospitality sectors, with thousands of new jobs forecast to be filled over the next five years. The travel sector alone registered strong growth, with historic forecasts showing that an additional 1,300 workers would be required for tourism and travel adviser roles. A further 500 travel attendants would be necessary nationally up to May 2023.
Whilst the complete impact of COVID-19 on the sector is still to be realised via quantitative data, it is evident that travel-sector related jobs have been heavily impacted with the introduction of international, and at times, state/territory, border closures in 2020. While employers continue to navigate their operations through the changing economic environment, it has never been more critical than at present to ensure employers are supported with a skilled workforce that can support their evolving operations and recovery.
Employers have voiced that the skills and knowledge-base of applicants and entrants to the sector are lacking in key areas, including general product and service content. The current structure of the Training Package Products for the travel sector has also been noted as not being fit for purpose as industry practices continue to evolve. There is also a need for stronger pathways for skills in the travel sector, including skills for "2-IC" workers who are an integral part of business succession planning in the industry.
[Sources: Tourism, Travel and Hospitality Industry Reference Committee Industry Skills Forecast 2019, SkillsIQ.]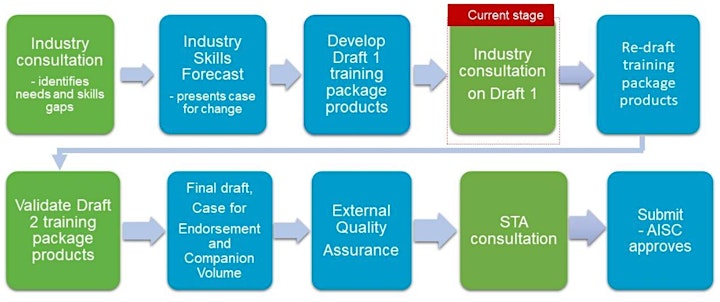 Organiser of Introduction to Tourism, Travel, Hospitality and Events training Package