To Year 10 students who are interested in Year 11 Physics and Chemistry, we created a one-year content to prepare you for Year 11
About this event
To Year 10 science students
We have created a Year 10 course for year 10 science students in New South Wales, Australia, to prepare you for the Year 11 HSC Physics and Chemistry. This course will introduce fundamental concepts of physics and help the students better understand grasps concepts relating to Physics and Chemistry.
About Us?
We are a team of experienced educators that specialise in offering HSC Physics and Chemistry instruction. We are presently offering free online physics and chemistry tutoring to HSC students. These tutoring sessions are provided through Zoom. We keep our rates low, charging a flat rate of $25 per hour while maintaining a fantastic track record of 100% band 5 and 6 throughout years of coaching.
Why enroll in the Year 10 normal weekly classes
Our piloted program that started in 2021, show encouraging results by our students that on tasks to sit for the HSC Physics and Chemistry examinations in the coming years ahead. With our experience tutor, and expertise in Physics and Chemistry, we have designed a one year course that is suited for Year 10 students to gear them for Year 11 contents.
The students understanding of Physics and Chemistry will carry over to year 11 and expedited teaching of Year 11 students, promotes a better understanding in these fields.
Details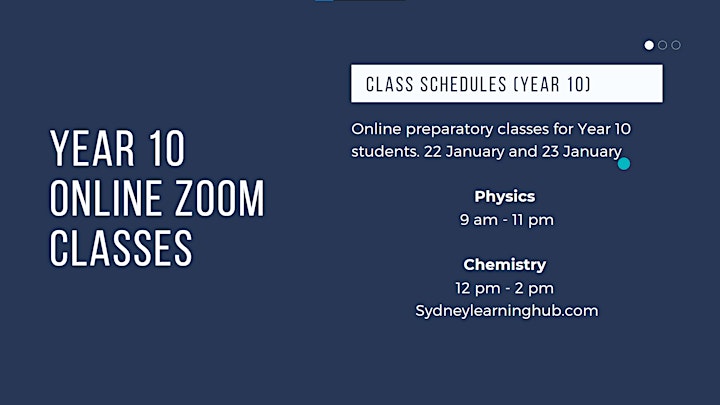 FAQs
Is this course in line with the school's year 10 Science curriculum?
No. Further details will be provided when you attend the free seminar with your child.
Will the course help my child gain a better understanding of Year 10 Science syllabus?
Yes. It will definitely provide in depth understanding of science subject and in fact, the course is design for the student to prepare beyond year 10 science.
Who should consider attending the weekly classes?
Students who are interested, motivated and also intending to enroll in either HSC Physics or HSC Chemistry in Year 11 and Year 12 should consider attending the weekly classes.
What will we be covering during the free online seminar.
Particularly we will be covering a portion of content of our weekly online Zoom workshop for both parents and students to gauge how the lessons will be carried out. Our tutor will also provide the lesson materials and a 30min Q and A session.
For more information, sign up now for the free online seminar.
How are the weekly classes conducted?
The weekly classes are conducted once a week, 2 hours per session per subject, in a group seminar of no more than 5 students per class.
We hope to see you on 22 and 23 January 2022. This class has limited availability, apply now to reserve your attendance
Terms and Conditions
The registered student must be in year 10 when the school starts in 2022 to be eligible to enroll.
Incomplete applications will be rejected.
Applications are on a first come first serve basis.
Sydney Learning Hub
sydneylearninghub.com