Introduction to 'Hey Hey It's Me!' Long-Term Successful Weight Management

Wednesday, 24 June 2015 from 7:00 pm to 9:00 pm (AEST)
Event Details
To find out what's on at the Academy go to www.http://hypnotherapy.eventbrite.com.au

You are invited to a Continuing Professional Development evening 
with Academy Senior Trainer Cas Willow and Academy graduate Heather Richards:-
"Your Introduction to
the Revolutionary Guide to 
Long-Term Successful
Weight Management"
Join co-authors Cas and Heather to discover how to work
with your clients utilising the
"Hey Hey It's Me!" strategies and
discover how you can become a registered and recognised
"Hey Hey It's Me!" Weight Management Therapist.
YES! Their book has been described as "Revolutionary"
Academy Lecturer Cas Willow and Academy graduate Heather Richards are the authors of "Hey Hey It's Me!" and are passionate and determined to keep challenging the "weight loss" industry to listen.
ALL Weight "Loss" programs and "Diets" work while you are on them. Cas and Heather have developed a step by step guide to help and assist any person who is going through any weight management program, to change their thinking, language and lifestyle permanently.
Their book is the guide that therapists can give to their clients as the steps they need to take in between sessions.
Cas and Heather's aim is to help and assist therapists to help and assist as many people as possible who have struggled and/or had a long-term battle with their weight, who wish to be helped.
Look at "The Biggest Loser" TV Show!
We see it many times, where people have been able to drop large amounts of weight, only to turn around and put it all back on again. Obtaining and the MAINTAINING a healthy weight and lifestyle, does not appear to be something many of the weight loss industry leaders wish to hear.
Cas has had a personal journey of dropping a large amount of weight and has effectively managed to maintain a healthy weight and mind for in excess of 25 years. The "Before" "After" "And Still" images below are a mind blowing inspiration to many.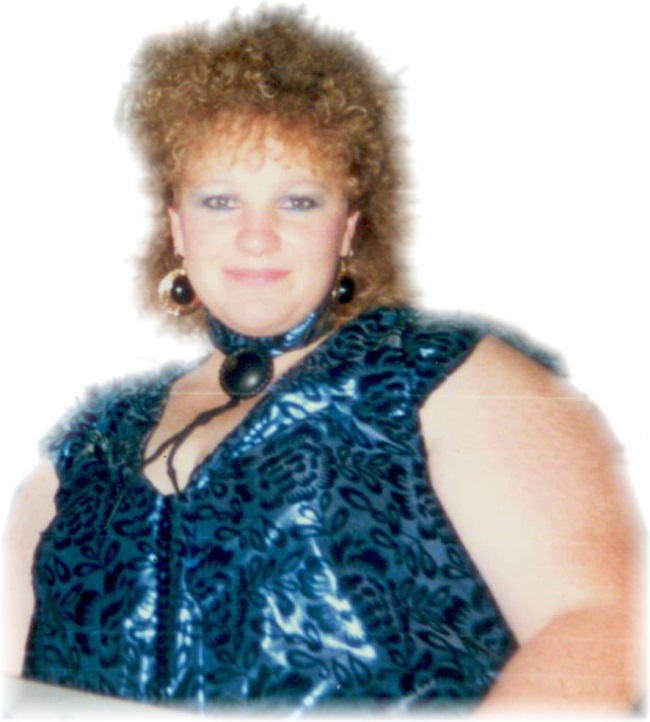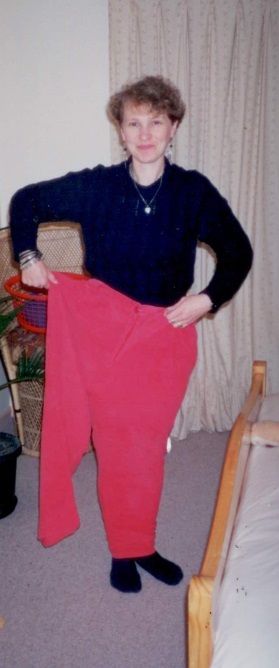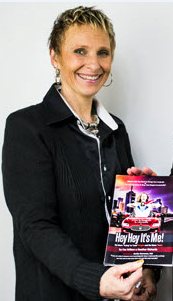 Above: Cas Willow before (left)... after (middle) and still (right)!
Our book is different because it is written in positive empowering language, with no 'buts' expect for those within the quotes of others. We have read many diet books and researched many clients and we have not seen anything quite like our book, which is based on our program.
We have seen the success of our program for many people and the book gives the clients the steps they need to take in between sessions to change habits, patterns and behaviours permanently.
We aim to turn the "Weight Loss" industry language around. We hear many people and companies within the industry just programming people and setting them up to fail.
In our book we focus on language and getting your "head right" so this is where "Mind Therapies" such as "Counselling", "Hypnotherapy", "Ego State Therapy/Resource Therapy" etc come into play.
This is what we believe the weight management industry is so clearly lacking.
Our book has already been described as "revolutionary" along with many other positive and encouraging accolades.
The Book will be on sale at this event and attending therapists will also have the opportunity to become wholesalers of the book and become registered and recognised "Hey Hey It's Me!" weight management specialists.
"Hey Hey It's Me!" has helped many of our clients with their weight management goals and we are going global and we are looking for therapists to join us in helping and empowering many more people, to take internal control.
Here's some information about "Hey Hey It's Me!"...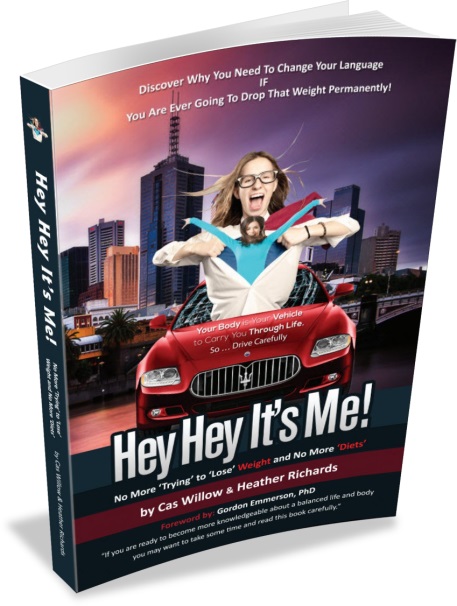 "Hey Hey It's Me!"
Has no tape measures, no scales and no super skinny models.
No More "Diets", and No More "Losing" Weight
"Revolutionary", is the new way of thinking regarding weight management. No more Diets and No more weighing yourself regularly. STOP the merry-go-round and move into the multi-thinking facets of empowering language to the mind, particularly the subconscious part of the mind. 
The new book, "Hey Hey It's Me!", written by Cas Willow and Heather Richards, Australian therapists, known by many, focuses on living a healthy lifestyle and maintaining your weight and size according to your own inner control systems and support pathways. Imagine being able to go about your day, not having to worry about what you can and can't eat? Imagine not having to struggle with the cravings and temptations of what life has to offer and to be able to say, 'No thank you, I choose to eat that, instead of eating this!' Sounds extraordinary, however a possibility to live your life with complete and utter control of making choices that are best suited for you and to follow directions that are aligned with your drive and motivation to be healthy, live healthy, feel healthy, think healthy and eat healthy.
PS You'll be able to buy a copy of Cas and Heather's book on the night.
---
Here's what they had to say about Cas and Heather's book...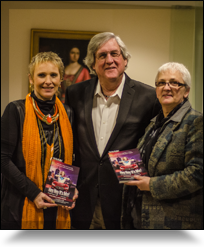 "Hey Hey It's Me provides the kind of emotional support and sensible advice that can make the difficult challenge of losing weight and keeping it off easier. Willow and Richards also provide activities to help build the necessary mindset, and these provide an especially good foundation for redefining one's relationship with food and one's body in healthier directions."
- Michael D. Yapko, Ph.D., Clinical Psychologist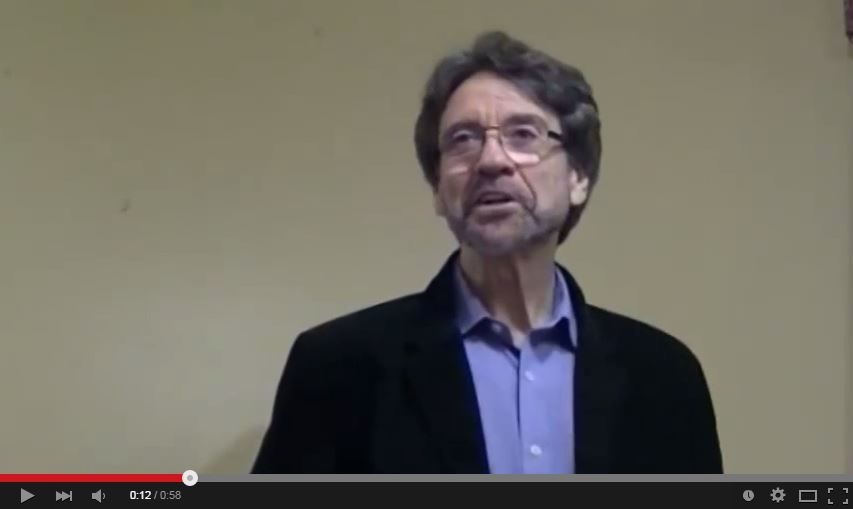 https://www.youtube.com/watch?t=16&v=F1-zz5iNHwM
"If you are ready to become more knowledgeable about a balanced life and body, you may want to take some time and read this book carefully."
- Gordon Emmerson Ph.D.
"Cas and Heather's new book is not just a 'How To' book, though it certainly is that: it's a 'Let's Do' book, with heaps of activities and exercises for anyone who wants to really change their life. It's true that the book is written from the heart, as the authors' own stories, told here at the start of the book, reveal. However, it's also a book informed with decades of clinical experience in hypnotherapy and counselling, so there's a world of knowledge based on real people's own stories. The authors don't pretend they can magic away your weight – but if you're finally ready to change and willing to do the work, then this book will help you commit to action."
- Steve Carey Ph.D., Principal, Academy of Hypnotic Science
To find out what's on at the Academy go to www.http://hypnotherapy.eventbrite.com.au
---------------------------------------------------------------------------------------------------------------------------------------------
Note: Before you buy your ticket to this or any event at the Academy, you are advised to read the following Frequently Asked Questions/Terms and Conditions and be sure you agree with them. If you don't, then our events are probably not your cup of tea.

Frequently Asked Questions/Terms and Conditions

Q. Are there ID requirements or an age limit to enter the event?
There certainly are: to attend any Academy event you must be 18 or over. There are no exceptions, and we cannot let anyone in under 18. We don't have facilities for looking after children.

Q. Where can I contact the organiser with any questions?
Email Steve Carey on steve.carey@academyhypnoticscience.net; or call the Academy during office hours on 9532 4433.

Q. Is my registration/ticket transferable?
Yes. So long as a place has been paid for, we don't mind who attends. You don't need to give us advance notice.
 
Q. Can I get a refund if the presentation is not up to scratch?
Yes! If you feel that the quality of the presentation was not high enough, please email steve.carey@academyhypnoticscience.net within seven days of the event and put your complaint in writing. We'll take a view, and will also refer to our feedback from that event (we always solicit feedback after our events). If we agree that the presentation was of poor quality then we'll refund the cost of your ticket. However, before you buy your ticket you should be aware that many of our presentations are short (two hour) introductions to programs or techniques that require substanially greater time to master. Oh, and one other thing: if you're allergic to being told about opportunities for further study, please stay away. Many of our presenters are excited about what they're doing and want to tell you about how you can join in. If that gives you an attack of the vapours, you're probably better off at home with a mug of Ovaltine and a good book. To be a busy hypnotherapist and therefore help a lot of people you need to know how to get clients, and that means selling. So rather than getting the hump, you should learn from them what selling looks like. Anyway, that's our view and if it's not yours, then these events are probably not for you.

Q. What is the refund policy if I book and can't make it?
If you let us know in advance (up to 48 hours before the event) we can issue a refund. If you don't turn up, you've still taken up a place so unfortunately we can't issue a refund or credit and you've done your dough. 
 
Q. The name on the registration/ticket doesn't match the attendee. Is that okay?
Sure.
Q. Can I record?
No - not even if the presenter says it's OK. The reason for this is that at the Academy we often have demonstrations of therapy involving real people with real issues. While we absolutely trust you and know that you wouldn't allow such a recording to go any further, unfortunately we can't guarantee that everyone will be as responsible. So it's best that we make a blanket rule. We hope you understand!
Q. Does anyone actually read these?
Yes. You do.
When & Where

Erickson Room
Academy of Hypnotic Science
6 Riddell Parade
Elsternwick, Victoria 3185
Australia

Wednesday, 24 June 2015 from 7:00 pm to 9:00 pm (AEST)
Add to my calendar
Organiser
Australia's biggest and best place for government-accredited Clinical Hypnotherapy training.
We offer the government-accredited Diploma in Clinical Hypnotherapy, 10177NAT.
Academy of Hypnotic Science is a division of Stirling Institute of Australia, TOID 21132.