How to build your investment portfolio as an Angel Investor
About this Event
Please join us for the latest in LaunchVic's Introduction to Angel Investing series, and meet our four new funded Angel Networks.
Our panellists will share their expertise, as we continue the conversation around supporting access to early seed capital for startups. We will uncover what they have observed over the last couple of months, their insights and predictions going forward, and explore the investment thesis of their Angel Networks.
If you are an angel investor looking to connect and actively engage within the startup investor community, this webinar is not to be missed.
Financial Disclaimer
The information contained in this webinar should not be interpreted as professional advice. We recommend you seek independent legal, financial, taxation or other advice before engaging in any investment to ensure that it takes into account your unique circumstances.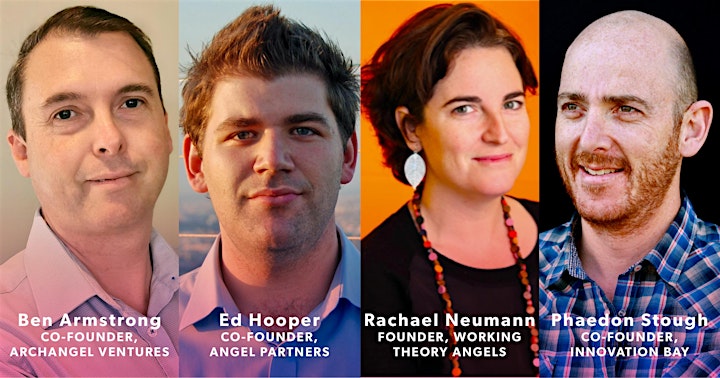 Ben Armstrong
Co-founder, Archangel Ventures
Ben has spent the last 8 years backing great founders initially for a corporate venture capital fund with investments in Australia, the US and China and more recently as an early stage investor. He has advised founders, backed dozens of startups and been recognised as a most valued mentor by Startmate, Blackbird's early stage accelerator. Ben cofounded Archangel.vc this year with other most valued mentors to help stimulate the early stage scene. Ben enjoys partnering with founders challenging the status quo, discovering their inner potential and ambitions, and watching them achieve success.
Ed Hooper
Co-founder, Angel Partners
Ed is a technology entrepreneur and investor. In 2016, he founded Cardinia Ventures to support ambitious technology founders across Australia and the US. Some of his investments include Drop Water, Nura and Growlabs (acquired by Adroll).
Along with Long Zheng and Andrew Armstrong, Ed co-founded Omny Studio in 2012, helping companies and podcasters manage audio. Omny Studio was acquired by Triton Digital in June 2019.
Ed was the first employee at travel app rome2rio, and has worked at bigger companies including Funding Circle, Seven West Media, Groupon, ANZ Bank and Microsoft. In 2008, he co-founded SOAK Farming alongside David Burela, Dimaz Pramudya and Long Zheng. They went on to win the Microsoft Imagine Cup global software design competition.
Rachael Neumann
Founder, Working Theory Angels
Rachael Neumann plays across many parts of the startup ecosystem, and is now Founder and Lead Investor at Working Theory Angels. Previously as Head of Startups in Australia & New Zealand for Amazon Web Services, Rachael was charged with growing the market, driving quantity and quality of startups in the region. Additionally, Rachael is a strategic advisor and investor to a number of founders and their early stage companies and is a Partner in Startmate, Australia's most ambitious accelerator. She's passionate about helping companies scale and increase their impact through differentiated customer experiences and new product development.
Rachael also works to create the right policy environment that's conducive to a thriving sector, and serves as Chair of the Board for StartupAus - Australia's national startup advocacy and lobby group - and has a federal ministerial appointment on the Entrepreneurs' Programme Committee, distributing commercialisation and acceleration funding on behalf of the Department of Industry, Innovation and Science.
Previously, Rachael was the Managing Director of Eventbrite Australia, launching the Melbourne-based office to further serve the ANZ market. Before stepping into the MD role, Rachael served as Eventbrite's Director of Customer Experience Strategy in Silicon Valley. Prior to this, Rachael was a Case Team Leader at Bain & Company in Silicon Valley and throughout Australia, advising Technology, Private Equity, Consumer Products and Retail businesses.
Phaedon Stough
Co-Founder, Innovation Bay
Phaedon Stough is the Co-Founder and CEO of InnovationBay, Australia's leading membership organisation of tech founders and investors. InnovationBay started in 2003 with simple aim of bringing tech founders together to help share experiences, learn and make the journey of creation a billion-dollar company less difficult. Phaedon co-founded Mitchellake Group, a global executive talent firm for fast growth tech companies in 2001 and spend 6 years growing the firm in San Francisco. He was an initial mentor and investor in Startmate and has invested in Blackbirds multiple funds. He was the chairman of one of Australia's first incubator, Pollenizer from 2007-2010. He has directly invested in half a dozen companies and current sits on the advisory board of Baraja and the Onset Group, whilst advising many early stage founders. He is passionate advocate of driving innovation and entrepreneurship through the Australia and NZ economy. His passion is helping founders execute across their dreams and a current focus is helping evolve the angel investing landscape in Australia.