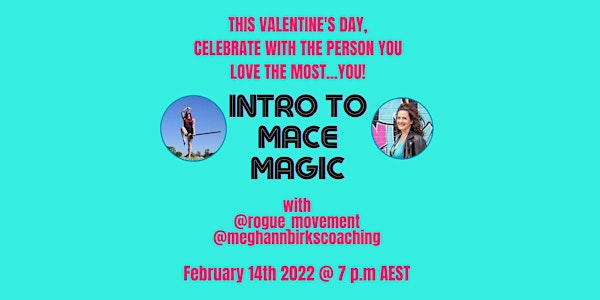 Intro to Mace Magic: The Women Warrior Series
Intro to Mace Magic is a sampler of what will be offered in Mace Magic: the Women Warrior Series (launching online in April 2022)
About this event
Intro to Mace Magic is a 90 minute ONLINE workshop designed to give you a taste of what to expect in the full three part series, launching in April 2022.
Mace Magic: The Women Warrior Series (ONLINE in April 2022) brings together breathwork, meditation and steel mace flow in a three part series to help women:
ground themselves in their strength and wisdom
cut away the mental chaos and connect with their inner truth
step into and OWN their power
This unique combination of emotional, physical, spiritual and intuitive practice is guided by Lea from Rogue Movement (@rogue_movement) and Meghann from Meghann Birks Coaching (@meghannbirkscoaching). With their combined experience in deeply transformational physical and spiritual work, they will deliver a potent practice in a safe and supportive environment.
For any woman who is being called to reconnect with their inner strength, this is for you.