'Into the Okavango' - Sydney Cinema Screening *** SOLD OUT ***
Description
The Botswana Wild Bird Trust and African Family Safaris invite you to the Sydney premiere screening of National Geographic Documentary Films' feature documentary "Into The Okavango". Your hosts on the evening will be John Hilton, CEO Botswana Wild Bird Trust and "Fixer" for the film, along with Richard Field and Rebecca Fraser, directors of African Family Safaris. The Okavango Delta is one of the worlds most remarkable wilderness areas, and more than ever it needs our help to keep it that way. This is an incredible and inspiring documentary - we really hope you can make it along.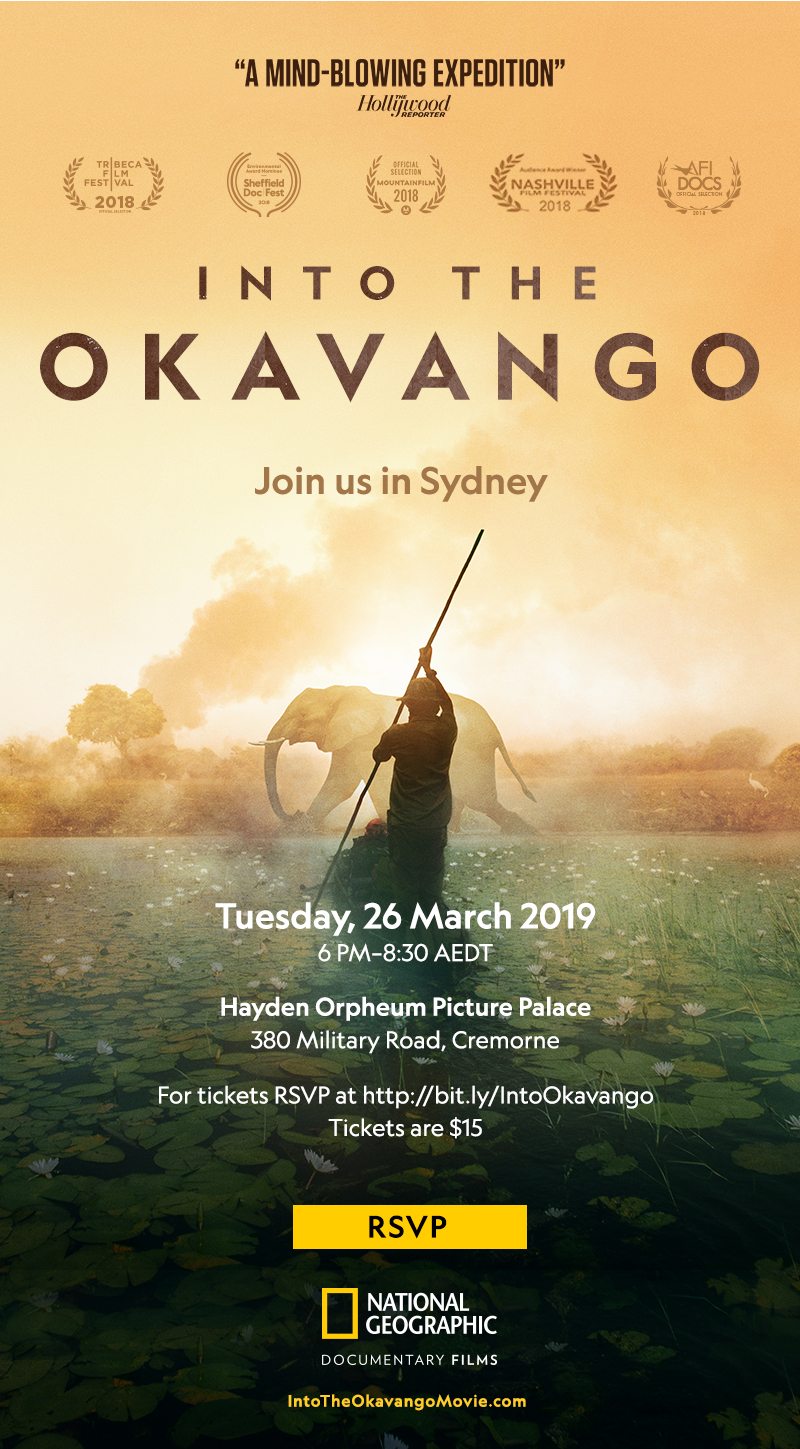 Synposis:
The Okavango River Basin provides a vital source of water to about 1 million people, the world's largest population of African elephants and significant populations of lions, cheetahs and hundreds of species of birds. However, this once unspoiled oasis is now under siege due to increasing pressure from human activity. From National Geographic Documentary Films, Into the Okavango chronicles a team of modern-day explorers on their first epic four-month, 1,500-mile expedition across three countries to save the river system that feeds the Okavango Delta, one of our planet's last wetland wildernesses.
Category : Feature Documentary

Director : Neil Gelinas
Running Time : 94 minutes
Expanded synposis:
A passionate conservation biologist brings together a river bushman fearful of losing his past and a young scientist uncertain of her future on an epic, four-month expedition across three countries, through unexplored and dangerous landscapes, in order to save the Okavango Delta, one of our planet's last pristine wildernesses.
"Into The Okavango" is a deeply moving chronicle of modern-day explorers forever transformed by the adventure of a lifetime. It is also an attempt to draw the world's attention not only to the Okavango River Basin, one of the most important areas for biodiversity conservation, but to the little-known and vulnerable wilderness area in the Angolan highlands on which it depends.