Interview Skills - Practical and Positive Thinking for Interviews

Wednesday, 18 September 2013 from 5:30 pm to 9:00 pm (AEST)
Event Details
Do you experience
interview nerves?
Have you been confused by interview questions?
Do you find yourself losing confidence when faced with interview after interview?

If you answered Yes to either of these questions, then you'll likely under-perform  during an interview
 Going in for a job interview can be a intimidating experience but don't let fear leave you nervous or speechless—and jobless!
An interview blunder or being unable to portray yourself in a positive manner can cost you that all important next career step—so learn how to present yourself as the stand out candidate
Whether you are a graduate, or returning to work, looking for a career promotion or applying for the Defence Force or similar service; this workshop is relevant for today's job seekers in any industry
You'll learn practical tips and effective techniques to maximise your potential, renew your confidence and improve your interview effectiveness— and most importantly , it is delivered in a supportive and coaching  environment
"Reduce your fear of being interviewed with a Trischel practical workshop"
At the end of this session participants will -

Know what the Interviewers are looking for

Be familiar with the different types of interviews

Understand the necessity to prepare yourself for a successful job interview

Learn how to overcome anxiety and present yourself as a credible and outstanding candidate

Use our simple technique to answer even the trickiest question easily and competently.

Learn the value of supporting body language

Know how to close the interview with confidence

Learn the power of positive thinking


Analyse and review your performance
 "As someone who is intending to return to work I found this workshop covered all bases, and then some. The presenters were clear, concise and very credible. I appreciated the non-threatening environment and the supportive atmosphere." Laurie Heales
"All the key areas were covered, especially the types of questions and how to answer them. It was great to experience them in a comfortable environment." Regina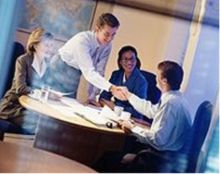 When & Where

Comfort Inn Conference Centre
186 Toombul Rd
Northgate, QLD 4013
Australia

Wednesday, 18 September 2013 from 5:30 pm to 9:00 pm (AEST)
Add to my calendar
Organiser
Trish Springsteen is a multi international award winning mentor, trainer, international bestselling author and radio host specialising in speaker training. Clients work with Trish because they know she can help them leverage their business with speaking and communication. Typically Trish mentors authors helping them to learn how to turn their books into keynote presentations, introverts helping them to have the confidence to step out from behind their computers and share their message and passion and with advocates helping them to have the confidence to step up and speak out. Trish is passionate about creating confident communicators and is the co-founder and owner of Trischel, a company dedicated to bringing communication and effective speaking skills to businesses and organisations (http://www.trischel.com.au). Trish is a member of Women's Network of Australia, Business and Professional Women (BPW) and Women Speakers Association. Trish has spoken on national and international stages and she has written and presented a variety of training packages for industry bodies and private companies.
Trish has brought improved speaking and communication skills to published authors, bloggers and introverts. As well as communication, speaking and presentation skills to accountants from Crosbie Warren Sinclair; executives from The IQ Business Group and Aurecon; scientists from Rio Tinto Alcon; engineers from James Hardy and property retail experts from Jones Lang LaSalle.
Trish has been a Keynote speaker and MC for events, gala dinners and meetings nationally and internationally. Her speaking events include Communication Training for IQ Business Group in Sydney and Melbourne, speaker at Business Swap in Sydney and Brisbane, speaker at Womens Network Australia (Hobart and Brisbane), Red Cross Australia (Caboolture), Logan Chamber of Commerce, Australian Institute of Office Professionals, Internet Marketing Thailand, Connectworking and speaking at the 2018  Westpac International Women's day Breakfast, 2017 HydroKlen Australia Conference, 2016, 2016 Brisbane EAN conference, 2013 International Medical Recruitment Conference and the 2010 National Laundry Conference in Sydney. Her MC events include the Personal Growth Expo, Australian Romance Readers Convention, Shave for a Cure and Grafton Arts Fest Gala Dinner.  2013 International Medical Recruitment Conference and the 2010 National Laundry Conference in Sydney.
Trish is the Winner of 2018 BPW Northlakes Bright Training & Employment Partners Inspirational Woman Award, Gold Winner in the 2016 Women World Awards Woman of the Year - Mentor or Coach of the Year and Bronze Winner in the 2016 Women World Awards Female Entrepreneur of the Year and won the National Edupreneur 2015 Award in the Professional Speaking Category. She has also been Awarded Top 50 Public Speaking Blog 2016. In addition, Trish was a Finalist in the 2018 and 2016 Australian Small Business Champion Awards and a Finalist in the ILAB Global Impact 2015 Awards and has been anominee in the 2018 Women of Essence Global Awards, 2018 National Business Brilliance Awards – Writing Excellence, 2011 Best Australian Blogsand nominated for the Telstra Business Awards. Trish also has been awarded Toastmasters International Excellence in Marketing and Toastmasters International Excellence in Education and Training.
Trish is the author, co-author and contributing author of 11 books including  Creating Confident Communicators, and is featured in Motivational Speakers Australia.
Most importantly Trish loves what she does and has fun doing it .
See Trish sharing her messge on her YouTube channel http://bit.ly/TrishTalks