International Women's Day Luncheon #PressForProgress #IWDMelbourneStyle

Thursday, 8 March 2018 at 11:30 am (AEDT)
Event Details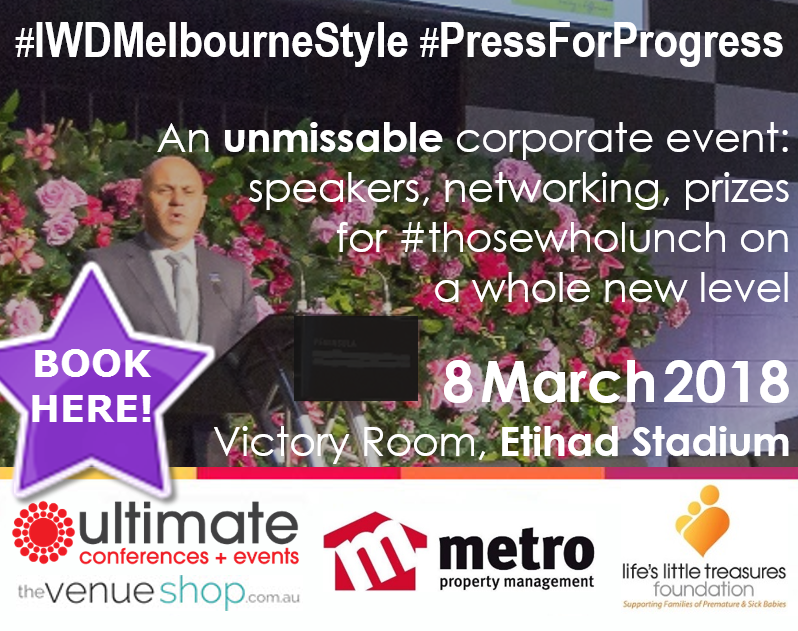 THE place to be in Melbourne on International Women's Day 2018. 
A day of celebration, reflection, advocacy & action - join this unmissable annual charity event, speaker showcase & high calibre networking - set to ignite your sense of passion & purpose!
In recognition of women who lead, inspire & have overcome adversity.  Be inspired in turn to move forward in your own business, family & community by our incredible speakers & each other...
"Men & women together, let's be tenacious & explore how we can each 
work towards accelerating parity"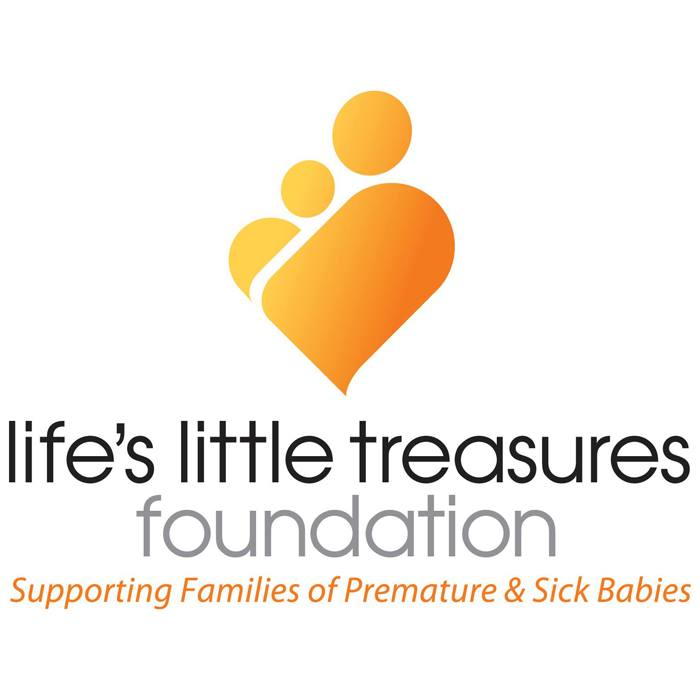 Join our #PressForProgress corporate charity event including: speakers/Q&A, full catered luncheon/beverage package, gift bag, pamper zone, luxury door prizes & more!  A fabulous array of amazing charity auction items (anyone can bid - check it out HERE), with all event proceeds to benefit Life's Little Treasures Foundation - supporting families of premature & sick babies. 
#IWDMelbourneStyle  #PressForProgress  #WomensDay2018
#GiveWhereYouLive  #CharityStartsAtHome #SuccessStartsHere #Accelerate2018

After sell-out events in 2016 & 2017, we're excited to see all those who helped make recent years so successful, returning with some new friends & colleagues too. Let's come together to make a difference & ensure our #IWDMelbourneStyle event is even bigger & better from one year to the next!   
(You can check out some of the fun via the photo albums here from our 2017 & 2016 events. Plus two written pieces to reflect on from past International Women's Day themes: #PledgeForParity & #BeBoldForChange, generously contributed by Sadhana Smiles, CEO Harcourts Vic)


*Keen to be involved in our 2018 campaign? Sponsors, event partners, prize donors, goody-bag inclusion, EDM promotions & media interest - please contact lisa@ultimatepr.com.au*




EVENT DETAILS:
Date:     Thursday, 8 March 2017
Time:    11.30am arrival for pre-lunch drinks & networking
              Event concludes at 4.00pm
Venue:   Victory Room - Etihad Stadium (24 Bourke Street, Docklands  VIC)
Cost*:    Tickets @$149.00   |   Table of 10 @$1,450.00  |  Corp/Premium Table of 10 @$1,750.00
(prices include GST | earlybird discount applied until 29Jan2018)

**All tickets receives 1x FREE entry in our major fundraising raffle - drawn at the event**
(1st PRIZE includes 4 night "Escape From Reality" for 2 at world reknowned Jackalope Hotel 
"Luxury reimagined" Vineyard View accommodation/breakfasts, mini-bar/wine/movies, Rare Hare lunch; wine tour, degustation dinner @DootDootDoot, Bliss Spa Package & more!)


Increase your chances & support our charity partner! Purchase extra raffle tickets at the event OR online - share & encourage your colleagues to join in even if not attending...


Please Note: for online bookings, Eventbrite processing/credit card fees apply. EFT payment available off-line by prior arrangement: contact events@thevenueshop.com.au for assistance
Limited #IWDMelbourneStyle event tickets available! With 2016 & 2017 sold out...
Banish your FOMO (fear of missing out) & purchase your tickets or a table today!



#PressForProgess #IWDMelbourneStyle - proudly brought to you by:
Ultimate Conferences | theVenueShop.com: "Real comparisons | Real expert support  | Really FREE" 
Metro Property Management: "Here, there & everywhere"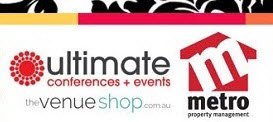 With thanks to 2018 

RUBY SPONSORS

 
    

Plus, 

EVENT PARTNERS 2018

 include: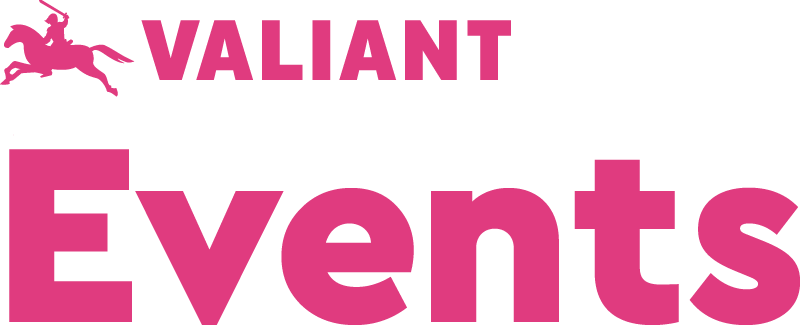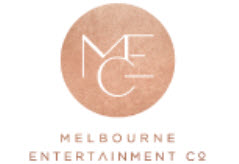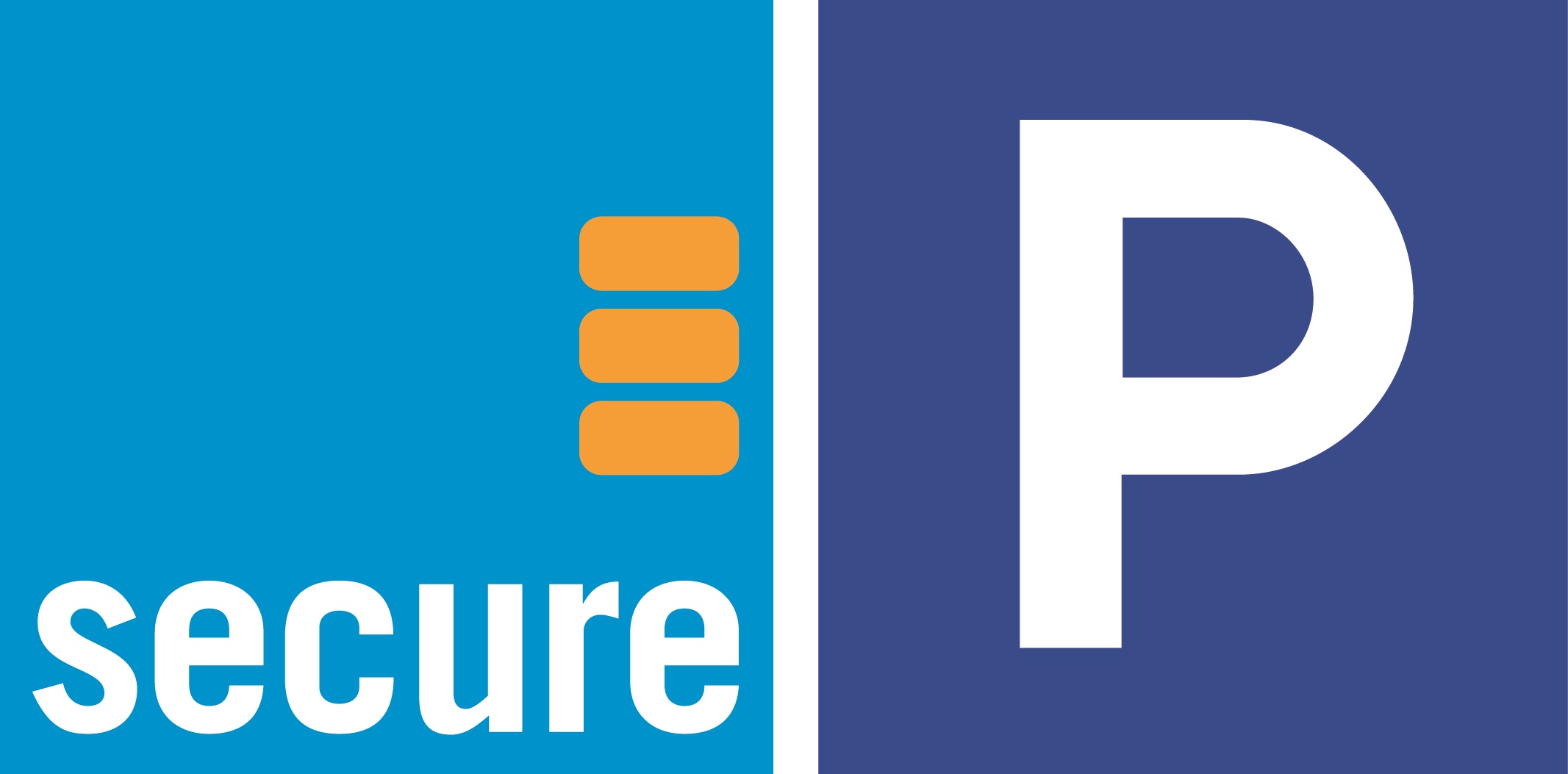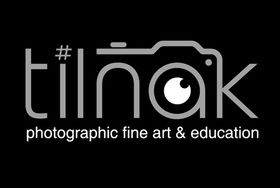 Staff & speaker
accommodation 

courtesy: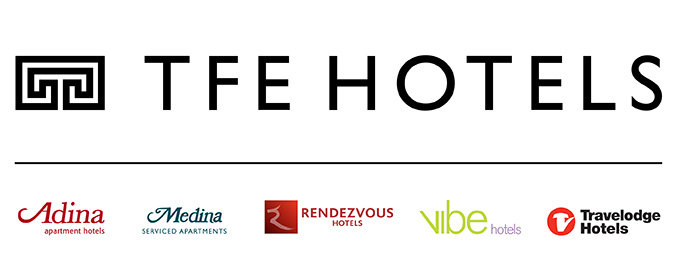 ...our 2018 flights/travel partner
Pamper Zone

courtesy:  & gifts:  


Our Award-winning Auctioneers courtesy of:





Online Auction bidding/event support from: 

---
Our 

SPONSORS' 

support...

ensures the success of this fabulous event!
Help us kick-start our campaign, commit today with a sponsor contribution or prize donation... Limited exhibitor options also available in our "Meet the Speaker"/networking lounge 
Like to join us? Let's talk!  CONTACT US  
"GOING SOCIAL" this International Women's Day
 Please include with any event posts:  #IWDMelbourneStyle  #PressForProgress 
Set to "public" to ensure organisers can view/select any social media competition winners from the event!
"Wow, what an amazing and truly inspirational International Women's Day Luncheon. Your team of passionate people put on a really great event. Everything about the room & décor were beautiful, the food, wines, prizes and of course the speakers were all top notch. I particularly enjoyed the opportunity to speak to the table of senior high school girls' that attended, about the great opportunities that the construction sector offers. Fulton Hogan is excited to be part of this event in a larger capacity moving forward. We want to build stronger communities & we need a diverse workforce, with a greater share of women, in order to do this..." 
LP: Procurement Specialist, Travel & Accommodation  >Fulton Hogan  www.fultonhogan.com 



*Please check your emails for event updates & announcements, or special offers from our partners. Revisit the main event site for most current links to additional information including speaker profiles & prize lists/online auction items available *BOOK - BID - SHARE!

FAQs 

Where can I contact the organiser with any questions? Please email events@thevenueshop.com.au  For sponsorship, prize donations/goody bag contributions, speaker or media interest in advance of the event, please contact lisa@ultimatepr.com.au
Special Requests: For any special requirements, such as seating requests, allergies/special dietary needs, please forward any questions & requests to events@thevenueshop.com.au 

Is my registration/ticket transferable? If you have purchased a ticket & need to transfer the name to someone else, please email events@thevenueshop.com.au to do so, no later than 1 March 2017.

Do I have to bring my printed ticket to the event?  Please bring this along on the day.

What is the refund policy?
We request notice of cancellation in writing at least 28 days prior to the event date, for any refund requests. Cancellations made within 28 days of the event may be considered for a refund under exceptional circumstances only. Payments cannot be transferred to alternative events. Replacement registrants are welcome - please notify in writing.

Invoices & Receipts?  All registrants receive a confirmation email upon booking. Tax Invoices are generated at the time of registration & are sent to the email address supplied. 

Changes:  We reserve the right to make changes to the event date if registration numbers are not met. In the unlikely curcumstance this event is cancelled, you will be notified in writing & a refund made available.  At times the event program may change. We reserve the right to make changes to a published program without notice, however, where possible notification of changes will be made.
What are my transport/parking options getting to the event?  
Self-parking (subject to availability) at Etihad Stadium is offered during this event - discounted guest rate of $15.00 per vehicle applies (before 4pm) >Please refer to the Eithad Stadium website for general details/entry points: http://etihadstadium.com.au/getting-here/car/casual-parking  (Specific event day map/directions to be emailed to all ticket bookers, plus available on the facebook event page.  Gate 9 is the appropriate entry point for parking or disembarking if arriving by tram). 
>Multi-level car parks are also within walking distance within the Docklands precinct: Victoria Harbour, New Quay & Digital Harbour (casual charges apply) 
>Southern Cross Railway Station is approximately 5-10 minutes walk



#WhatsOnInMelbourne #UltimateConferences #EventProfs #EventAddict #MeetingProfs #WomenInBusiness #WomenInBiz #WomenInRealEstate #WomenInFinance #WomenInTech #WomenInConstruction #WomenInTourism #WomenInProperty #WomenInLegal #WomenInEngineering #WomenInHealth #LeadersInHeels #BusinessInHeels #RealWomen #ExecutiveWomen #CrushItLadies #WomenHelpingWomen #LadyBoss


*Please check your emails for event updates & announcements, or special offers from our partners. Revisit the main event site for most current links to additional information including speaker profiles & prize lists/online auction items available *BOOK - BID - SHARE!
When & Where

Victory Room - ETIHAD STADIUM
74 Bourke Street
Docklands, VIC 3008
Australia

Thursday, 8 March 2018 at 11:30 am (AEDT)
Add to my calendar
Organiser
Ultimate Conferences + Events | TheVenueShop
Your 'ultimate' FREE & unbiased total events resource!
Enquire, compare, book & review: any venue, any function, any location!
PLUS, team-building, speakers, suppliers & more… all in one place
Everyone knows that organising great venues & suppliers for any successful corporate or private event is dependent on being 'in-the-know' about the hits & the absolute misses. From the very beginning of your planning, the team at Ultimate Conferences & thevenueshop provide added value & extra insight to complement your event organising - there to support you all the way & covering off the aspects of your meeting or event you may not have even thought about. 
You only get one shot at organising your event. When the lights are on & the event is rolling, everyone is looking at you to make it a success. We know. We've been there . . .  
Work with people who actually know… who have real relationships & up-to-date information. Information you can trust from those who believe that your event success is the only option. So start your event planning each & every time with Ultimate Conferences & thevenueshop! 
"Your ultimate meetings + events start here... with our unrivalled connections"
Because we care! Fast turnaround & accurate, like-with-like presentation-ready information you can count on!
Our venue expert consultants extraordinaire will fast become your new BFFs: the "secret weapon" of the savvy EA… With the hassle-free convenience of 1 contact throughout, while you remain in total control
Best available rates guaranteed, plus claim your exclusive value-added offers & rewards*
Even if rebooking your favourite venues, remember our best rate guarantee! Not only saving you the time & stress, you'll never be disadvantaged booking via Ultimate Conferences & TheVenueShop.com
Metro Property Management
Metro's core business is property management; we understand property management better than many others & most importantly, we love property management!
Our clients choose to do business with us because they know us, like us & trust us.
Unlike the local real estate agents, Metro manages properties - here, there & everywhere!®. Clients love the one point of contact for all their property needs. In fact we look after properties in over 240 suburbs across Melbourne!
We research & understand the market all over Melbourne & have built alliances with numerous key investment companies & developers enabling us to provide you with relevant investment information. We are seen as the experts in this field.
Metro also has a specialised & dedicated leasing team. Their key role is to remain proactive & implement strategies which minimise vacancies, finds the best tenant for you & ensures that owners are kept up-to-date & informed.
We constantly invest in training & technology ensuring that you as an owner are represented by experts in their field. Leah Calnan our Director is in fact an industry trainer herself & views continual training extremely important to the self-development of each Metro team member.
Metro is your long term property partner - we are confident that we can exceed your expectations & look forward to establishing a long term relationship with you for many years to come.