IWD 2021 #ChooseToChallenge
About this Event
Lets gather ladies!!
Come join Elfy and Ilana on International Women's Day for a morning of female connection and honouring our energy as women.
This years theme is choose to challenge. We can all choose to challenge and call out gender bias and inequality. We can all choose to seek out and celebrate women's achievements. Collectively, we can all help create an inclusive world.
From challenge comes change, so let's all choose to challenge and connect as women on IWD!
So, hand up high to show you're in by joining us on this special day.
At this online event we will:
Set an IWD Intention
Women's connection circle
Embrace being a women with a guided meditation with live music played by Elfy Jo.
Details:
Date: Monday 8th March 2021
Time: 9:30 - 10:30am (AEDT)
Location: Zoom (Link detailed 24 hours prior)
Cost: FREE + You can donate to Equality Now - https://www.equalitynow.org/
*** Join live or access the replay emailed after the event.
Let's gather as Woman on International Women's Day.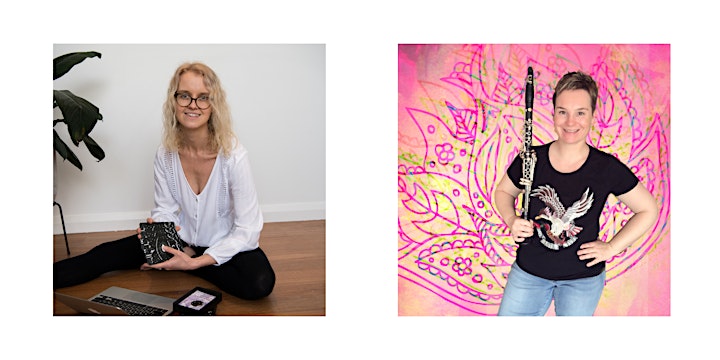 Meet Your Hosts:
Ilana Kosakiewicz
One of Australia's leading kinesiologists, energy coaches, and yoga and meditation teachers. She is a wholefood lover, entrepreneur with a past life spent working in the corporate world as a CPA accountant.
Ilana's own health journey with chronic fatigue and auto-immune disease taught her that slowing down, finding moments of stillness, living in the now and listening to your body's inner wisdom and intuition are not just important - they are essential.
Ilana is passionate about teaching women to live in alignment with their innate energy, menstrual cycle and the moon. She helps women shift their energy and take back their inner power and self-care rights by making themselves the number one priority.
Elfy Jo
Is a music coach and performer. Elfy holds a Master's Degree from the Conservatory of Amsterdam and during my years in China she was the associate principal clarinet for the Guangzhou Symphony Orchestra.
In her work, Elfy combines her deep technical knowledge of music with energy mastery. Everything is created from energy but little attention is given to mastering energy flows.
That is where Elfy's work comes in; on one hand rooted in technical skill, on the other hand connected with the esoterical and magical realms.