International Symposium: Family & Community Strengths

Monday, 30 April 2018 at 8:00 am (AEST)
Event Details
JOIN THE CONVERSATION
A suite of discussions, presentations and panels over two days. Building Strong Families and Capable Communities 
Explore what's working well - where & why tap into the latest research and findings unpack challenges and ignite solutions celebrate and discover the way forward
JOIN THE CONVERSATION with international, national and local participants from government, universities and the family and community sector. TOGETHER LET'S UNPACK CHALLENGES, DRAW ON OUR STRENGTHS AND IGNITE SOLUTIONS to the complex problems facing families and communities across the globe. 
This invitation-only event will bring policy makers, academics and practitioners together to discuss effective current and future strategies to stengthen families and communities. We'll explore what's working well - where and why; We'll tap into the latest research and we'll celebrate and discover the ways we can collaboratively move forward with families and communities. This international conversation brings together the wisdom and experience of practitioners, academics and policy makers from around Australia, Indonesia, New Zealnd, India, the USA and other Asia-Pacific nations to celebrate successes, address complex problems and plan for future challenges in the family and community sector.
LIMITED FREE AND PAID PASSES
FREE FOR SPEAKERS
INVITED PARTICIPANTS
$300 Two Day Pass | $275 Concession
$160 One Day Pass | $145 Concession
All tickets include lunches, morning and afternoon teas, celebration cocktail event and symposium bag
Join us at 6pm on Monday 30 April, at NeWspace to celebrate the 10th anniversary of the Asset-based Community Development Asia Pacific Network, the 5th anniversary of the Master of Family Studies conducted by the Global Consortium for International Family Studies and the inauguration of the Network for Indonesian and Australian Family Studies.
---
SYMPOSIUM PROGRAM
DAY ONE   9am - 5pm  • Registrations open at 8am
COCKTAIL CELEBRATION RECEPTION    5.30pm-7pm
DAY TWO   9am - 5pm • Registrations open at 8.30am
---
LIMITED PASSES
$160 One Day Pass   |  $300 Two Day Pass
* Maximum 2 passes per organisation. All tickets include lunch, morning tea and symposium bag

---
FAQs
WHERE IS THE VENUE?
PLEASE NOTE
The entrance to City Hall, closest to Wheeler Place and the Council Administrative Centre, is currently closed.
To enter Newcastle City Hall use the front main stairs from King Street or the entrance adjacent to Christie Park (particularly anyone requiring access to the elevator)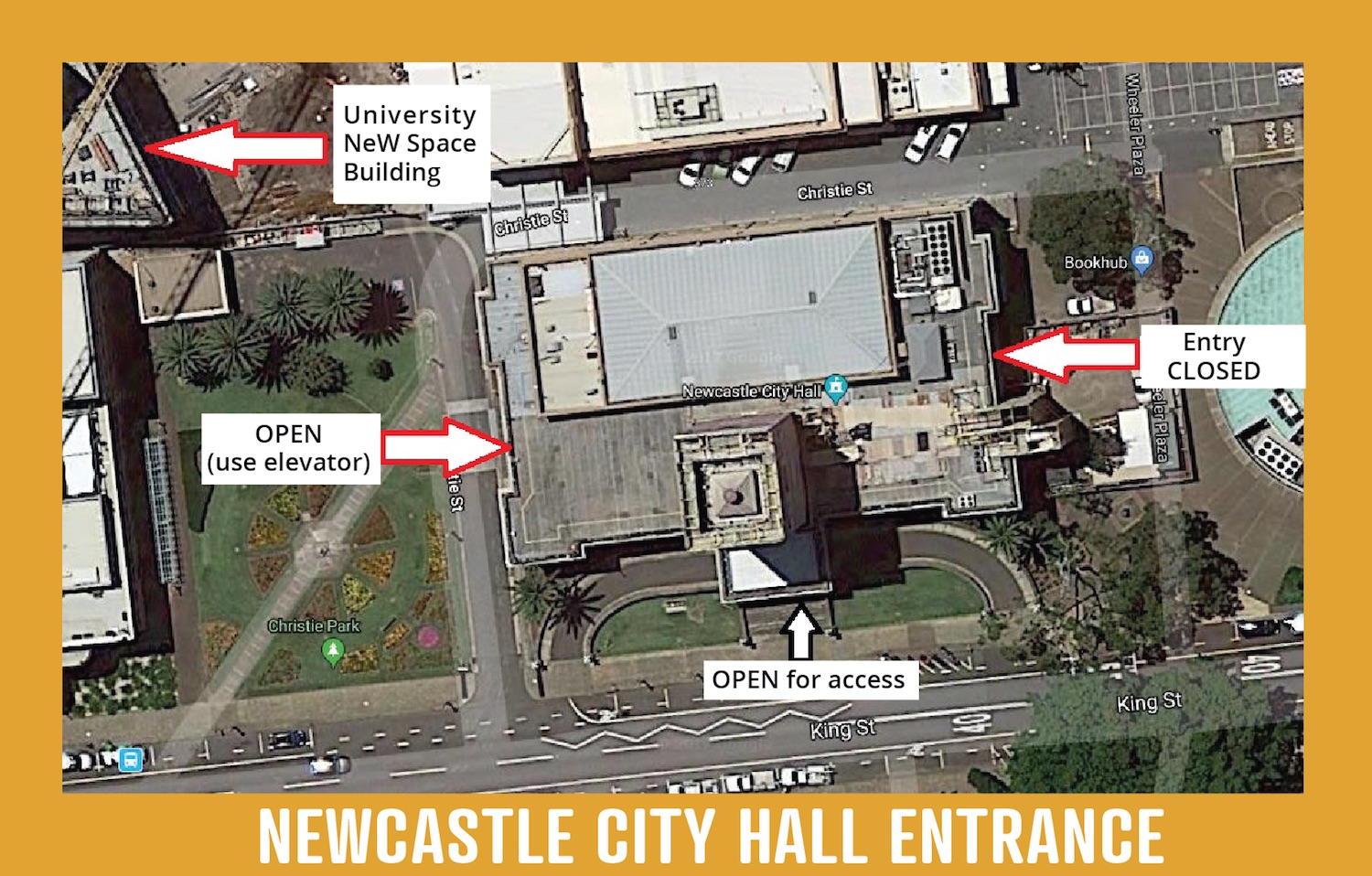 WHERE SHALL I STAY?
Newcastle is one of Australia's oldest and most interesting cities. Containing a quirky blend of new and old architecture, a rich indigenous history, a working harbour (currently the largest coal exporter in the world) and fabulous beaches; Newcastle is known as unique and eclectic.
Newcastle offers a wide variety of accommodation options ranging from 4.5 star hotel, self-contained apartment to budget rooms in backpacker hostels or pubs.
Below is a list of recommended accommodation options located within close proximity to Newcastle City Hall and NeW Space City Precinct Campus where the International Symposium: Family & Community Strengths is taken place.
Rydges Newcastle (previously known as Crowne Plaza Newcastle)
Merewether St, Newcastle NSW 2300  •  02 4907 5000 
Sitting amongst the waterfront boutiques, cafés, bars and eateries of the iconic Honeysuckle promenade, Rydges Newcastle is the ideal destination to take this lively city head on. With sweeping views of the stunning harbour and only moments from the major tourist attractions, this premium Newcastle hotel is the perfect blend of vibrant coastal city and luxury holiday escape.
 * For special corporate booking rates follow link below:
www.rydges.com/private-page/international-symposium/
IBIS Newcastle
700 Hunter St, Newcastle NSW 2300
02 4925 2266  •  h3236-re@accor.com  •  www.ibis.com/Newcastle 
 * Special corporate booking rates – 10% off best available rate
Novotel Newcastle Beach
Novotel Newcastle Beach is situated on the doorstep of one of the best surf breaks in Australia, Newcastle Beach. The hotel commands the corner of a beachside city block surrounded by renowned Newcastle restaurants, cafes and bars. The contemporary guest rooms are all designed with spaciousness and easy living in mind.
Special corporate rates/offers: 10% off the best available rate. Quote the ISFCS Event for 30 & 31 April
Book direct with Novotel reservations team via phone or email                               
5 King Street, Newcastle NSW 230
02 4032 3700  •  h8771@accor.com •  www.novotelnewcastlebeach.com.au                        
Noahs on the Beach
Shortland Esplanade & Zaara St, Newcastle East NSW 2300
02 4929 5181   •   www.noahsonthebeach.com.au
Chifley Apartments
7/14 Honeysuckle Dr, Newcastle NSW 2300
02 4910 4910   •   www.nexthotels.com/chifley/apartments-newcastle/
Quest Newcastle
575 Hunter St, Newcastle West NSW 2302
02 4928 8000   •     www.questapartments.com.au/properties/nsw/newcastle/quest-newcastle/overview
GETTING TO NEWCASTLE
Newcastle is located on the east coast of NSW, a short two-hour drive north of Sydney. Newcastle Airport is a 25-minute drive from the CBD of Newcastle and offers regular services to major cities including Melbourne, Sydney, Brisbane and the Gold Coast.
BY PLANE
Newcastle Airport is the fastest growing regional airport in Australia and offers direct daily flights to and from major cities including Sydney, Melbourne, Brisbane, The Gold Coast and Ballina. These cities provide a hub through to other destinations around Australia and the world.
Five airlines service Newcastle Airport (15 kilometres north of Newcastle).
Airport Transfers can be found at the Newcastle Airport Information Services Desk which is a one-stop-shop for transfer and accommodation information.
BY TRAIN
Sit back and relax by riding the rails to Hamilton or Broadmeadow Stations, with connecting shuttle buses to central Newcastle and beaches until the light rail is installed (watch this space).
Catch one of the regular Newcastle and Central Coast services departing from Sydney's Central Station, Strathfield, Eastwood, Epping or Hornsby to continue north to Broadmeadow or Hamilton (www.transportnsw.info, www.sydneytrains.info).
TrainLink's inter-city services connect Brisbane to Broadmeadow via the regional cities of Casino, Grafton, Wauchope and Taree, before continuing to Sydney. Broadmeadow is a major railway hub: northwestern services from Armidale, Tamworth, Moree and Narrabri also arrive here.
BY CAR
Newcastle is a two-hour drive north of Sydney. Need wheels? Find car rental companies at the airport and throughout the city. Some of the options include Europcar  Hertz  Budget Car and Truck Rental or Newcastle Car or Truck Rental

BY BUS
Head to Newcastle on a long-distance bus - Greyhound services leave from Sydney's Central Station, Brisbane's Coach Terminal and Melbourne's Travel Centre. Newcastle's local bus network radiates from the Coach Interchange, behind Railway Station, Wharf Rd. Major bus interchanges are found at the University of Newcastle, Wallsend, Glendale, Warners Bay, Belmont, Charlestown Square, Westfield Kotara and Broadmeadow Station. Trips taken within a designated area of Newcastle's CBD are free on State Transit-operated bus services. Opal cards are used on Newcastle's local buses replacing the time-based tickets that are unique to the city.
THINGS TO DO
The coastal city of Newcastle is the heart of Australia's famous Hunter Region. Newcastle is Australia's seventh largest and second oldest city. Newcastle was recently identified by National Geographic Traveller Magazine as an emerging global smart city excelling in the challenges of the twenty first century. Newcastle has been recognised by Tourism Australia as Australia's Coolest Coastal Town and by Lonely Planet as a Top Ten Global City. Newcastle has been four times named a world-class festival and events city by the International Festivals and Events Association.
Newcastle is surrounded by eight spectacular beaches and is home to a vibrant university culture, thriving arts scene and an emerging innovation ecosystem. Located only 160 kilometres north of Sydney, Newcastle is easily accessible by car or train from Sydney, or through direct flights to Newcastle Airport from Sydney, Melbourne, Brisbane and the Gold Coast. For more information check out Visit Newcastle.
---
GET IN TOUCH
For more information or to get in touch with the Symposium Organiser, please contact
Family Action Centre   •   The University of Newcastle (UON) 
02 492 16858  •  Jody.m.crouch@newcastle.edu.au 
When & Where

Newcastle
Newcastle City Hall
290 King Street
Newcastle, NSW 2300
Australia

Monday, 30 April 2018 at 8:00 am (AEST)
Add to my calendar
Organiser
The International Symposium: Family and Community Strengths has been organised by the Family Action Centre, University of Newcastle in conjunction with a range of important collaborative partners who share the vision of supporting, developing and sustaining strong families and capable communities all around the world. 
Ms Dee Brooks, Jeder Institute has gathered the International Association of Community Development and the ABCD Asia Pacific network to contribute to this exciting conversation and celebrate the 10th Anniversary of ABCD Asia Pacific. The symposium is held in conjunction with the biennial meeting of the Global Consortium for International Family Studies (GCIFS). Along with UON the GCIFS will be represented by University of Nebraska Lincoln and the Tata Institute for Social Sciences, Mumbai, India.
Without the financial and organisational support of UoN Global, led by Mrs Winnie Eley, Deputy Vice-Chancellor, International and Advancement, this event would not be possible. We also gratefully acknowledge the support of the Vice Chancellor, UON, Professor Caroline MacMillan, the Faculty of Health and Medicine and the Head of School of Health Sciences, Professor Shane Dempsey, and all the wonderful staff at the Family Action Centre.
We welcome delegates from the newly formed Network of Indonesian and Australian Family Studies, along with national, state and local delegates from policy, education and practice in family and community practices. The organising committee: Professor Alan Hayes, Dr Deborah Hartman, Ms Dee Brooks, Ms Judi Geggie, Dr Jennifer StGeorge, Dr Graeme Stuart and Ms Jane Harvey are very grateful for the strong support from all the numerous individuals and organisations willing to attend, present and volunteer to make this an excting and successful conversation that will spark our imaginations and set our innovative and collaborative agenda into the future.