WA is celebrating International Open Data Day on Monday 8 March 2021.
About this event
WA Data Science Innovation Hub, in conjunction with a selection of government agencies, invite you to join us as we celebrate International Open Data Day 2021.
Join us as we hear from WA's Information Commissioner about the importance of open data. We'll also be joined by a variety of government sectors who will share how open data is adding value to WA projects, and we'll also give you the opportunity to learn more about Data WA and the data champions network.​
OUR PRESENTERS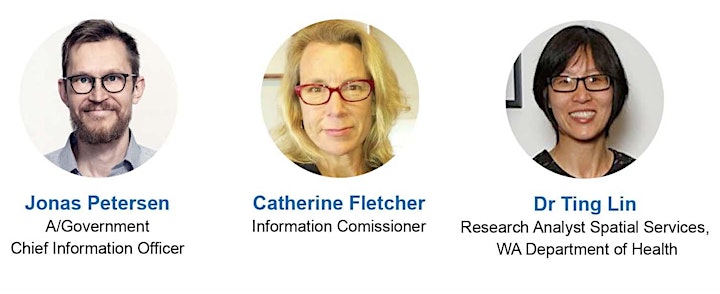 PROPOSED AGENDA
9.00: Welcome and Overview - Dr Liz Dallimore, Director, WA Data Science Innovation Hub
9.10: Opening Address - The continuing importance of open data - Jonas Petersen, Government Chief Information Officer, Department of the Premier and Cabinet
9.15: Keynote Address - Information access in the digital age and beyond - Catherine Fletcher, Information Commissioner, Office of the Information Commissioner
9.30: Opening health data in a time of crisis: COVID-19 dashboard - Dr Ting Lin, Research Analyst Spatial Services, WA Department of Health
9.45: Open data digitally transforming environmental assessments - Chris Gentle, Program Director Biodiversity Data and Information Management, WA Biodiversity Science Institute)
10.00: Open data supporting industry to attain their sustainable development goals - Dr Louise Bruce, Principal Engineer, BMT Global
10.15: Building a stronger data community: - Data WA Champions Network - Jenny Smith, Manager Data Collaboration, Landgate
10.25: Data Champion Q&A
10.30: Event Concludes
NOTE: This is an online event. You can access the webinar HERE: http://bit.ly/OpenDataDayWebinar