Description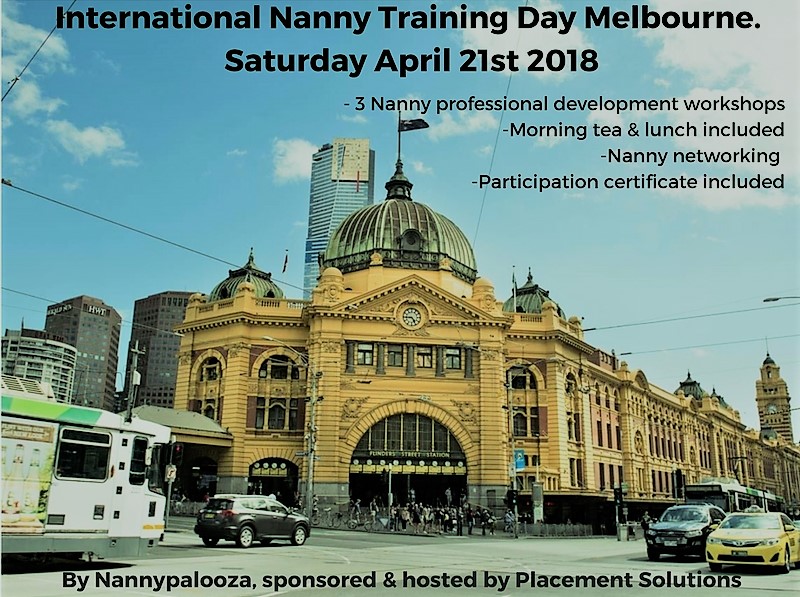 Join us as 1 of 40 Nanny events being organised around the World on Saturday April 21st 2018!
Join us for the inaugural official International Nanny Training Day event in Melbourne. . Join us for a day of wonderful workshops by industry leaders, interact and network with other Nannies in your community, and enjoy a lovely morning tea & lunch with us, all whilst ticking off your professional development for the year. You will leave with new skills and ideas that you can implement straight away with your Nanny family on Monday morning, as well as a participation certificate for each workshop attended!
Learning, fun, giveaways & prizes, and all with your fellow Nanny colleagues, what's not to love?

---
2018 Workshop Schedule
Workshop 1: 'Building Independence and Resilience in Children'
Donna & Angela of Back on Track Consultancy (NSW)
What type of adult do you see your child becoming? Whatever that may be you need to be fostering an element of independence and resilience for them to achieve their maximum potential. We aim to provide you with ways to encourage and nurture these life skills, in a caring and practical manner.
Workshop 2: 'Stress, Skill Deficits and Attachment in Children- Responding to challenging behaviour'
Trent Savill (QLD)
This workshop has been designed to assist professionals to reinterpret children's behavioural issues and make sense of them as a reflection of their development. This training aims to simplify contemporary research, and through integration with practice wisdom, provide real hands-on strategies for supporting children to develop the skills required to self-regulate and behave.
Workshop 3: 'PLAY- Ideas & Inspiration'
Donna & Angela of Back on Track Consultancy (NSW)
Based upon the theory of play and why children learn through play, we endeavour to provide you with many and varied experiences that you can implement in the home environment. There will be a specific focus on Literacy and Numeracy and the many ways you can inspire, excite and extent the children in your care.
---
More about our Speakers:
Back on Track Consultancy:
With over 50 years combined experience in the Early Childhood Industry, Donna and Angela have made it their passion in life to educate and empower Parents, Childcare Staff and Nannies with the everyday challenges they are experiencing with their 2-6 year old's.
They are dedicated to providing up to date and relevant information in all their workshops and are proactive in supporting those looking after children to have positive interactions and instil a love for learning that will last a lifetime.
Being teachers, they are practical, down to earth and add a sense of humour to their workshop presentations that are receiving many accolades.
Trent Savill:
Trent Savill is a consultant therapist and the Director of Complex Care. Trent has been working with complex and high-risk young people in the child-protection system for the last 14 years, providing consultancy to the Department of Communities (Child Safety) and Non-government sector, intensive in-home therapy to children and families, training to carers and professionals, and coordinating residential care programs. Trent's primary role now involves consulting with the Department and other agencies around their most complex cases and delivering training around the provision of therapeutic care for our most at-risk and vulnerable children.