Sales Have Ended
Registrations are closed
We are really sorry that you were not able to register for our event. Thank you for the participation and see you at the session with AS Student Services!
Sales Have Ended
Registrations are closed
We are really sorry that you were not able to register for our event. Thank you for the participation and see you at the session with AS Student Services!
We are here to help you in finding the right university and major by providing an exclusive consultation with your preferred university.
About this event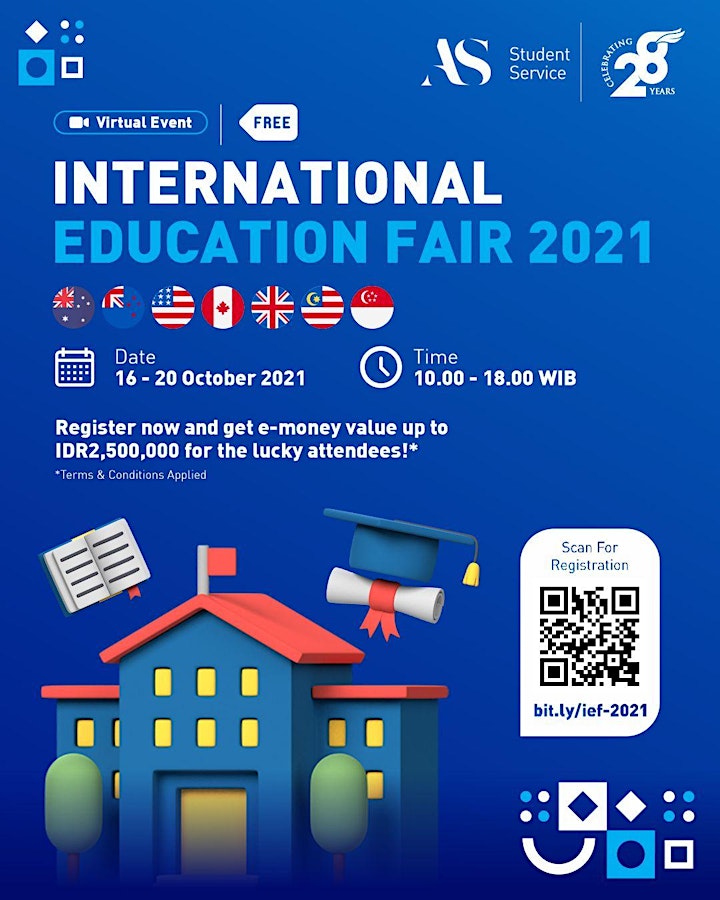 International Education Day 2021
Sesi dimana kamu bisa berdiskusi dan berkonsultasi secara langsung dengan perwakilan dari Universitas pilihanmu. Kamu bebas bertanya apapun tentang persiapan perkuliahanmu di luar negeri selama 40 menit.
PARTICIPATING INSTITUTIONS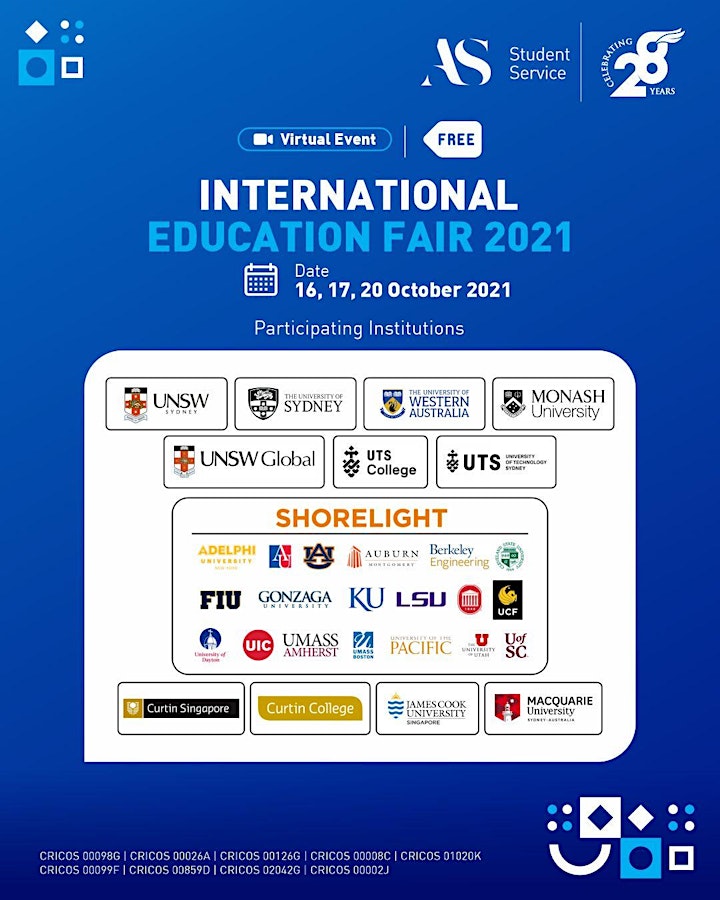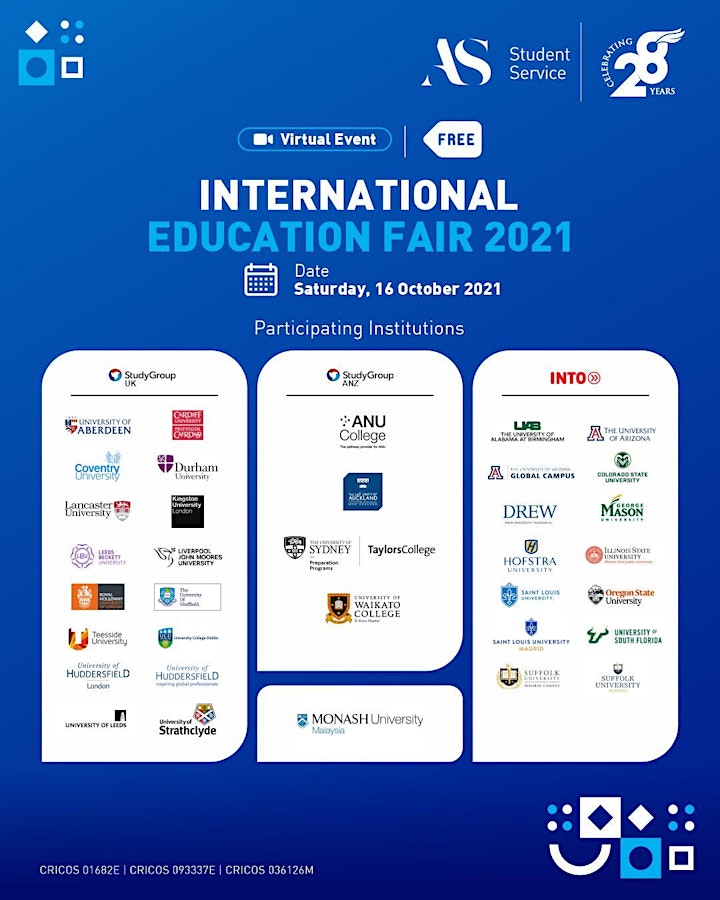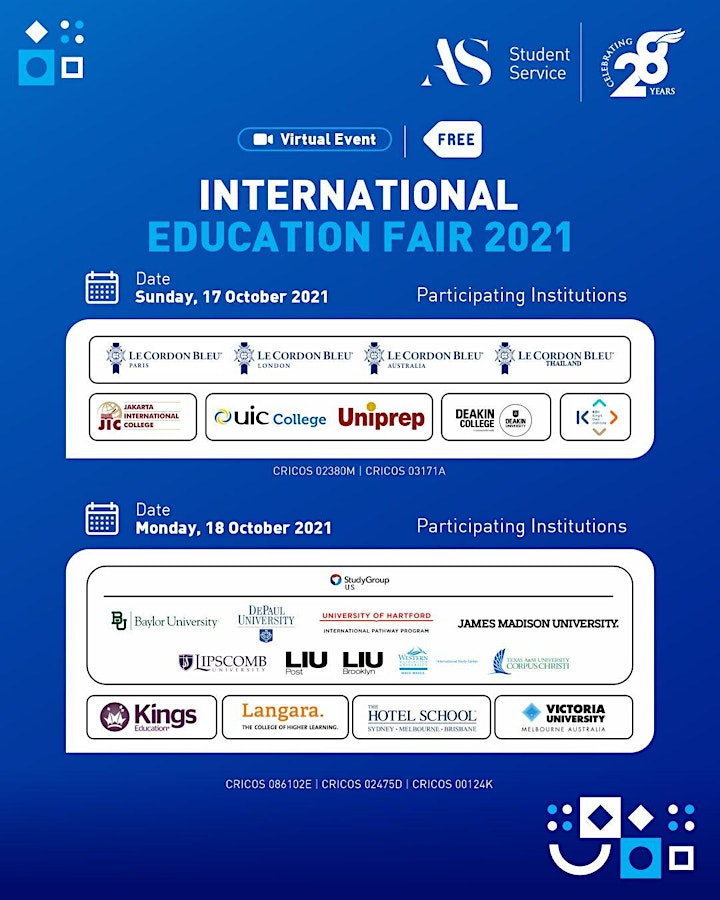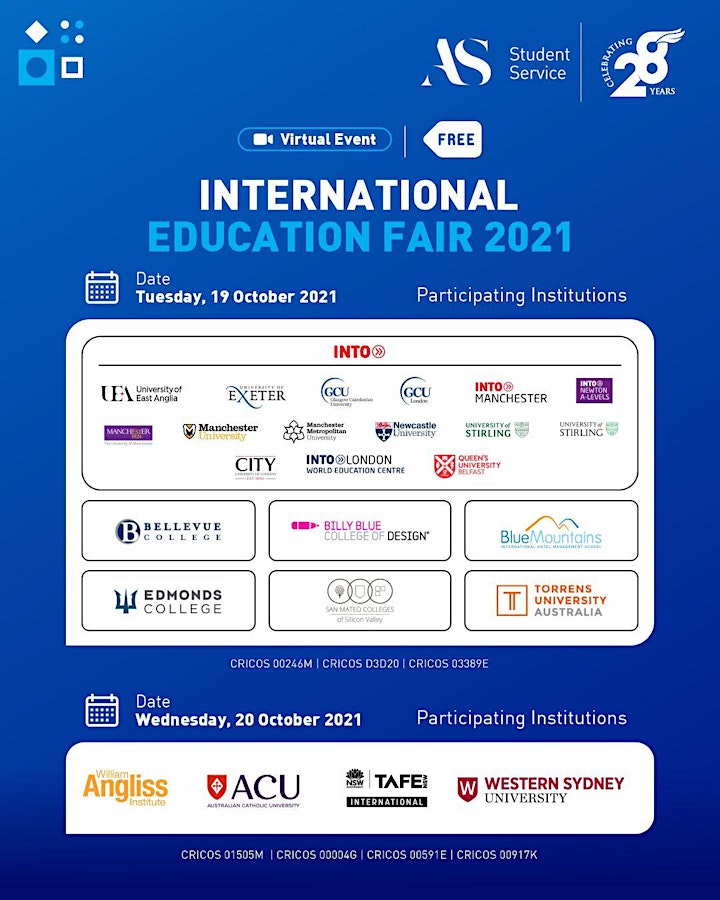 ----------------------------------------------------------------------------------------------
Information for Australian Post Study Work Visa/485 & Permanent Residence - by BHJong Migration
Sesi dimana kamu bisa berkonsultasi dan berdiskusi mengenai rencanamu untuk menetap dan mendapatkan TR dan PR di Australia setelah menyelesaikan studimu. Bernard Huang selaku Authorised Migration Agent MARN 0214322 yang akan langsung membantumu menjawab pertanyaan tentang visa Australia.
Alur pendaftaran:
Isi data diri melalui registration form.
Peserta yang lolos seleksi awal akan dihubungi oleh tim AS Students Service.
Peserta terpilih akan mendapatkan email berisi link zoom beserta jadwal konsultasi dengan perwakilan dari universitas yang telah kamu pilih.
Masuk pada link Zoom meeting sesuai jadwal yang telah ditentukan.
---
How to Sign-Up:
Fill out the registration form.
The participants who passed the first stage will be contacted by the AS Students Service team.
The selected participants will received a confirmation email about the zoom link and the consultation schedule with In-Country Representative of the University.
Enter the session by clicking the provided Zoom link you have received on your email.
Organiser of International Education Fair October 2021
AS Student Service didirikan pada tahun 1994, di Sydney, Australia, dan saat ini memiliki kantor cabang di Medan, Tangerang, dan Yogyakarta. Saat ini, AS Student Service adalah perwakilan resmi lebih dari 140 institusi pendidikan dari Australia, Amerika Serikat, Kanada, Belanda, Inggris, Italia, Irlandia, Selandia Baru, Singapura, Malaysia, dan Thailand. AS Student Service berkomitmen untuk memberikan informasi secara akurat, membantu siswa mendaftar di sekolah / universitas favorit mereka, pengaturan visa, akomodasi, dan penjemputan di bandara.
---------------------------------------------------------------------------------
AS Student Service was established in 1994, in Sydney, Australia, and currently has branch offices in Medan, Tangerang and Yogyakarta. Currently, AS Student Service is an official representative of more than 140 educational institutions from Australia, the United States, Canada, the Netherlands, the United Kingdom, Italy, Ireland, New Zealand, Singapore, Malaysia, and Thailand. AS Student Service is committed to providing accurate information, helping students enroll in their favorite schools / universities, visa arrangements, accommodation and airport pick-up.