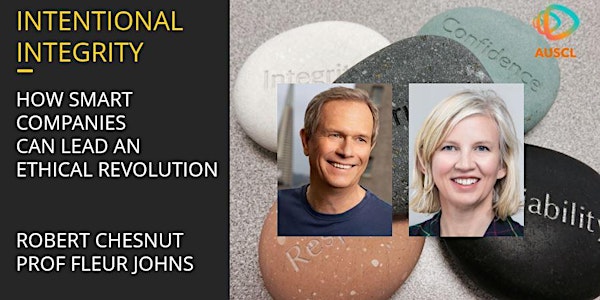 Intentional Integrity - How Smart Companies Can Lead an Ethical Revolution
Robert Chesnut, best selling author & former GC & Chief Ethics Officer at Airbnb, and Professor Fleur Johns explore trust and integrity
About this event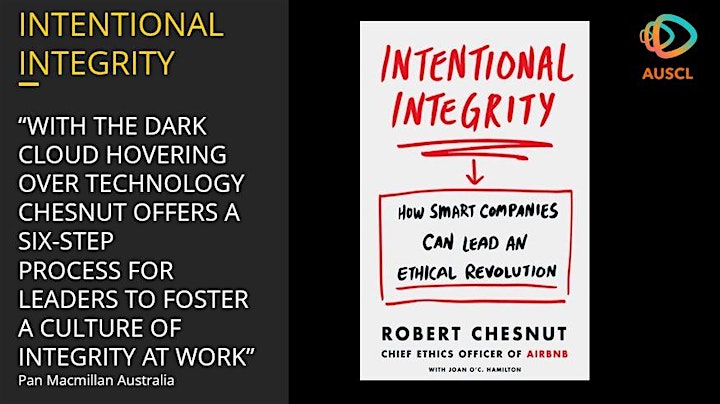 Can big tech be trusted?
Silicon Valley expert and former General Counsel of Airbnb & Chief Ethics Officer at Airbnb, Robert Chesnut shows that companies need to think seriously about integrity or be destined to fail.
Join the Australian Society for Computers + Law for a fire-side chat between Robert Chesnut and Prof Fleur Johns on the key message of Robert's recently published book:
Intentional Integrity: How smart companies can lead an ethical revolution
Defining integrity is difficult. Here are some ideas: Integrity means "telling the truth", "keeping your word", "acting consistently with your values", "following not just the letter but the spirit of the law" ... how do these concepts fare in workplaces, markets and societies that are increasingly disrupted, global, decentralized, and connected.
Trust in most traditional institutions is at an all-time low and there's a dark cloud hovering over technology and its use. So what role to companies have in creating stability and re-establishing trust and trustworthiness? Could it be their competitive advantage?
Meet your speakers
Robert Chesnut is the former General Counsel of Airbnb, Inc. A graduate of Harvard Law School and the University of Virginia, he worked for fourteen years with the U.S. Justice Department where he prosecuted bank robberies, kidnappings, murders, and espionage cases. He joined eBay in 1999 as its third lawyer where he founded its Trust and Safety team. He joined Airbnb in 2016, overseeing a team of approximately 125 legal professionals in over 20 offices around the world. It is there that he developed a popular interactive employee program, Integrity Belongs Here, to help drive compliance throughout the culture at the company.
Professor Fleur Johns is Professor in the Faculty of Law at UNSW Sydney working in international law, legal theory and law and technology. She is also an Australian Research Council Future Fellow and, in 2021-2022, a Visiting Professor at the University of Gothenburg, Sweden. She has published four books and has a forthcoming monograph under contract with Oxford University Press, co-authored with Caroline Compton, entitled #Help: The Digital Transformation of Humanitarianism and the Future of Global Order. Fleur has held visiting appointments in Europe, the UK, the US and Canada and currently serves on a range of editorial boards, including those of the American Journal of International Law and the journal Technology and Regulation. Fleur is a graduate of Melbourne University (BA, LLB(Hons)) and Harvard University (LLM, SJD; Menzies Scholar; Laylin Prize). Her Twitter handle is @FleurEJ
Order your book today
AUSCL subscribers order with Dymocks Neutral Bay for a 10% discount
DYMOCKS NEUTRAL BAY The Grove, Shop 27, 174 Military Road, Neutral Bay, NSW 2089 Australia Phone: (02) 9953 8657 Email: neutralbay@dymocks.com.au
Want to subscribe? https://ausclsubscribe.eventbrite.com.au
Organiser of Intentional Integrity - How Smart Companies Can Lead an Ethical Revolution
Inspire. Connect. Reimagine
The Australian Society for Computers and Law (AUSCL) is one of Australia's leading interdisciplinary think-tanks on issues arising at the intersection of technology, law and society. It is a registered Australian non-profit charity with a charter to advance education and advocacy. Our mission is to: Inspire new thinking and informed discourse, Connect professionals across disciplines and together Reimagine the future.