Description
Discover the Millionaire Sales Secrets Formula
Special Guest Speaker: Craig Carr

Increase your sales by 212% and conversions by up to 75%
1. HOW TO RE-INVENT THE WAY YOU SELL
2. HOW TO OVERCOME EVERY OBJECTION, EVERY TIME
3. THE SECRET TO CLOSE ANY SALE, ANYTIME WITHOUT BEING PUSHY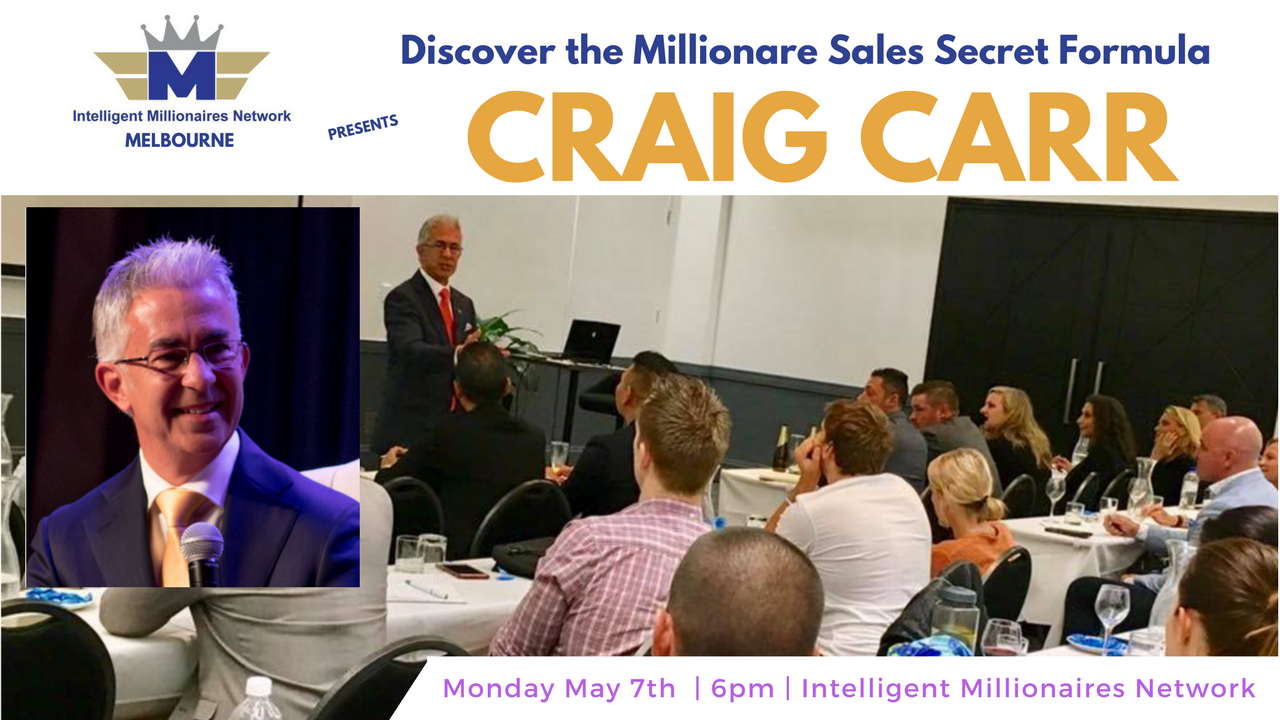 "I have never seen a Trainer motivate such a lift in performance from a group so fast! I saw a young member of our sales team close a sale larger than any sale she had closed previously, the same day of the training. One of our team sold a warranty with his first two customers of the day, within minutes of the training session, using one of the techniques Craig had taught. He hadn't sold one in the previous 3 days. Awesome stuff Craig! I can't wait for the next session"

John Andary, National Sales Trainer
"I thought I would pass on some positive feedback since the staff went through the training session with Craig Carr last week. We are most definitely seeing a greater urgency in team members trying to close deals. It's great to see some staff quickly picking up the techniques to avoid or limit discounting and to push back to the customer that there is greater value in better products. Just one example, Andrew in Car Sound instantly adopted some of the techniques and we saw immediate results. He sold $27k in car audio last week (his best effort in some time) but he also managed 7 warranties, which represented his best ever week in warranty penetration and we can see his confidence growing. He backed it up with a further $5k in car audio on Monday. I and the team sincerely thank you Craig".
Just wanted to send a shout out to Craig. I've always had a pretty good handle on sales, however, I've just attended Craig's latest Sales Workshop and I was simply blown away! What I learnt in just a few of the techniques he taught on adjusting my communication skills to each specific customer has meant a 83% increase in our closing percentages in the first month. It's unbelievable! I want to get our entire sales team in front of Craig now. Thank you so much.
L. Sondergeld, Corporate Manager
Do you want to increase your sales? Then stop selling! The time for sleazy sales one liners and pushy sales tricks is over. The "old-school" sales techniques will no longer work in a modern market.
The modern consumer is way too savvy now for that old close you may have been using. They have access to more information and will recognize if you are trying to convince them or persuade them into buying something. Scarier still, is that a quick Google search or a scroll through Youtube and you will still see no shortage of those old-school tricks getting trotted out by the so-called "gurus". A quick glance at many of the comments will reinforce that people just don't want to be sold that way any more.
So how is my technique different? I am busting some of the old sales myths, you don't have to have the gift of the gab to sell. You don't have to be a pushy sales person to close sales. You don't have to be a "born salesperson to succeed in selling. And you don't have to bend or stretch the truth to sell. You don't have to be able to sell ice to eskimos.
Consumer behaviour is changing in many ways. For many of us, we don't necessarily want to buy more stuff, we typically have plenty of stuff. And the idea of another sales person coming along trying to convince us that his new widget is the greatest thing since sliced bread is a total turnoff.
People are looking however, in most instances, for value, for genuine solutions to their problems and concerns. So we are helping people to sell their solution, not so much what their product is, but what it does for people, sell the result.
Be real. We are working with sales people new and veterans to reinvent the way that they sell. Be authentic, the idea that everyone with a pulse is a fit for your product, will do you and the customer more harm than good. Not everyone is a customer for your product, recognizing that, will allow you more time with those who could and should buy your solution.
So if you want to massively increase your sales and conversion rates, without sounding like a pushy sales person. Here is three things you can do to get fast results.
Be a Doctor, not a sales person. Sales people do a lot of talking, doctors are questions. The doctor has to diagnose before they attempt to prescribe, whereas the sales person will just launch into their latest product before finding out whether it is the right fit for you. The best bit, it's true from a sales person we want the best price, but from the doctor we want the best advice, which one do you think is worth more?
Don't defend, learn more. When it comes to objections, the modern consumer wants 2 things. 1. To be heard and 2. To be understood. Yet we see the average sales person defend, fight or push back on any objection the customer brings up. I understand that it is natural to defend our product. However, you may win the argument but you won't win the customer. There is an expression in selling that says objections will die with agreement. So seek to find agreement with your customer and ask questions to learn more about their concern.
Forget the book on closing. It's better to learn a few natural ways to close a sale, than it is to try to memorize "101 ways to close a sale" and not use any of them. Most old school closing techniques are based on the idea of persuasion, I don't know too many people who like the idea of being persuaded into something. A better approach after determining your product or service is a fit for your customer is to simply ask your if it makes sense to move to the next step, whatever that is in your sales process. If yes, they bought, if no, go back to step 2. Simple, friendly and authentic.
Of course a quick warning here, not too many of your competitors will be selling this way, so watch out for the stampede of customers! But you would be ok with that right?
Hey, who said there was a rule that selling had to be too serious? Our students and clients are learning too sell more in a modern market and are having fun with their customers along the way. I wonder where those customers will go back to next time?
Ready to sell faster and easier that you ever thought possible? Attend this evening session to take your sales to a level, where most people don't even know there is a level.

This is an Exclusive Event, however we have made a limited number of FREE tickets available. Limited to only 20 FREE attendees. REGISTER NOW!!


THIS EVENT IS FOR YOU if you are an:
Entrepreneur
Speaker or Coach
Property Investor
Startup or even if you don't have a business yet
Professional

THIS IS NOT an event for EMPLOYEES.

It does not matter where you are, all that matters is where you want to be and putting an action plan together to get there! We are going to help you create your action plan. But only if you come to IMN Melbourne
We help you succeed... Locally & Globally

We give you the tools, To Start, Grow & Expand Your Business
We support you
We connect you
We are your accountability group
You will learn how to maximize profits
Common Questions: PLEASE READ
What is this Network about?
This club does not sell products. Our speakers are brought in for their content and to help you grow. We are a club that brings people together to do deals and better their business, not to sell you things each month.

Can you bring a guest? YES, you can bring a guest. Simply visit IMN Melbourne and register your guest. You will need their name/email/phone number in order to register them. DO NOT use your email address when registering your guest. It will cancel your own reservation.
How much does it cost? Your first event is FREE. Your first meeting is free as a non-member so you can get a first-hand experience of what it would be like to become a member.

If you have attended one of our events, and would like to attend again, you can either pay general admission for the main event only; alternatively invest in an annual membership which also allows you to attend all our events during the year, including private and exclusive events.
Is food provided? No, you are on your own to purchase food and beverages from the hotel.
Is parking free? Parking is controlled by the venue, so it is best to contact them directly for more information.
Who can attend? If you have an existing business, a new business or are interested in starting your first business, this special event is for everyone as you are about to learn transformational and innovative ideas that will take ANY business to the next level.
Event Schedule
MEMBERS
5:50 PM Member Registration
6:00 – 6:45 PM
Members Only Session
Mastermind / Blueprint with CEO panel
GENERAL REGISTRATION/ FREE ATTENDEES
6:00pm - 7:00pm
General Registration & Speed Networking
MAIN EVENT
7:00PM
Main Event: Keynote Speaker: Craig Carr
Register now and join us on the evening of Monday 7th May 2018