Description
How to have an influential position in your market with an ikonic Personal Brand
Special Guest Speaker: Kosta Iatrou
Australia's own BRANDOGRAPHER (Personal Branding Photographer + Branding Strategist), works with highly motivated and results driven Entrepreneurs that aspire to be and are the celebrities of their industry.
Kosta understands how to create and establish your Personal Brand and takes Entrepreneurs from being and feeling like an Anonymous person in the vast business world to being an Authority of their niche market. Kosta has created a three-step process built around firstly creating the right Brand Image DNA (TM), using his unique style of Branding Photography for Entrepreneurs and then creating your launch pad to promote and position your Personal Brand in the market. Leveraging your Personal Brand the right way will position you as an Authority of your market, not only for your prospects and clients but for your future promoters and partners. Learn all his secrets, as Kosta shares his knowledge with us.
The benefits of having an IKONIC Brand Image that positions you as the 'PRIZE'.
1.

Position yourself as an Influencer in your niche market and be the go-to person for your prospects and clients, media and partners.
2.

Outmanoeuvre your competition so you stand apart from them and take on a higher status in your industry.
3.

Attract the right clients that value your products and services.
At this presentation, you will get to:
1.

Understand why it's imperative to have a clearly defined Personal Brand before you spend any time or money on marketing and promoting your business.
2.

Receive the Brand Image DNA (TM) framework (worksheet) outlining our 6-step process so you can start to build your IKONIC Personal Brand.
3.

Learn how to unpack, clarify and refine your Personal Brand.
4.

Ask specific questions about your business and how it relates to your Personal Brand.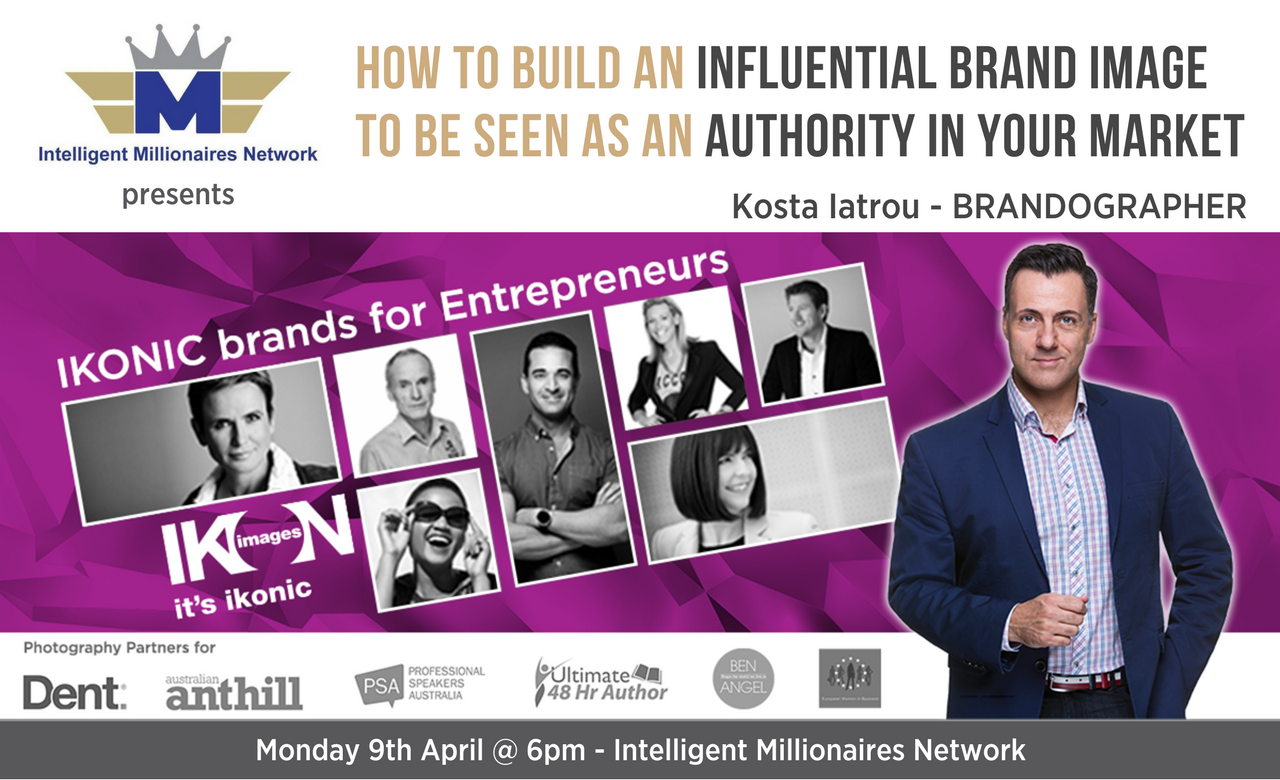 This is an
Exclusive Even
t, however we have made a
limited number of FREE tickets available
.
Limited to only 20 FREE attendees
. REGISTER NOW!!


THIS EVENT IS FOR YOU if you are an:
Entrepreneur
Speaker or Coach
Property Investor
Startup or even if you don't have a business yet
Professional

THIS IS NOT an event for EMPLOYEES.

It does not matter where you are, all that matters is where you want to be and putting an action plan together to get there! We are going to help you create your action plan. But only if you come to IMN Melbourne
We help you succeed... Locally & Globally

We give you the tools, To Start, Grow & Expand Your Business
We support you
We connect you
We are your accountability group
You will learn how to maximize profits
Common Questions: PLEASE READ
What is this Network about?
This club does not sell products. Our speakers are brought in for their content and to help you grow. We are a club that brings people together to do deals and better their business, not to sell you things each month.

Can you bring a guest? YES, you can bring a guest. Simply visit IMN Melbourne and register your guest. You will need their name/email/phone number in order to register them. DO NOT use your email address when registering your guest. It will cancel your own reservation.
How much does it cost? Your first event is FREE. Your first meeting is free as a non-member so you can get a first-hand experience of what it would be like to become a member.

If you have attended one of our events, and would like to attend again, you can either pay general admission for the main event only; alternatively invest in an annual membership which also allows you to attend all our events during the year, including private and exclusive events.
Is food provided? No, you are on your own to purchase food and beverages from the hotel.
Is parking free? Parking is controlled by the venue, so it is best to contact them directly for more information.
Who can attend? If you have an existing business, a new business or are interested in starting your first business, this special event is for everyone as you are about to learn transformational and innovative ideas that will take ANY business to the next level.
Event Schedule
MEMBERS
5:50 PM Member Registration
6:00 – 6:45 PM
Members Only Session
Mastermind / Blueprint with CEO panel
GENERAL REGISTRATION/ FREE ATTENDEES
6:00pm - 7:00pm
General Registration & Speed Networking
MAIN EVENT
7:00PM
Main Event: Keynote Speaker: Kon Iatrou
Register now and join us on the evening of 9th April 2018